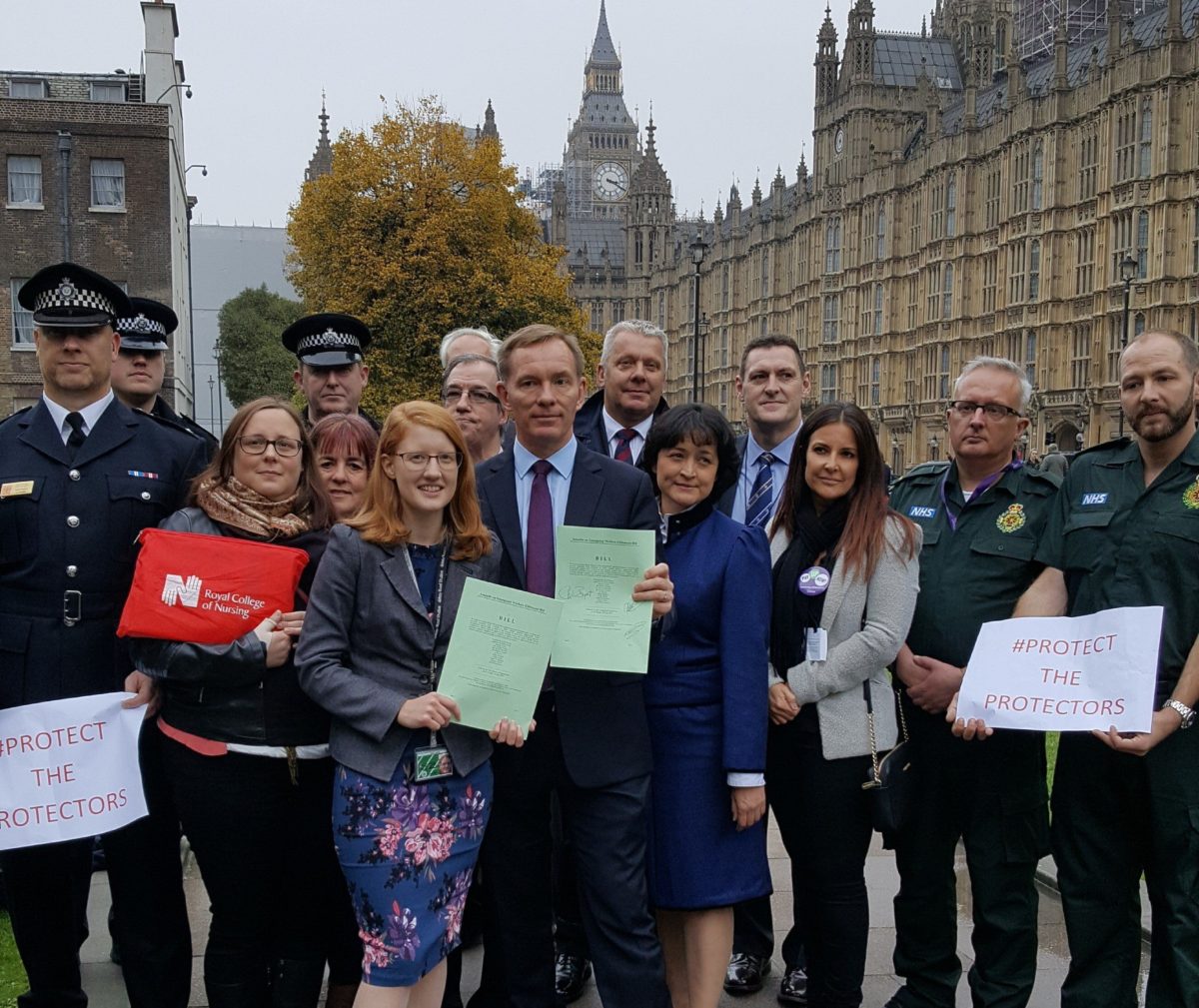 Stabbed, Spat At, Punched: Emergency Workers Tell HuffPost UK Why New Law Is Needed To Protect Them: Now PM backs Bill to protect 999 staff from assault
A new law to protect emergency workers from assaults has won the personal backing of Theresa May after police, paramedics and nurses lobbied MPs for tougher sentences.
A private members' bill to specifically target abuse against 999 staff has secured the Prime Minister's approval, HuffPost UK has been told.
The Assaults on Emergency Workers (Offences) Bill, tabled by Labour MP Chris Bryant, is due to have its Second Reading in the Commons on Friday and is now expected to get enough Parliamentary time to get on the statute book.
Dubbed the 'Protect The Protectors Law', the bill follows a rising number of incidents where NHS, firefighters and police staff have been abused, attacked or spat at in the line of duty.
The legislation will for the first time deem assaults on emergency staff as "aggravated", and subject to heavier sentences. It will also force suspects to provide samples of saliva or blood to ensure rapid testing of HIV and other illnesses.
Asked if the PM was giving her personal support to the bill, a No.10 spokesman told HuffPost UK: "That's one the Government is backing, so you can take that as a 'yes'."
The Ministry of Justice and Home Office are expected to signal on Friday their support for the new legislation.
Backed by trade unions and staff bodies such as the Police Federation, an alliance of emergency workers held a 'drop-in' lobby of MPs in the Commons on Wednesday.
Bryant told HuffPost UK: "I'm really encouraged by how many MPs have come along, listened to emergency workers and said they'll support the Bill.
"It's not over until the votes are counted though and I'm not counting my chickens yet. All sorts of things could still go awry."
Alan Lofthouse, national ambulance officer for the Unison trade union, said: "It's only right that the full force of the law is used against anyone who attacks those trying to save lives and protect the public. This bill will help the courts to bring offenders to justice."
HuffPost UK talked to five emergency workers, each with their own stories of why a new law was needed.
Read more at: http://www.huffingtonpost.co.uk/entry/theresa-may-backs-new-law-protecting-emergency-workers-from-assaults-in-line-of-duty-five-case-studies_uk_59e7b1cce4b00905bdae7e17