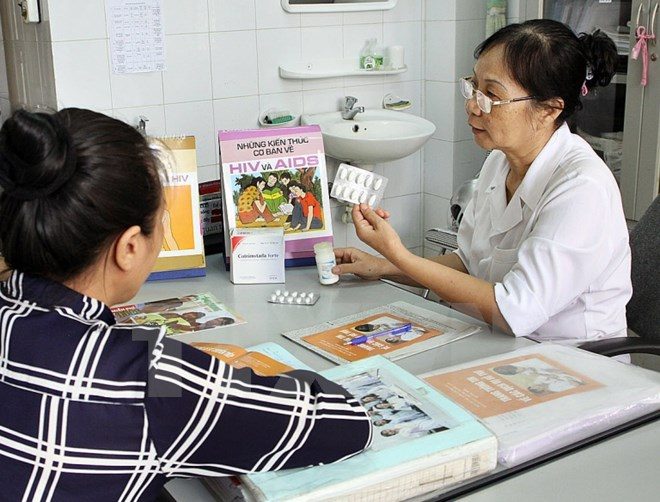 The Vietnam Lawyers Association (VLA) and Global Fund for HIV/AIDS Prevention and Control Project will implement the project on providing free legal aid services to vulnerable groups in HIV/AIDS prevention and control.
The information was given by the VLA at a conference on connection and access to legal support services for vulnerable groups in HIV/AIDS prevention and control recently organized in Hanoi.
The project, supported by the Vietnam Union of Science and Technology Associations (VUSTA), will be implemented in five localities, including Hanoi, Ho Chi Minh city, Dong Nai, Quang Ninh and Thai Binh.
It aims to support and guarantee legitimate rights and interests of groups such as injection drug users, prostitutes, homosexuals and transgenders.
Their understanding of law and basic knowledge about HIV/AIDS is limited, leading to stigma and discrimination. Besides, these groups are not beneficiaries of free legal aid under the provisions of the law on legal aid. Therefore, it is essential to build the model of consultation and legal aid free of charge for these groups.
Speaking at the workshop, Doctor and Lawyer Trinh Thi Le Tram, Director of the centre for legal counselling and health policy for HIV/AIDS, said vulnerable people in HIV/AIDS prevention and control include: people infected with and affected by HIV/AIDS, injection drug users, prostitutes and homosexuals.
According to Ms. Tram, the number of customers calling the hotline 18001521, requiring counselling on HIV/AIDS and related legislation, continued to increase over the years. In 2009, there were more than 1,900 calls but in 2014, the figure rose to more than 3,000. However, these numbers are still very small compared to the total of more than 200,000 people living with HIV across the country today.
Demand for legal consulting and aid is there in many areas, such as labor, job, marriage and family, criminal and civil issues.
According to Ms. Tram, legal counselling and aid for people living with HIV at state's centres for legal aid meet many difficulties and shortcomings, such as procedure, identification public issues, and centres are often located within the campus of government agencies with no separate living space.
In addition, interdisciplinary agencies and VLAs of 63 localities nationwide should have activities to consult and support legislation for local people infected with and affected by HIV/AIDS.
In particular, the national target program on HIV/AIDS prevention and control every year should structure the budget for the legal consultancy and assistance for people infected with and affected by HIV/AIDS