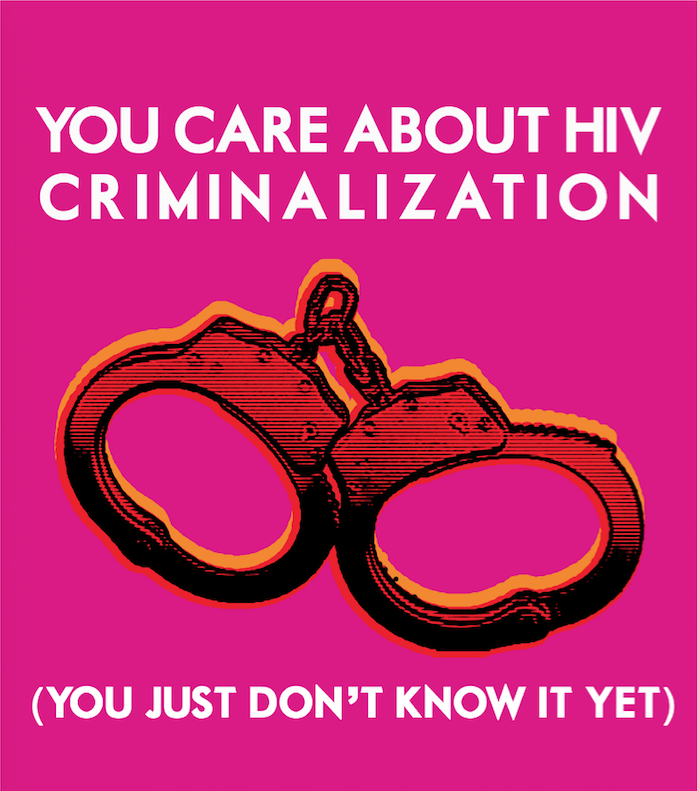 YOU CARE ABOUT HIV CRIMINALIZATION (YOU JUST DON'T KNOW IT YET)* is a site-specific project by artist/activist and SILENCE=DEATH co-creator Avram Finkelstein for Visual AIDS, created for the 2018 New York City Pride March.
This past Sunday, Visual AIDS was involved in the NYC Pride March for the first time in decades, distributing over 7,500 copies of the newly commissioned artistic broadsheet project about the stakes of HIV criminalization to thousands of people along the march route.
The criminal justice system considers HIV a deadly weapon and in many states exposing someone to HIV is a crime, regardless of condom use, viral load, or actual risk of transmission.
For people living with HIV, a contentious relationship, a personal misunderstanding or even a minor infraction of the law can lead to prison sentences of over thirty years, sensationalized media coverage, and registration as a sex offender.**
Know the facts. AIDS is not over. HIV criminalization can be.
* Courtesy of HIV Is Not a Crime Flash Collective
** Courtesy of Sero Project
Visual AIDS has been deeply inspired by the significant strides made by activists working against HIV criminalization over the past several years and hope that this project will raise awareness and inspire people to take action.
Join our efforts as we continue to advocate against HIV criminalization by distributing YOU CARE ABOUT HIV CRIMINALIZATION (YOU JUST DON'T KNOW IT YET): View, download or print the broadsheet for distribution here.
Visual AIDS would like to sincerely thank the dozens of volunteers who joined us at the NYC Pride March this year for their energy and efforts to support the project and advocate against HIV criminalization. We also thank Avram Finkelstein for his visionary collaboration on this project.