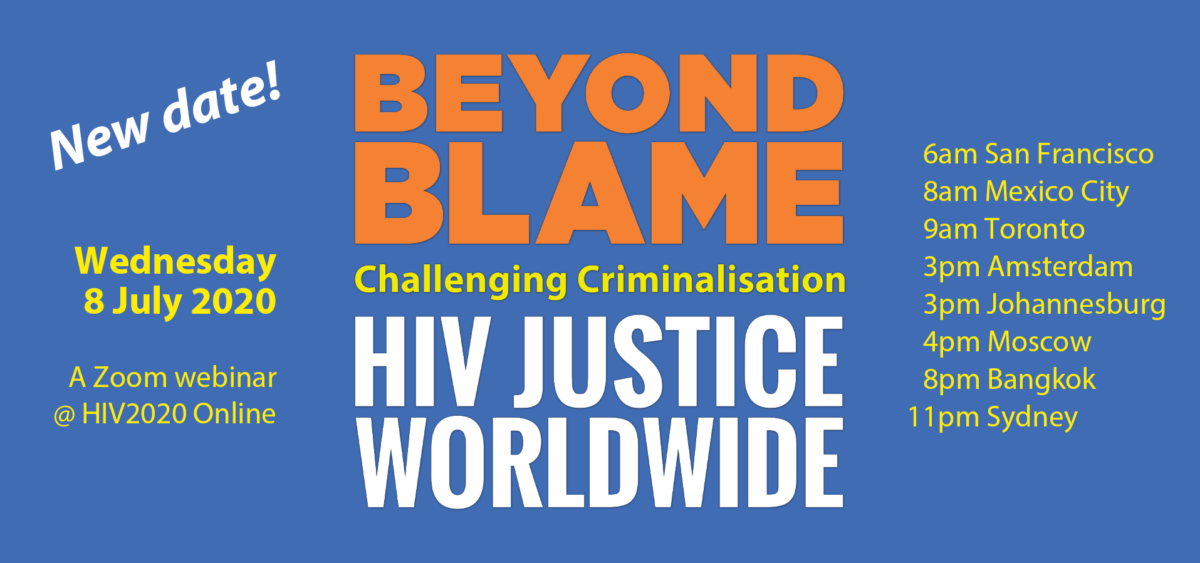 New date – Wednesday 8 July 2020
Last September, the nine organisations comprising the HIV JUSTICE WORLDWIDE Steering Committee announced that we had unanimously agreed to support HIV2020, and that Beyond Blame, our flagship meeting for activists, advocates, judges, lawyers, scientists, healthcare professionals and researchers working to end HIV criminalisation, would be integrated into the HIV2020 programme.
Now that the HIV2020 conference has been reimagined as a series of virtual convenings that will take place between July and October, we are delighted to announce that Beyond Blame: Challenging Criminalisation for HIV JUSTICE WORLDWIDE has been selected by the HIV2020 programme committee to take place on Wednesday 8 July 2020, from 3pm-5pm Central European Time. See the time in your time zone here.
This year, the online version of Beyond Blame is a unique opportunity for both new and long-established activists to learn why HIV criminalisation matters, as well as hear about the wide range of initiatives and strategies that have been used by activists around the world to end the inappropriate use of criminal law to regulate and punish people living with HIV.
The first part of this interactive web show will be hosted by HJN's Executive Director, Edwin J Bernard, and features interviews with various members of the HIV JUSTICE WORLDWIDE Steering Committee, as well as members of the HIV Justice Network's Global Advisory Panel (GAP).
The second part of the session is an interactive Q&A, hosted by PWN-USA's Naina Khanna. Throughout the session attendees will be further engaged with polls, video clips, and a surprise guest.
By the end of the session, attendees will be equipped with a greater understanding of the importance of HIV criminalisation, knowledge of strategies used for advocacy, and a set of follow-up actions.
Programme (subject to change)

Welcome to Beyond Blame 2020
Edwin J Bernard (HJN)
"Nothing about us without us"
Sean Strub (Sero)
Women challenging HIV criminalisation in Africa
Michaela Clayton (GAP) and Sarai Chisala-Tempelhoff (GAP)
The impact of HIV criminalisation on women and people who use drugs in EECA
Alexandra 'Sasha' Volgina (GNP+) and Svitlana 'Sveta' Moroz (Eurasian Women's Network on AIDS / ICW)
Building networks to challenge criminalisation in Mexico and across Francophone Africa
Gonzalo Aburto (Sero) and Cécile Kazatchkine (Canadian HIV/AIDS Legal Network)
HIV criminalisation and key populations: who gets prosecuted, where, and why?
Cecilia Chung (Transgender Law Center / GAP), Jules Kim (Scarlet Alliance / GAP) and Elie Ballan (M-Coalition / GAP)
Bringing science to justice, and justice to science
Sally Cameron (HJN) and Alexander McClelland (GAP)
Interactive Q&A
Naina Khanna (PWN-USA) with Paul Kidd (HJN Supervisory Board)
Closing message
Edwin Cameron (former South African Constitutional Court Justice / GAP)
All virtual sessions offered as part of the HIV2020 Online series will be entirely FREE and made available later as recordings online. The webinar will be in English, but HIV2020 will provide simultaneous translation in Spanish, Portuguese, French, and Russian.
Previous Beyond Blame meetings were held in Melbourne (2014), Durban (2016), and Amsterdam (2018).
In Amsterdam, more than 150 attendees from 33 countries attended the one-day meeting. Participation was extended to a global audience through livestreaming of the meeting on the HIV JUSTICE WORLDWIDE YouTube Channel.