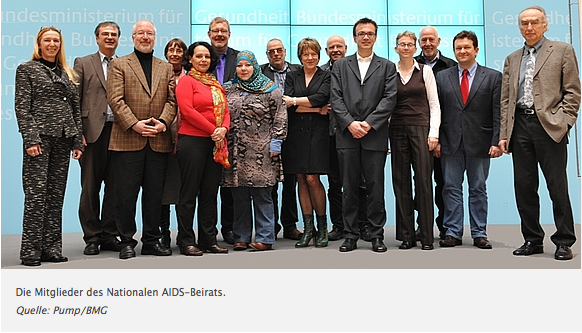 The German National AIDS Council – an independent advisory body of the Ministry of Health consisting of experts from the fields of research, medical care, public health services, ethics, law, social sciences, as well as people from the civil society – has produced a consensus statement on HIV criminalisation during consensual sex.
A press release issued yesterday by the Federal Ministry of Health states (unnofficial translation from German)
HIV infection has become a treatable chronic disease. In Germany, life expectancy with appropriate medical care is nearly normal. However, people with HIV still experience limitations, especially in everyday social life. They are often stigmatised and discriminated against in both the workplace and in the home environment. Criminal court judgments and their public perception play in a crucial role in this context.

The National AIDS Council points out that the following medical factors should be assessed in criminal proceedings: HIV is difficult infection to transmit compared to other sexually transmitted diseases. The transmissibility of HIV is primarily related to viral load. In the first weeks after infection this is particularly high, and can amount to several million viral copies per milliliter of blood. After a few weeks or months, however, the immune system, usually controls the infection. Once viral load drops the body can keep viral load low for months or years before medication needs to be taken. During this time, the risk of infection is much lower than in the early phase of infection. Once the immune system weakens, generally antiretroviral therapy commences. With effective treatment, the viral load falls below the detection limit (viral load less than 50 viral copies / ml blood). If viral replication is permanently suppressed completely, according to current medical knowledge, HIV is not sexually transmitted. The risk reduction of successful antiretroviral therapy is at least comparable to the correct use of condoms. It is assumed that a large proportion of HIV transmission takes place during the early stages of HIV infection, i.e. at a time, when those who are infected are not aware of their infection, because an HIV antibody test can only show infection after a few weeks.
Against this background, the National AIDS Council emphasises: A criminal examination of HIV exposure or transmission related to consensual sexual intercourse must be consistent with the medical facts. The decision whether or not the criminal liability of onward transmission can be assigned to the person with HIV cannot be made as a matter of routine. In fact, the determining factor are the circumstances of each individual case, especially the legitimate expectations of both sexual partners. In any case, in a short-term, consensual sexual encounter both partners are responsible for the application of protective measures, regardless of the knowledge or the acceptance of one's own status and the status of the other person. Attributing either partner as perpetrator or victim is not appropriate.

Criminal proceedings regarding the transmission of HIV from consensual sexual intercourse do not contribute to HIV prevention. They can even be counterproductive in terms of the willingness of an individual to take an HIV test and in terms of open communication of sexual partners. In contrast, it is in the interest of the individual and society to increase willingness to take an HIV test."
The full text of the statement (in German) can be found here.