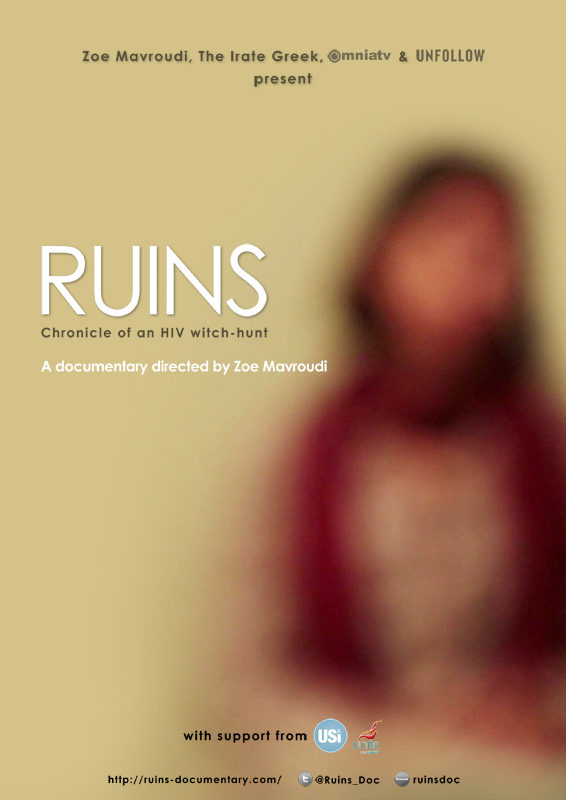 Guest blog post by the production team of Ruins: Chronicle of an HIV Witch-Hunt
An official repeal of Health Decree 39A has been published on the Official Journal of the Hellenic Republic as of Friday, April 17. The decree led to the case chronicled in our documentary which involved the mandatory testing and prosecution of a group of HIV-positive women, most of them injecting drug users, in a 2012 police operation in central Athens.
The minister of health P. Kouroumplis has signed a repeal of the decree's reinstatement by Adonis Georgiadis in July 2013 (a month after it was first repealed by former deputy minister Foteini Skopouli).
Health decree 39A was an attempt by our former governments to distract the Greek public -with the help of the media- from the disastrous effect of their inhumane austerity policies.
The decree has had many victims. Firstly, the women that were targeted three years ago, as well as those among them who are still facing trial in the Greek courts. The signing of the decree was also followed by the victimization of thousands of people including women, men, Greek citizens and migrants, victims of trafficking, injecting drug users and members of the LGBT community, who were rounded up and violated through mandatory blood tests during the original police operation by former ministers Loverdos and Chrysochoidis, as well as in later operations such as Xenios Zeus.
The decree launched a mass, organized campaign of misinformation that continues to this day and promotes irresponsible and unacceptable generalizations about the HIV virus and AIDS (the disease that is caused by the virus in the absence of treatment).
Its supporters promoted the view that mandatory exams, criminal prosecution and the scapegoating of vulnerable populations is a valid public health tactic in spite of a lack of evidence to support this claim and the ever-increasing international concern that such tactics of repression have the opposite of the desired effect on public health.
Decree 39A and the women's arrests also put Greece on the shameful world map of countries that have criminalized HIV, and was widely condemned by UNAIDS among many international organizations and renowned scientists and experts.
The repeal of 39A must be followed by further initiatives to protect human rights and to reverse the stigma it has left on our society and political life. Our institutions must address with resolve any attempts from anyone in a position of power to repeat similar actions inspired by 39A, that could risk the life and well-being of vulnerable people.
We in the production team of the documentary Ruins: Chronicle of an HIV Witch-Hunt, wish to thank the members of all those organizations and initiatives, who fought for the repeal of the decree and who have made efforts to keep the public informed about the relevant issues for the past three years, as well as for their ongoing support to the victims.