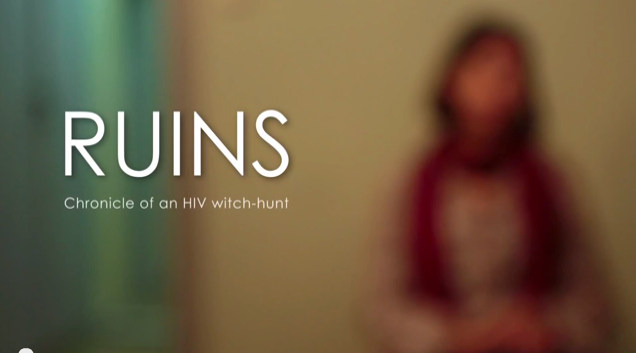 The events documented in Zoe Mavroudi's powerful documentary, Ruins – now available to watch in full online with a choice of English, Finnish, French, German, Polish, Spanish and Swedish subtitles – are a 'perfect storm' of problematic criminal justice responses to a public health issue.
Here, a Health Minister's legal provision, masquerading as benefitting public health, is enacted for political reasons. What follows is brutal, heavy-handed law enforcement, aided and abetted by doctors working for the public health authority who ought to have known better. Following this, the women's right to privacy is violated as they are named and shamed by an unquestioning media. Finally, and without any legal merit whatsoever, they are charged with prostitution and intentional grievous bodily harm for 'unknowingly' exposing unnamed 'Greek family men' to HIV.
Zoe's documentary highlights the human rights abuses that can happen to poor, disenfranchised people who are being scapegoated for an HIV epidemic that the State itself should be held responsible for (because it ignored the harm reduction needs of people who inject drugs or sex sell).
And given that we are hearing that people living with HIV in Greece are now afraid of further punitive measures – as well as fearful that their own public health agency could be so implicitly involved in this terrible persecution – this is not only a mass human rights violation but a terrible blow to public health, sending people with, and at risk of HIV, underground where they will not access prevention, testing and treatment.
What has been really impressive, however, is the response from civil society groups in Greece (and beyond) who are trying to give these women a voice.
With the online release of this film we all have an opportunity to support these women by donating towards their legal costs as they fight to achieve justice through the European Court of Human Rights.
Any revenue generated by Ruins (whether donations from the public or ticket sales or any other income from screenings in Greece and abroad) will be handled by Union Solidarity International.
USI is a UK-based not for profit company whose purpose is to build a network of trade unions and progressive activists around the world and promote their causes through the use of new media. Together with Unite the Union, USI donated the seed funding that made the production of the film possible.
Revenue generated by Ruins will be allocated to support the various court cases in which the persecuted HIV-positive women are involved – whether to support their legal defence for those who still stand accused of wrongdoing, or to support the lawsuits some of them have filed against the Greek authorities.
The HIV Justice Network also filmed a very interesting panel discussion that followed the UK premiere on October 18, 2013 at Birkbeck, University of London. It was chaired by Professor Matthew Weait with Virginia Mantouvalou, Sophie Strachan, Evi Boukli; myself and director, Zoe Mavroudi.