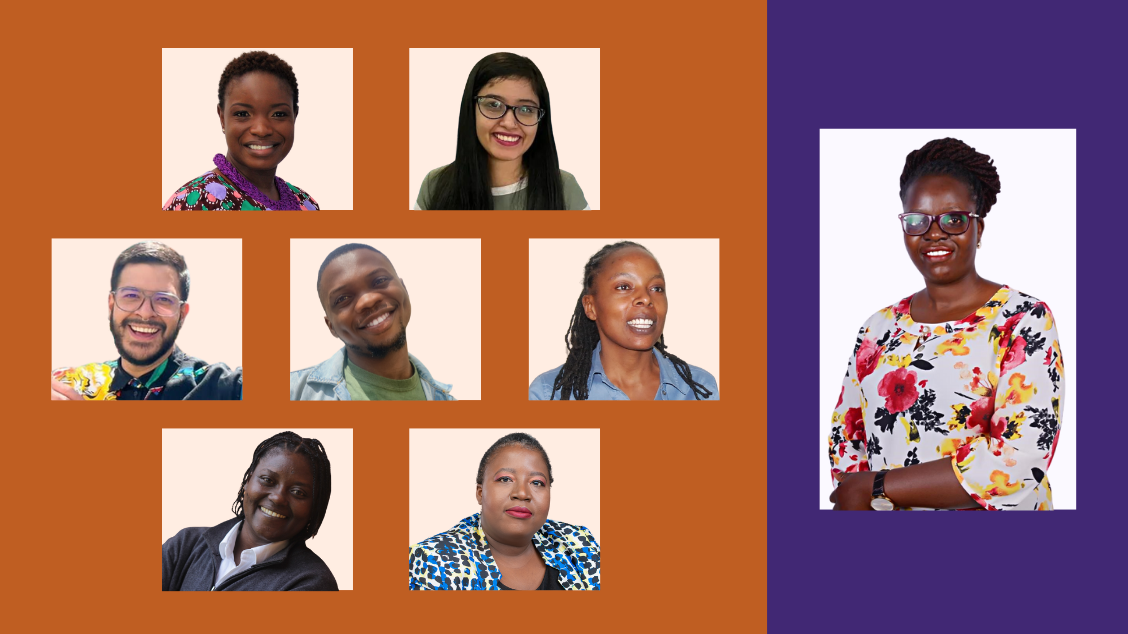 The HIV Justice Network (HJN) is delighted to announce new members to both our Supervisory Board and our Global Advisory Panel.
Following a joint meeting of the Supervisory and Management Boards earlier this month, Immaculate Owomugisha Bazare (on the right) was appointed to the Supervisory Board. Immaculate is a Ugandan lawyer and human rights advocate currently working with Uganda Network on Law, Ethics and HIV/AIDS (UGANET).
She has over ten years' experience challenging obstetric violence, HIV criminalisation, stigma and discrimination and all other forms violence against women and girls. She is also a member of the Board of Trustees for AIDS and Rights Alliance for Southern Africa (ARASA), a member of the International Steering Committee of the International Community of Women Living with HIV (ICW) and the Board Treasurer for the International Community of Women Living with HIV Eastern Africa (ICWEA). As well as sitting on the board of other Ugandan NGOs, she is also a member of the expert working group for the global consensus building process on HIV-related stigma.
Immaculate joins our existing Supervisory Board members – Richard Elliott, Kevin Moody, Paul Kidd and Sarai Chisala-Tempelhoff – and you can read more about them here.
In addition, this month HJN welcomes an additional seven members to the Global Advisory Panel (GAP), our international expert reference group working on HIV, human rights and social justice, following an open call this summer. The GAP, co-ordinated by Julian Hows, assists HJN to deliver on its mission by:
Providing feedback on our current work, activities, and outputs.
Being both a 'critical friend' as well as an ambassador for the ways that we are delivering on our mission, strategically and operationally.
Assisting us with building strategic alliances towards the common goal of ending HIV-related criminalisation around the world.
The seven new members of the Global Advisory Panel – who are there as individual experts, and do not represent the organisations they work for – are (from top left to bottom right):
Amelia Vukeya Motsepe, a renowned public health and human rights lawyer, based in South Africa.
Anukriti Singh, a youth activist who currently works with the Global Fund Advocates Network Asia-Pacific (GFAN AP), based in India.
Federico Emanuel Villalba, who currently works with the Argentine Network of Positive Youth and Adolescents (RAJAP), based in Argentina.
Justin Chidozie, who currently leads the Center for Health Education and Vulnerable Support (CHEVS), a LGBTQI youth-led organisation working within west Africa, based in Nigeria.
Rose Wanjiku, an artist and strategic communicator with a focus on SOGIE issues, who currently works with the African Sex Workers Alliance (ASWA), based in Kenya.
Shawn Mugisha, an HIV, LGBTQ+, and human rights activist, who works with the Ubuntu Law and Justice Centre, based in Uganda.
Zione Jane Veronica Ntaba, a Judge of the Malawi High Court with a passion for constitutional law, human rights law – especially as it relates to HIV/AIDS – gender, children, and disability, as well as urban and development law, based in Malawi.
We very much welcome all of the new GAP members, and look forward to working with them and our existing GAP members to achieve HIV justice: Alexander McClelland, Allan Maleche, Ann Fordham, Cecilia Chung, David Haerry, Elie Ballan, Jeffry Acaba, Jules Kim, M. Alfredo Gonzalez, Michaela Clayton, Robert Suttle and Ron MacInnis.
To read more about the individual members of the GAP – and their many passions and achievements – please visit HJN's dedicated GAP page.