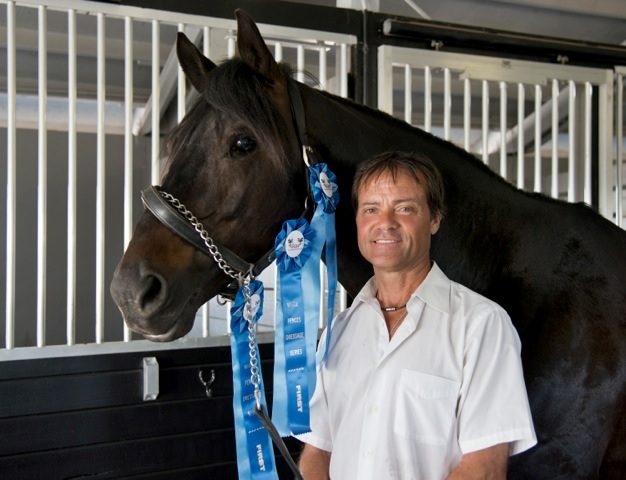 Photo by Bob Carey
HIV Court Nightmare Ends For Olympian Darren Chiacchia, Ocala, FL – 2/19/17
2004 Olympic medalist, 2003 Pan American Games gold medalist, and 2004 Rolex Kentucky CCI**** victor, Darren Chiacchia of Ocala, FL and Springville, NY, has been cleared of all charges under a Florida HIV disclosure law. After reviewing all available evidence, the prosecutors have acknowledged that dismissal is appropriate. Sadly, those unsupportable charges caused an eight year journey through the court system for a case that lacked merit from the beginning.
The statute cited in Darren's case is a 1986 law intended to protect against the spread of HIV. Florida is among multiple states that attached criminal penalties, but with major advancements in medical science, the validity of these statutes has been called into question.
For Chiacchia, this nightmare began on the heels of his traumatic brain injury (TBI) at the Red Hills Horse Trials in March 2008. A rotational fall at a vertical following a combination bank complex left Chiacchia in a prolonged coma. He thereafter struggled to recover his ability to take care of himself, his riding career, and the relationships around him. Chiacchia's diminished capacity certainly left him vulnerable to anyone intending to take advantage of him.
An individual did just that in June 2009 when this person tried first in New York, then Kentucky and finally Florida to have Chiacchia arrested.  He falsely claimed that Chiacchia violated Florida's Health law requiring knowledge of an infectious HIV condition.  Complicated by Chiacchia's brain injury which limited his ability to assist in his own defense, together with conflicting interpretations of the legal reach of that antiquated health law, Darren's case dragged on through multiple prosecutors and defense attorneys for years. Meanwhile, due to this false charge, his reputation was severely tarnished.
It was not until Ocala, FL attorney, Paul Guilfoil became involved on July 1, 2014 that the full factual record was compiled.  Chiacchia's recovering memory and the honesty of multiple witnesses clearly contradicted the 2009 false claim against him.
Perhaps the only positive outcome of this tragic mess is the fact that Chiacchia has become increasingly active in supporting change to HIV laws. Across the country these statutes tend to discourage testing for and treatment of the virus.  Medical science continues to improve the details of HIV identification and treatment.
Chiacchia has energetically involved himself in both the Florida and nationwide efforts to amend criminal HIV laws to reflect these changes. The fight also continues to improve our understanding of the effects of traumatic brain injuries (TBI). The lessons learned in Chiacchia's struggle to both recover from a TBI and to defend himself against false legal charges provide an important caution to lawmakers and athletes.
Chiacchia and many others fervently believe that no one should be the target of false criminal allegations or charges that rely upon antiquated and constitutionally over-broad punishment for any citizen; especially those who suffer from a disability making it difficult or impossible for them to defend themselves.