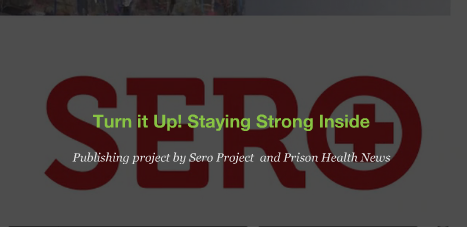 Sero is a national network of people with HIV and allies fighting HIV-related stigma, discrimination and criminalization by engaging and empowering ourselves and others with HIV to speak and advocate, conduct original research, document the experiences of those criminalized, educate communities and work in partnership with others to mobilize for change.
They particularly work to support and strengthen networks of people with HIV, especially those representing key populations, to bring their voice and insight to the discussion and development of policy, delivery of services and the media.
They have received many letters from people with HIV and/or hepatitis who are currently in prison, many on charges arising from their HIV or hepatitis status. Cindy Stine, Sero's Prisoner's Network co-ordinator, responds to these inquiries, provides research assistance and sometimes is able to help find legal counsel or other needed resources.
From this informal and growing network, it soon became clear that many people who are incarcerated have unique knowledge about effective strategies to maintain good health and access healthcare while behind bars.
Last September, Sero gathered a group of people who have been incarcerated or work with those who are, as well as HIV and hepatitis experts.
They spent time brainstorming how they could facilitate the sharing of advice, insights and tips from people who are in prisons or jails concerning how they stay as healthy as possible.
That led to the creation of Turn It Up! a new print resource guide for people with HIV and/or hepatitis who are incarcerated, as well as those newly-released from prison or jail and their friends and families.
Written and edited in large part by people who have themselves been incarcerated and/or have HIV and/or hepatitis, Turn It Up! will help those serving time navigate healthcare and stay as healthy as possible.
Laura Whitehorn and Suzy Martin, two longtime and prison reform activists, editors and HIV experts, are co-editing Turn It Up! They are both former editors at POZ magazine and Suzy works closely with Prison Health News.
To produce Turn It Up!, they worked with more than two dozen others, including contributors from prisons and jails in a dozen states, bringing an authentic, passionate and informed voice to the pages of Turn It Up!
The challenge now is to get it distributed to those who need it the most. Sero have launched a modest Kickstarter campaign, that includes this video explaining the project, which they hope will raise at least $5,000 to help with distribution costs.
Support the Kickstarter campaign here.