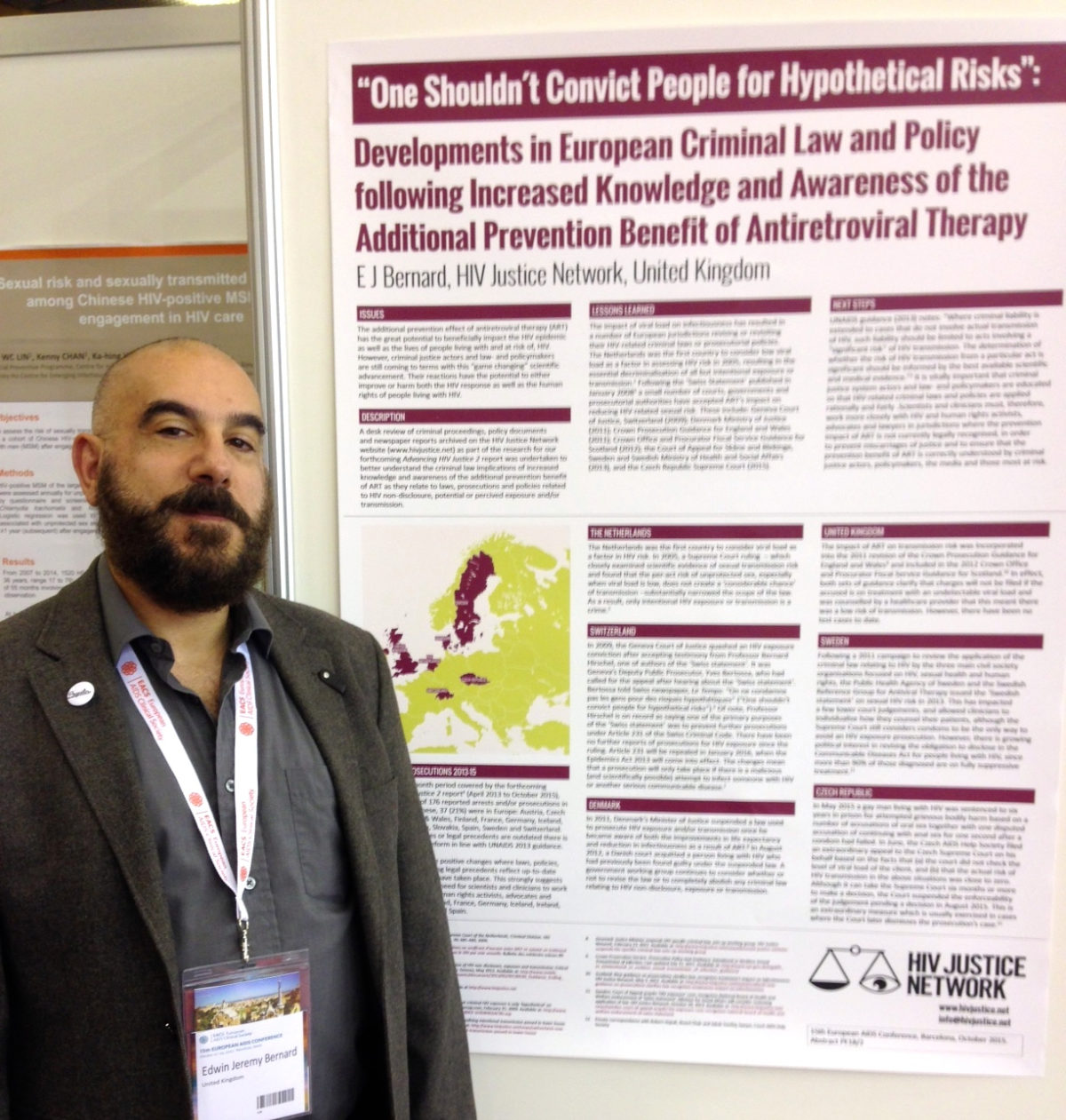 Last week, at the 15th European AIDS Clinical Society (EACS) Conference in Barcelona, I presented a poster on behalf of the HIV Justice Network, that showed where the prevention benefit of treatment has impacted HIV criminalisation in Europe. The reality is that since the Swiss statement in 2008, progress has been frustratingly slow.
During the 30-month period covered by the forthcoming Advancing HIV Justice 2 report (April 2013 to October 2015), we found a total of 176 reported arrests and/or prosecutions in 24 countries. Of these, 37 (21%) were in Europe: Austria, Czech Republic, England & Wales, Finland, France, Germany, Iceland, Ireland, Italy, Russia, Slovakia, Spain, Sweden and Switzerland. Where laws, practices or legal precedents are outdated there is an urgent need for reform in line with UNAIDS 2013 guidance.
Although there have been some positive developments in many of these jurisdictions – where lower or even regional appeal courts have accepted the new science – few have clear, established legal guidance at the highest level regarding the prevention impact of treatment, and therefore unjust prosecutions continue. There is, therefore, an urgent need for scientists and clinicians to work closely with HIV and human rights activists, advocates and lawyers in Austria, Finland, France, Germany, Iceland, Ireland, Italy, Russia, Slovakia and Spain to ensure that either the law itself, or legal precedent and/or prosecutorial guidance reflects up-to-date science on HIV-related risk (and harm).
The abstract is below.  The e-poster can be read online or the poster as displayed at the conference can be read and downloaded as a pdf.
Issues
The additional prevention effect of antiretroviral therapy (ART) has the great potential to beneficially impact the HIV epidemic as well as the lives of people living with and at risk of HIV. However, criminal justice actors and law- and policymakers are still coming to terms with this "game changing" scientific advancement. Their reactions have the potential to either improve or harm both the HIV response as well as the human rights of people living with HIV.
Description
A desk review of criminal proceedings, policy documents and newspaper reports archived on the HIV Justice Network website (www.hivjustice.net) as part of the research for our forthcoming Advancing HIV Justice 2 report was undertaken to better understand the criminal law implications of increased knowledge and awareness of the additional prevention benefit of ART as they relate to laws, prosecutions and policies related to HIV non-disclosure, potential or percived exposure and/or transmission. .
Lessons Learned
The impact of viral load on infectiousness has resulted in a number of European jurisdictions revising or revisiting their HIV-related criminal laws or prosecutorial policies. The Netherlands was the first country to consider low viral load as a factor in assessing HIV risk in 2005, resulting in the essential decriminalisation of all but intentional exposure or transmission. Following the 'Swiss Statement' published in January 2008 a small number of courts, governments and prosecutorial authorities have accepted ART's impact on reducing HIV-related sexual risk. These include: Geneva Court of Justice, Switzerland (2009); Denmark Ministry of Justice (2011); Crown Prosecution Guidance for England and Wales (2011); Crown Office and Procurator Fiscal Service Guidance for Scotland (2012); the Court of Appeal for Skåne and Blekinge, Sweden and Swedish Ministry of Health and Social Affairs (2013), and the Czech Republic Supreme Court (2015).
Next steps
UNAIDS guidance (2013) notes: "Where criminal liability is extended to cases that do not involve actual transmission of HIV, such liability should be limited to acts involving a "significant risk" of HIV transmission. The determination of whether the risk of HIV transmission from a particular act is significant should be informed by the best available scientific and medical evidence." It is vitally important that criminal justice system actors and law- and policymakers are educated so that HIV-related criminal laws and policies are applied rationally and fairly .Scientists and clinicians must, therefore, work more closely with HIV and human rights activists, advocates and lawyers in jurisdictions where the prevention impact of ART is not currently legally recognised, in order to prevent miscarriages of justice and to ensure that the prevention benefit of ART is correctly understood by criminal justice actors, policymakers, the media and those most at risk.
Bernard EJ. "One Shouldn´t Convict People for Hypothetical Risks": Developments in European Criminal Law an… by HIV Justice Network