Today, 24th July, at the 12th IAS Conference on HIV Science on Brisbane, we presented our research findings on the five-year impact of the 'Expert Consensus Statement on the Science of HIV in the Context of Criminal Law'.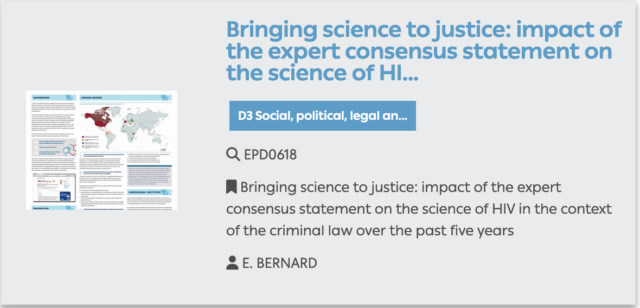 Click on the image above to download the pdf of the poster
Tomorrow, 25th July, we will publish the full research report and discuss the findings on our live webshow, HIV Justice Live!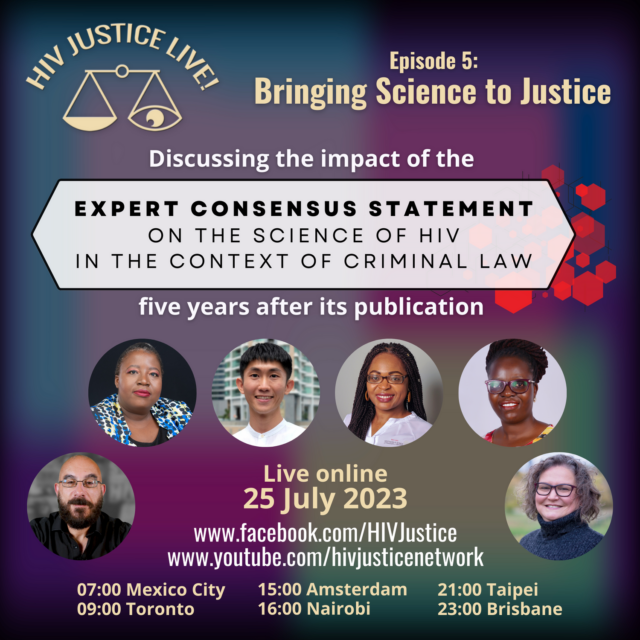 Hosted by HJN's Executive Director, Edwin J Bernard, the show will include a discussion with the report's lead author, HJN's Senior Policy Analyst Alison Symington, as well as interviews with Malawian judge Zione Ntaba, Taiwan activist Fletcher Chui, and SALC lawyer Tambudzai Gonese-Manjonjo on the Statement's impact.
We'll also hear from some of the Expert Consensus Statement's authors, including Françoise Barré-Sinoussi, Salim S Abdool Karim, Linda-Gail Bekker, Chris Beyrer, Adeeba Kamarulzaman, Benjamin Young, and Peter Godfrey-Faussett.
Ugandan lawyer and HJN Supervisory Board member Immaculate Owomugisha will also be joining us live from the IAS 2023 conference where she is serving as a rapporteur, to discuss the Statement's relevance today.
HIV Justice Live! Episode 5: Bringing Science to Justice will be live on Facebook and YouTube on Tuesday 25th July at 3pm CEST (click here for your local time).