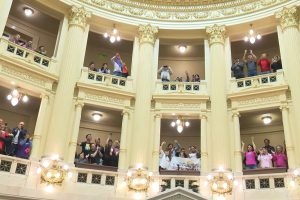 Senate signed comprehensive HIV response into law
Automated Google translation – Scroll down for original article in Spanish
The bill was approved with 60 votes in favor and only 1 against. It also includes Viral Hepatitis, other Sexually Transmitted Infections and Tuberculosis. It repeals Law 23,798 that had been sanctioned in 1990.
The Chamber of Senators signed into law this Thursday the Comprehensive Response to HIV, Viral Hepatitis, other Sexually Transmitted Infections and Tuberculosis project that repeals the current rule 23,798 sanctioned in 1990. The initiative obtained 60 votes in favor and only one against the Senator Humberto Schiavoni, head of the Pro bloc.
The new president of the Health Commission, Pablo Yedlin from Tucuman, opened the round of speakers by stating that it is a "very important" issue that "has an old legislative history with a disease that is quite modern and that the HIV law that governs , it was historic because it allowed at a very hard time because we did not have many tools for treatment, to prevent vertical transmission from mothers to children, we did not have tools to cure this disease and many died from it.
Regarding the current law, he pointed out that "after 30 years it has aged well, it is very important, and it allowed patients who live with the virus to have access, from the State, to their treatments and it was a pioneering law in the world and without doubt in the region.
Along these lines, he thanked the civil organizations that "throughout Argentina have been fighting an important battle in search of their rights, to obtain this new law, which sometimes cost them to arrive, such as tests, condoms, over the years."
"It is estimated that there are 140,000 people who live with the virus, 17% of this number are unaware of the diagnosis, perpetuating the cycle of infections. Unfortunately, 30% of the patients who are diagnosed do so in the late period of the disease and this makes treatment difficult. 65% are treated in the public sector," described Yedlin and thanked the public health system that "takes care of serious health problems."
And he continued: "4,500 cases are diagnosed per year with a rate of 11 per 100 inhabitants and the mortality rate from AIDS is getting lower and lower, and today it is declining at 2.8 per 100,000 inhabitants", but he pointed out that "it is not the same in all the provinces because the AIDS mortality rate shows severe inequities in the country, that is why we must continue working on regulations that allow the country to be more equitable".
"This law was worked on in consensus with all the political blocs", highlighted the man from Tucuman and lamented that he lost "three times he lost parliamentary status and had to be represented". Likewise, he compared the new initiative with the current law: "It is not only a law for HIV, but also for other sexually transmitted diseases that suffer some type of neglect, such as hepatitis B, which are very expensive to treat and are incorporated to have the same right".
And he continued: "It is a law that, in addition to declaring the treatment in a national public way, the diagnosis is also declared by the development, the research, the medicines. It gives a comprehensive response, new combined methods".
"We are making a law so that all patients can have access to a special retirement system that will allow those who age prematurely, with 50 years and 20 years of contributions, to access a retirement system. Those patients who have the virus or hepatitis B or C will have access to a non-contributory lifetime pension and are socially vulnerable. This law creates a National Monitoring Commission made up of different ministries and civil society", explained the man from Tucuman and closed: " It is a law that tries to overcome political cries and we all agree that patients deserve rights and we are doing justice for the law to materialize ".
In his turn, the vice president of the Health Commission, Mario Fiad from Jujuy , advanced his positive vote because "this law came to update the current Law that has been in force for many years and that has the addition of including viral hepatitis B and C, other sexually transmitted infections and tuberculosis from a human rights perspective".
However, he considered that "we are arriving late" because "we do not need these laws to know that the universe of these people who are affected by these pathologies have their enshrined rights."
"Estamos legislando sobre temas ya legislados y, sobre todo, lo que es indiscutiblemente obligatorio e imperativo del Estado, y por eso nos surgen interrogantes ¿por qué no se logran hacer operativos todos esos derechos? ¿por qué razón los Diputados tenían que considerar necesario incluir un capítulo de sanciones en la Ley de VIH y Hepatitis tuberculosis para que la ley sea vigente y no tenga posibilidades de trabajar, ¿por qué no se cumple con la tarea de fiscalización y monitoreo por parte del Poder Ejecutivo para hacer que se cumpla la norma? por que los pacientes recurren cada vez más a la justicia para que, por vía de amparo, tengan el cumplimiento de las leyes", explayó con críticas Fiad.
In addition, he questioned that "we have a universe of health laws that are not complied with" and pointed out the time it takes to regulate. "This has to call us to reflection, we have to monitor health regulations to be able to evaluate compliance," she said.
In her speech, Silvina García Larraburu (FdT) from Rio Negro said: "We will be closing the day with a fairer, more equitable, more egalitarian country, without a doubt all the projects are very important and fundamental for a large number of people who They are militating and working to achieve the best project"
In turn, he said that he has been presenting initiatives since 2016 and mentioned that the project was worked on with more than 50 organizations. "The national AIDS law was a pioneer at the time, but after more than 30 years it needed a change because the health paradigm of human rights, in every sense, needed modernization. It had content that turned out to stigmatize you", and compared that "the new law has a focus on human rights and a gender perspective. This legislation is going to be a model to imitate and one of the best legislations in the world".
Tucuman Sandra Mendoza (FdT) described that "this law is a historical reparation to all the people who suffered and continue to suffer discrimination, stigma, fear and ignorance about HIV. It is a law that will dignify and save lives to have a fairer and more supportive Argentina".
The project
Through the new law, Law 23,798, which had declared the fight against AIDS of national interest, and was sanctioned in 1990, is repealed.
In addition to HIV, the new law incorporates viral hepatitis, tuberculosis and sexually transmitted infections (STIs).
According to the text, "comprehensive and intersectoral response" and universal and free coverage of comprehensive assistance -medicines, supplies, vaccines, treatments, etc- are foreseen.
The rule prohibits the performance of the diagnostic test in pre-employment medical examinations, as well as during the course and as part of the employment relationship.
Nor can any educational institution, public or private, request it as a requirement for entry, permanence, promotion or for access to scholarships.
The diagnostic test will be voluntary, only with the consent of the person; free in all health subsystems; confidential; universal; and carried out with due individual advice before and after the test.
On the other hand, an exceptional early retirement is established for people with HIV and/or hepatitis B and/or C, which can be accessed from the age of 50, with proof of 20 years of contributions and 10 years after the diagnosis has elapsed. Retirement will be incompatible with those who have a job in a dependency relationship.
Likewise, a non-contributory lifetime pension is created for those who are in a situation of social vulnerability.
Among other points, the law states that every woman and/or person with the capacity to gestate must receive the necessary health information, related to their health, as well as that of their child, both during pregnancy and postpartum.
Also, every child born to a woman or person with the ability to gestate with HIV and/or Hepatitis B or C will have the right to free access to formula milk during the first 18 months.
The new law can be viewed here