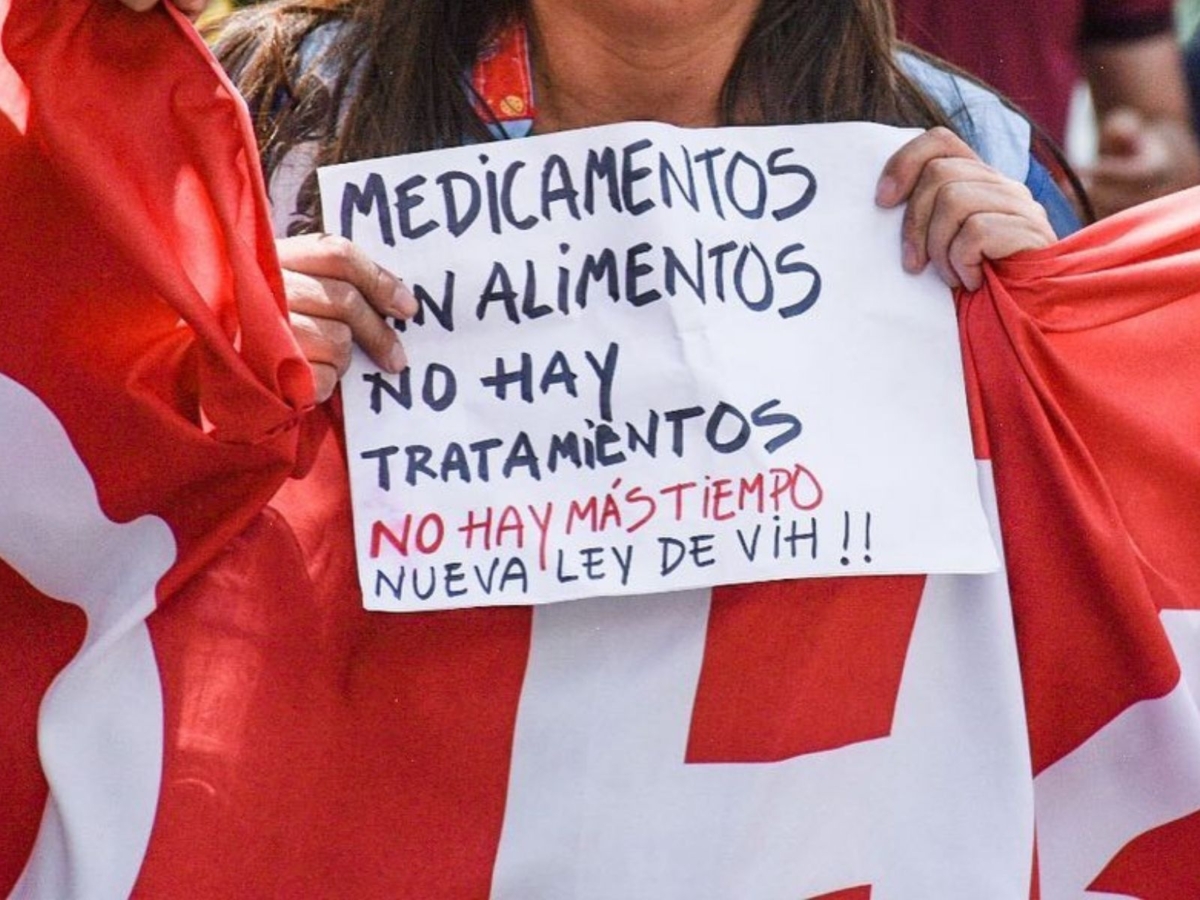 They demand that the HIV and STI bill be dealt with
Translated via Deepl.com. For original article in Spanish, please scroll down.
The new proposal was presented on October 26, 2020. It is the third time it reaches Congress, and different organizations demand that it be debated.
The current HIV regulation (regulation 23.798) dates back to 1990. With the change of contexts and perspectives, it is understandable that it is now outdated and insufficient to guarantee rights.
To reverse this situation, the new bill on HIV, Hepatitis, Tuberculosis and STIs is waiting to be discussed in Congress. As already mentioned, the 24-page document was presented at the end of October and is the result of a network of 40 organizations.
With respect to the current regulation, it establishes a change of perspective: the 1990 regulation has a biomedical approach, while the current draft establishes a gender and human rights approach. It seeks to focus on the social determinants of health and the elimination of stigma.
"It is urgent the treatment because we have a law in force from 1990 that may not be a long time for other laws but for an issue such as HIV or other viral pathologies, taking into account the progress in recent years of science and social behavior in relation to these pathologies, it is necessary to update this purely biomedical character and move to a regulation that is a comprehensive response, with a Human Rights approach," said Matías Muñoz, president of the Ciclo Positivo Association.
In relation to the previous point, the interviewee commented that although HIV is a virus that runs through people's blood, it not only has consequences on physical health, but there is a social problem around HIV that is related to stigma and discrimination.
"Currently, a person with HIV has the possibility of accessing treatment free of charge, but there are other social barriers that prevent them from having a good quality of life, such as discrimination in access to employment, job discrimination, dismissal for having HIV, problems in the educational system or with the close environment," said Muñoz.
Is this the first time that a proposal with these characteristics has been presented? No, the National Front for People's Health had already worked together with organizations on this project, which entered Congress in 2018, but was shelved.
Following the previous paragraph, on December 1, 2019 it lost parliamentary status. But it was not the first time it happened, in 2016 the same thing happened, despite having favorable opinion of the Social Action and Public Health Committee of the Chamber of Deputies.
It is important to highlight the support that the proposal has from different political parties. We highlight that it bears the signature of 17 deputies of the Frente de Todos, UCR, Coalición Cívica, Pro, Frente de Izquierda y los Trabajadores and Partido Socialista.
Key points of the new bill
In its article 1, it declares of public and national interest -among other things- the medicines, vaccines, procedures and medical products for the prevention, diagnosis, treatment and cure of HIV, Viral Hepatitis, Tuberculosis and STIs.
In another of its points, it establishes the integral and intersectoral response, which guarantees, for example, education and sensitization of the population, access to truthful, sufficient and updated information, and the reduction of risks and damages of stigma, discrimination and criminalization towards people with HIV, Viral Hepatitis, Tuberculosis and STIs.
It also includes palliative care and rehabilitation of these pathologies, including associated, derived and concomitant pathologies, as well as the adverse effects derived from them and/or their treatments.
This project contemplates universal and free coverage. The agents of the public health service, social security and prepaid medicine entities are obliged to provide comprehensive assistance to people affected by HIV, Viral Hepatitis, Tuberculosis and STIs.
In a clear way, the Ciclo Positivo Association highlights, among other points, the following:
– Prohibition of HIV, Hepatitis, TB and STI tests to enter a job position, in pre-employment medical examinations.
– Non-contributory pensions for people with HIV and Hepatitis B or C who have unmet needs. Provision of treatment for those who acquired the virus through vertical transmission and for other key populations such as women, transgender people, transvestites and non-binary people, etc.
– Creation of a National Commission on HIV, Hepatitis, TB and STIs integrated by different ministries, scientific societies and civil society organizations working on the issue.
– Extension of the provision of formula milk up to 18 months (previously only up to 6 months) for babies born to positive mothers.
– Creation of the National Observatory of Stigma and Discrimination within the orbit of INADI, in order to prevent the use of HIV infection, Hepatitis B or C, TB or any STI to prevent the exercise of rights.
There are expectations around this third presentation, due to the wide support of the project and the diffusion generated in the social networks in the last weeks, in order to promote its treatment in the Congress.
On this point, the president of Ciclo Positivo, said that "with the stir that has been achieved in the social networks in the last few days, the deputy Pablo Yedlin, president of the Health and Social Action Commission, told us that he is pleased with the possibility of having an opinion in the next few weeks".
Although such a step would be taken after the primary elections, the claim must be kept in force. "We understand that we have a project supported by all the blocks, and for that reason, we consider that we can achieve the approval this year", Muñoz concluded.
---
Exigen que se trate el proyecto de Ley de VIH e ITS
La nueva propuesta fue presentada el 26 de octubre del 2020. Es la tercera vez que llega al Congreso, y diferentes organizaciones reclaman que sea debatida.
La reglamentación vigente (normativa 23.798) de VIH data del año 1990. Con el cambio de contextos y perspectivas, es entedible que ahora esté desactualizada y que sea insuficiente para garantizar derechos.
Para revertir esta situación, el nuevo proyecto de Ley de VIH, Hepatitis, Tuberculosis e ITS espera ser tratado el Congreso. Como ya mencionamos, el documento de 24 páginas se presentó a fines de octubre, y es resultado de una red de trabajo con 40 organizaciones.
Respecto a la normativa vigente, establece un cambio de perspectiva, la de 1990 tiene un enfoque biomédico, en cambio, el proyecto actual fija un enfoque de género y de derechos humanos. Busca poner foco en los determinantes sociales de la salud y la eliminación del estigma.
"Es urgente el tratamiento porque contamos con una ley vigente del año 1990 que puede que para otras leyes no sea mucho tiempo pero para una cuestión como el VIH u otras patologías virales, teniendo en cuenta el avance de estos últimos años de la ciencia y el comportamiento social en relación a estas patologías, es necesario actualizar este carácter puramente biomédico y pasar a una normativa que sea de respuesta integral, con un enfoque de Derechos Humanos", dijo Matías Muñoz, presidente de la Asociación Ciclo Positivo.
En relación al punto anterior, el entrevistado comentó que si bien, el VIH es un virus que recorre la sangre de las personas, no solamente tiene consecuencias en la salud física, sino que existe una problemática social alrededor del VIH que está relacionada con el estigma y la discriminación.
"Actualmente, una persona con VIH tiene la posibilidad de acceder a su tratamiento de manera gratuita, sin embargo hay otras barreras sociales que impiden que tenga una buena calidad de vida, como puede ser la discriminación en el acceso al empleo, la discriminación laboral, despidos por tener VIH, problemas en el sistema educativa o con el entorno cercano", comentó Muñoz.
¿Es la primera vez que se presenta una propuesta con estas características? No, el Frente Nacional por la Salud de las Personas ya había trabajado en conjunto con las organizaciones sobre este proyecto, que ingresó al Congreso en 2018, pero fue cajoneado.
Siguiendo el párrafo anterior, el 1 de diciembre de 2019 perdió estado parlamentario. Pero no fue la primera vez que pasó, en 2016 sucedió lo mismo, a pesar de tener dictamen favorable de la Comisión de Acción Social y Salud pública de la Cámara de Diputados.
Es importante destacar el apoyo que tiene la propuesta de diferentes partidos políticos. Resaltamos que lleva la firma de 17 diputados y diputadas del Frente de Todos, UCR, Coalición Cívica, Pro, Frente de Izquierda y los Trabajadores y Partido Socialista.
Puntos claves del nuevo proyecto
En su artículo 1º, declara de interés público y nacional- entre otras cosas- los medicamentos, vacunas, procedimientos y productos médicos para la prevención, diagnóstico, tratamiento y cura del VIH, las Hepatitis Virales, la Tuberculosis y las ITS.
En otro de sus puntos, se establece la respuesta integral e intersectorial, que garantiza, por ejemplo, la educación y sensibilización de la población, un acceso a la información veraz, suficiente y actualizada, y la reducción de riesgos y daños del estigma, la discriminación y la criminalización hacia las personas con VIH, Hepatitis Virales, Tuberculosis e ITS.
Además se comprenden los cuidados paliativos y la rehabilitación de estas patologías, incluyendo las asociadas, derivadas y concomitantes, así como los efectos adversos derivados de las mismas y/o de sus tratamientos.
Este proyecto contempla la cobertura universal y gratuita. Los agentes del servicio público de salud, las obras sociales y las entidades de medicina prepaga, están obligadas a brindar asistencia integral a las personas afectadas por el VIH, las Hepatitis Virales, la Tuberculosis y las ITS.
De manera clara, la Asociación Ciclo Positivo, destaca, entre otros puntos, a los siguientes:
– Prohibición del test de VIH, Hepatitis, TBC e ITS para ingresar a un puesto de trabajo, en los exámenes médicos preocupacionales.
– Pensiones no contributivas para aquellas personas con VIH y Hepatitis B o C que tengan necesidades insatisfechas. Provisión de tratamientos para quienes adquirieron el virus por transmisión vertical y para otras poblaciones clave como mujeres, personas trans, travestis y no binaries, etc.
– Creación de una Comisión Nacional de VIH, Hepatitis, TBC e ITS integrada por distintos ministerios, sociedades científicas y organizaciones de la sociedad civil que trabajen el tema.
– Extensión de la provisión de leche de fórmula hasta los 18 meses (antes llegaba sólo a los 6 meses) para bebés de madres positivas.
– Creación del Observatorio Nacional de Estigma y discriminación en la órbita del INADI, en la búsqueda de que no se pueda utilizar la infección por VIH, Hepatitits B o C, TBC o cualquier ITS para impedir el ejercicio de los derechos.
Hay expectativas en torno a esta tercera presentación, por el amplio apoyo que tiene el proyecto y por la difusión que se generó en las redes sociales en las últimas semanas, para impulsar su tratamiento en el Congrego.
Sobre este punto, el presidente de Ciclo Positivo, dijo que "con el revuelvo que se ha logrado en las redes sociales en los últimos días, el diputado Pablo Yedlin, presidente de la Comisión de Salud y Acción Social, nos dijo que ve con beneplácito la posibilidad de tener dictamen en las próximas semanas".
Si bien, dicho paso se daría después de las elecciones primarias, hay que mantener el reclamo vigente. "Entendemos que tenemos un proyecto apoyado por todos los bloques, y por eso, consideramos que podemos lograr la media sanción este año", concluyó Muñoz.