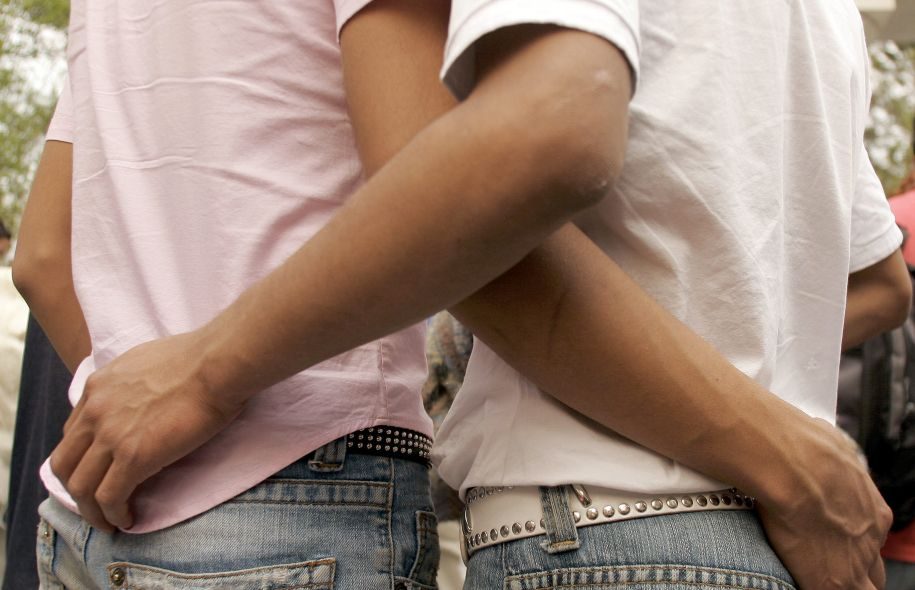 Moratorium requested on prosecutions for non-disclosure of HIV (Translation of article in French below)
The Coalition des organismes communautaires québécois de lutte contre le sida (COCQ-SIDA) will ask the minister of Justice of Quebec on Tuesday to impose a moratorium on the use of criminal prosecutions against people living with HIV who do not disclose their medical status to their sexual partner, learned The Duty.
This moratorium is called " right now ", and this, until the end of the consultation undertaken by the federal government in order to reform this regulation. "We hope to give more information on our progress at the end of the year ", has written for Le Devoir a spokesman for the federal department of Justice on Monday evening about this.
Currently, the supreme Court ruled that an HIV-positive person must disclose his/her HIV status to his partner prior to any sexual relationship, unless you meet two requirements, either wear a condom and have a low viral load or undetectable.
"The scientific studies show that the viral load decreases drastically [with the most recent treatments], to a point where HIV is no longer transmitted", explains a lawyer at COCQ-SIDA, Liz Lacharpagne. That is why the coalition believes that only one of the two criteria should be taken into account.
Since 2010, the COCQ-AIDS has multiplied advances to review the regulation, considered as being discriminatory and outdated, but without success. "The guidelines we asked for were never adopted," said Ms. Lacharpagne.
"Currently, people living with HIV are the subject of allegations of severe sexual abuse […] even in the absence of intent to cause harm, even when HIV is not passed to the partner, and even when the risk of transmission is negligible, or even zero," writes COCQ-SIDA in a press release that will be published on Tuesday.
These criminal prosecutions contribute to stigmatize people living with HIV, states the coalition. Ms. Lacharpagne cites the example of high-profile cases where accused persons have been identified publicly as a sex offender. "It does not give a nice image of these people."
"There is a confusion between the fact of not disclosing [their HIV status] and a sexual assault ", she says.
More lawsuits
COCQ-SIDA is particularly concerned since the beginning of the year, because it has observed a substantial increase in prosecutions for non-disclosure in Quebec. The Devoir reported on this situation in August.
Faced with the refusal of the minister of Justice of Quebec, Stéphanie Vallée, to meet with COCQ-SIDA, and in the context of the increase in lawsuits, the coalition believes that they has no other recourse but to ask for a moratorium. "It is at a political level," explains Ms. Lacharpagne.
The cabinet of Mrs Valley did not tell le Devoir if it will impose or not such a moratorium. The case depends on the federal government, has reminded the press officer for the minister, Isabelle Married St-Onge, in a reply sent by e-mail.
"Quebec is favourable to the minimization of the stigma of people living with HIV and focuses on the approach set out by the jurisprudence of the supreme Court which provides for a fair balance between the protection of society, victims and the respect for the dignity of people living with HIV ", she adds.
————————————————————————–
La Coalition des organismes communautaires québécois de lutte contre le sida (COCQ-SIDA) demandera mardi à la ministre de la Justice du Québec d'imposer un moratoire sur les poursuites criminelles contre les personnes vivant avec le VIH qui ne divulguent pas leur statut médical à leur partenaire sexuel, a appris Le Devoir.
Ce moratoire est demandé « dès maintenant », et ce, jusqu'à l'issue de la consultation menée par le gouvernement fédéral dans le but de réformer cette réglementation. « Nous espérons donner de plus amples renseignements sur nos progrès à la fin de l'année », a écrit au Devoir un porte-parole du ministère fédéral de la Justice lundi soir à ce sujet.
Actuellement, la Cour suprême établit qu'une personne séropositive doit divulguer son statut sérologique à son partenaire avant toute relation sexuelle, à moins de remplir deux exigences, soit porter un condom et avoir une charge virale faible ou indétectable.
« Les études scientifiques montrent que la charge virale diminue de façon drastique [avec les plus récents traitements], à un point où le VIH ne se transmet plus », explique l'avocate de la COCQ-SIDA, Liz Lacharpagne. C'est pourquoi la coalition estime qu'un seul des deux critères devrait être pris en compte.
Depuis 2010, la COCQ-SIDA multiplie les démarches afin de revoir la réglementation, jugée discriminatoire et désuète, mais sans succès. « Les directives qu'on demandait n'ont jamais été adoptées », déplore Mme Lacharpagne.
« Actuellement, des personnes vivant avec le VIH font l'objet d'accusations d'agressions sexuelles graves […] même en l'absence d'intention de causer un préjudice, même lorsque le VIH n'est pas transmis au partenaire et même lorsque le risque de transmission est négligeable, voire nul », écrit la COCQ-SIDA dans un communiqué qui sera publié mardi.
Ces poursuites au criminel contribuent à stigmatiser davantage les personnes séropositives, soutient la coalition. Mme Lacharpagne cite en exemple des cas médiatisés où des personnes accusées ont été identifiées publiquement comme des délinquants sexuels. « Ça ne donne pas une belle image de ces personnes ».
«Il y a une confusion entre le fait de ne pas dévoiler [son statut sérologique] et une agression sexuelle », déplore-t-elle.
Plus de poursuites
La COCQ-SIDA est particulièrement inquiète depuis le début de l'année, car elle observe une augmentation importante des poursuites pour non-divulgation au Québec. Le Devoirrapportait d'ailleurs cette situation au mois d'août.
Devant le refus de la ministre de la Justice du Québec, Stéphanie Vallée, de rencontrer la COCQ-SIDA, et dans le contexte d'augmentation des poursuites, la coalition estime qu'elle n'a d'autre recours que de demander un moratoire. « C'est à un niveau politique », explique Mme Lacharpagne.
Le cabinet de Mme Vallée n'a pas précisé au Devoir s'il imposera ou non un tel moratoire. Le dossier relève du gouvernement fédéral, a rappelé l'attachée de presse de la ministre, Isabelle Marier St-Onge, dans une réponse transmise par courriel.
« Le Québec est favorable à la minimisation de la stigmatisation des personnes atteintes du VIH et privilégie l'approche définie par la jurisprudence de la Cour suprême qui prévoit un juste équilibre entre la protection de la société, des victimes et le respect de la dignité des personnes atteintes du VIH », ajoute-t-elle.