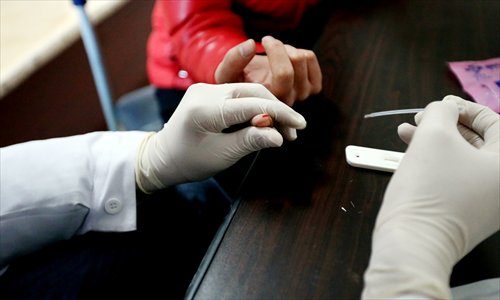 "I was so desperate, and I could not imagine the future if I was really infected," Fu Yi (pseudonym), a maternity doctor at Sichuan Provincial People's Hospital in Chengdu, recalled her feelings when she was exposed to HIV-infected blood during a birth in 2010.
Fu accidentally exposed her injured foot to the blood of the HIV-positive patient who was delivering a baby – Fu did not know the patient was HIV-positive, until the blood test results came out the next day.
Fu immediately started to take anti-AIDS emergency prevention pills. She suffered from the  side effects, vomit and nausea, for a month, and lived in an abyss of fear for over half a year until she was eventually declared HIV free, she told the Global Times.
This incident was made public recently when the media began to report on the danger of exposure to infectious diseases that medical professionals face.
"We call [what Fu experienced] 'occupational exposure,'" Xiang Qian, with the healthcare associated-infections division at Sichuan Provincial People's Hospital, told the Global Times.
Occupational exposure for medical staff can be defined as coming into contact with infectious virus or toxic substances at work, which can pose health risks, according to Xiang.
Fu was not the only medical worker who has been exposed to infectious diseases at work. As of press time, there are no national statistics available, but in the hospital where Fu works a total of 122 medical staff reported being exposed to infectious diseases in 2013, including AIDS, hepatitis B and syphilis, according to Xiang.
From January to November this year, 88 medical workers, 43 percent of them nurses and 29 percent of them doctors, were exposed to infectious diseases at work. Hepatitis B topped the list, with 45 percent of the incidents of exposure involving the disease, followed by syphilis with 14 percent and HIV with 7 percent.
Among those infectious diseases that medical staff are exposed to, HIV is the most serious.
The risk is heightened as many patients do not disclose their HIV infection to physicians when being treated for other conditions. Meanwhile, many physicians do not take the kinds of precautions necessary to avoid becoming infected.
Concealment
Pregnant women usually go through a full blood test for possible infectious diseases before the delivery, and the result comes the day of the birth.
But in Fu's case, the patient's critical condition meant that she had to perform the delivery immediately, Fu said.
The patient's family concealed her medical history and told Fu the patient had no infections. Fu, who had no time to take extra precautions, went into the operating room with an injured foot.
"From the doctor's perspective, concealing infectious diseases is unfair," Fu said.
But in some HIV patients' eyes, disclosing their disease would jeopardize their access to healthcare as some hospitals may transfer them to designated infectious disease hospitals that offer inferior treatment.
Bi De, (pseudonym), 26, an AIDS patient who organized a debate in Shenzhen in November on whether HIV carriers should disclose their disease to doctors not treating their HIV, said he understood the ethical necessity to disclose one's infections.
"But after my experience, I would not tell them [doctors] again," Bi said. He first learnt he was HIV positive was two years ago when he went to a hospital in Henan Province to receive treatment for facial paralysis, and the hospital told him about his disease and transferred him to a designated hospital in Zhengzhou.
"But the infectious disease hospital did not have enough resources, and I finally recovered [from his paralysis]after visiting a Traditional Chinese Medicine doctor," Bi said.
In another high-profile case that came to light last year, an HIV-positive cancer patient sued a Tianjin hospital that refused to treat his cancer due to his HIV. The case was the first well-known case of an HIV carrier suing a hospital for discrimination.
After hearing of the case, then vice-premier Li Keqiang [now premier] immediately called for better treatment of HIV/AIDS patients.
But the Tianjin Hexi District Court last week rejected the case as the plaintiff failed to provide a legal basis for his claims, according to Beijing-based newspaper The Mirror.
Chinese media has reported many cases of hospitals delaying or refusing treatment to HIV carriers despite the regulation issued by the State Council in 2006 which stipulates that clinics and hospitals should not refuse or delay treatment for HIV/AIDS patients.
According to Xiang, hospitals should only transfer patients to designated infectious disease hospitals when their conditions could pose public health risks, such as if they have SARS or bird flu.
Shao Yiming, an AIDS expert at the Chinese Center for Disease Control and Prevention, told the Global Times that hospitals are obliged to treat the diseases of HIV carriers.
"The HIV virus has a lower transmission level than many other infectious diseases such as hepatitis B. Why can they [doctors] treat [the disease] of hepatitis B carriers but not those of HIV carriers?" Shao said.
By the end of 2013, the number of people infected with HIV/AIDS hit 810,000 in China, according to the National Center for AIDS/STD Control and Prevention.
Shao suggested the country should put the related laws into practice while making more effort to promote knowledge of HIV/AIDS among medical staff and society.
Safety protection awareness
Xiang's hospital laid out protection guidelines for medical staff to minimize their exposure to infectious diseases, but many are reluctant to adopt them.
"For example, some doctors following extra safety protection guidelines have to wear two sets of gloves, which they believe affect their surgical performance," Xiang said.
Who should pay for the safety protection equipment in a long run is another headache for Xiang.
As the government subsidy does not cover it, hospitals that make an insufficient profit find it difficult to afford the equipment, he said.
"Some hospitals would not even pay for their medical workers to have a hepatitis B vaccine," He said.
But Fu, who has performed gynecological surgeries on two HIV carriers after she was exposed, has been extra careful since the exposure.
"I wear special masks to prevent the blood splashing, safety protection suits, shoes and other extra safety protection equipment when I perform surgeries," she said.