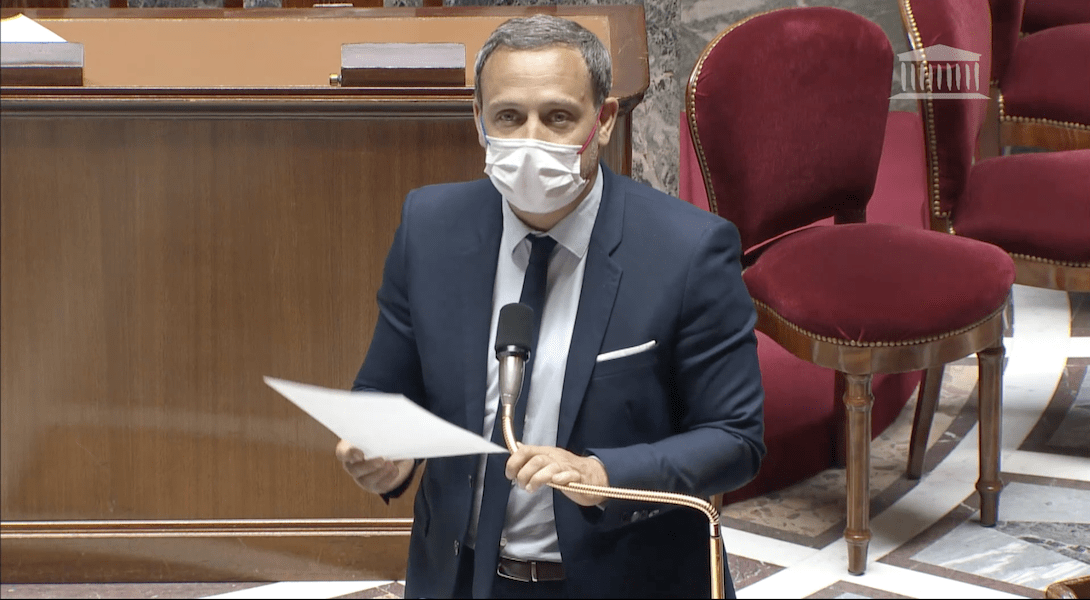 Blood donation: The end of the distinction between gay and straight promised for 2022
Translated from French with Deepl.com – For original article, please scroll down
The French National Assembly has passed an amendment allowing gay & bisexual men to donate blood under the same conditions as heterosexual men. The measure is due to come into force in 2022.
Are we heading towards the end of discrimination? This Tuesday evening, the National Assembly voted on an amendment to the bioethics bill concerning blood donation. At the request of the government, parliamentarians lifted the abstinence period still required for men who have sex with men (MSM), whether gay or bisexual. According to our information, the reform will come into force on 1 January 2022.
"The criteria for selecting donors (…) may not be based on any difference in treatment, in particular with regard to the sex of the partner or partners with whom the donors have had a sexual relationship," says the amendment to Article 7 bis of the bioethics bill. Currently, in order to pass the screening process at the French Blood Establishment (EFS), MSM must have previously respected a four-month period of abstinence, effectively excluding many of them from donating blood.
Blood donation and HIV (over)risk
The Minister of Health publicly welcomed the vote. "Giving blood will meet the same health safety requirements, regardless of one's sexuality. Parliament has just voted in principle. I will align the donor selection criteria in the coming months," he wrote on Twitter.
However, a year ago, Olivier Véran considered it "dangerous" to go through the law to put an end to this discrimination, considering that it "is really not the right tool". At the time, the left and the right were defending an amendment to this effect. "There is a serological window, a few days during which a person can be contaminated without being detected (…). Statistically, there is an excess risk (among MSM), not because of sexuality but because of a practice," the minister argued in July 2020, quoted by HuffPost.
Olivier Véran therefore pleaded for the reduction of the abstinence period to be carried out by regulation (i.e. by executive decree), so that it could be reinstated in the event of a problem: "If there were a situation, which would not even be linked to HIV, but which would oblige us to put in place emergency measures to protect recipients and donors, we would no longer be able to do so (otherwise).
A major difference
However, the new version voted by the Assembly contains a difference that changes everything. The amendment states that donor selection criteria may not be based on discrimination "not justified by the need to protect the donor or the recipient". A possibility is left open to reconsider the donor selection criteria. "This wording is an open door to differential treatment. I have the feeling that the government wants to give pledges but cannot go all the way", analysed for TÊTU the PS deputy Hervé Saulignac, who brought the initial amendment.
This year, it was not Olivier Véran who argued in the Assembly but Adrien Taquet, Secretary of State for Child Protection. "The Minister of Health had undertaken to present new elements. (…) The residual risk of HIV among blood donors has decreased considerably in recent years. Santé Publique France now estimates it at 1 in 11.6 million donations," he said.
Following the British model, which will start next week, a new non-discriminatory questionnaire will be offered to donors. From 14 June in the UK, donation will be open to people who have had the same sexual partner for three months, who have not had a recent exposure to an STI or who are PrEP users. In France, "these changes can be implemented from the beginning of next year", the Secretary of State promised. Contacted by TÊTU, the Ministry of Health gave a date: 1 January 2022.
---
Don du sang : la fin de la distinction entre gay et hétéro promise pour 2022
L'Assemblée nationale a voté un amendement autorisant les hommes gays et bis à donner leur sang dans les mêmes conditions que les hétéros. La mesure doit entrer en application en 2022.
Se dirige-t-on vers la fin d'une discrimination ? Ce mardi 8 juin au soir, l'Assemblée nationale a voté un amendement au projet de loi bioéthique concernant le don du sang. Sur demande du gouvernement, les parlementaires ont levé la durée d'abstinence toujours demandée aux hommes qui ont des relations sexuelles avec des hommes (HSH), qu'ils soient gays ou bis. Selon nos informations, la réforme entrera en vigueur le 1er janvier 2022.
"Les critères de sélection des donneurs (…) ne peuvent être fondés sur aucune différence de traitement, notamment en ce qui concerne le sexe du ou des partenaires avec lequel les donneurs auraient entretenus une relation sexuelle", indique l'amendement à l'article 7 bis du projet de loi bioéthique. Actuellement, pour pouvoir passer la sélection opérée lors d'un rendez-vous à l'Établissement français du sang (EFS), les HSH doivent avoir respecté au préalable une période d'abstinence de quatre mois, excluant de fait bon nombre d'entre eux du don du sang.
Don du sang et (sur-)risque de VIH
Le ministre de la Santé s'est félicité publiquement du vote. "Donner son sang répondra aux mêmes impératifs de sécurité sanitaire, et ce quelle que soit sa sexualité. Le parlement vient d'en voter le principe. J'alignerai ainsi les critères de sélection des donneurs dans les prochains mois", a-t-il écrit sur Twitter.
Pourtant il y a encore un an, Olivier Véran jugeait "dangereux" de passer par la loi pour mettre fin à cette discrimination, considérant que ce "n'est vraiment pas le bon outil". À l'époque, la gauche défendait main dans la main avec la droite un amendement en ce sens. "Il y a une fenêtre sérologique, quelques jours pendant lesquels une personne peut être contaminée sans que l'on puisse le détecter (…). Statistiquement, il y a un sur-risque (chez les HSH), non pas en raison de la sexualité mais d'une pratique", faisait valoir le ministre en juillet 2020, cité par le HuffPost.
Olivier Véran plaidait donc pour que la réduction du délai d'abstinence passe plutôt par voie réglementaire (donc par décret de l'exécutif), manière de pouvoir le réinstaller en cas de problème : "S'il y avait une situation, qui n'aurait même pas de lien avec le VIH mais qui nous obligerait à mettre en place des mesures d'urgence pour protéger les receveurs et les donneurs, nous ne pourrions plus le faire (sinon)".
Une différence de taille
La nouvelle mouture votée par l'Assemblée comporte néanmoins une différence qui change tout. Les critères de sélection des donneurs n'y peuvent être fondés, est-il écrit dans l'amendement, sur une discrimination "non justifiée par la nécessité de protéger le donneur ou le receveur". Une possibilité laissée ouverte de revenir sur les critères de sélection des donneurs. "Cette formulation est une porte ouverte à une différence de traitement. J'ai le sentiment que le gouvernement souhaite donner des gages mais n'arrive pas à aller jusqu'au bout", analyse pour TÊTU le député PS Hervé Saulignac, qui a porté l'amendement initial.
Cette année, ce n'est pas Olivier Véran qui a argumenté à l'Assemblée mais Adrien Taquet, secrétaire d'État chargé de la protection de l'enfance. "Le ministre de la Santé s'était engagé à présenter des éléments nouveaux. (…) Le risque résiduel du VIH chez les donneurs de sang a considérablement diminué ces dernières années. Santé Publique France l'évalue maintenant 1 sur 11,6 millions de dons", a-t-il indiqué.
Sur le modèle britannique, qui s'y met la semaine prochaine, un nouveau questionnaire non discriminant sera proposé aux donneurs. Ainsi à partir du 14 juin outre-Manche, le don sera ouvert aux personnes qui ont eu le même partenaire sexuel pendant trois mois, qui n'ont pas eu d'exposition récente à une IST ou encore, qui sont utilisateurs de la PrEP. En France, "ces évolutions pourront être mises en oeuvre dès le début de l'année prochaine", a promis le secrétaire d'État. Contacté par TÊTU, le ministère de la Santé donne une date : le 1er janvier 2022.