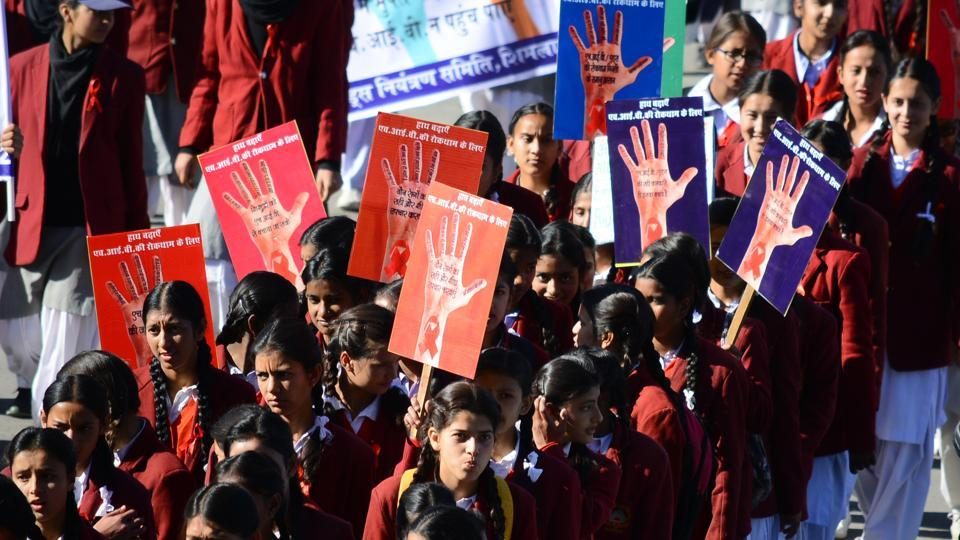 Lok Sabha passes 'historic' bill ensuring equal rights to HIV-affected people
The Lok Sabha on Tuesday passed a crucial bill that ensures equal rights to the people affected by HIV and AIDS in terms of getting treatment, jobs or admissions to educational institutions.
Moving the Human Immunodeficiency Virus (HIV) and Acquired Immune Deficiency Syndrome (AIDS) (Prevention and Control) Bill, 2017 for passage, health minister JP Nadda said the government stood for free treatment to HIV patients.
The Rajya Sabha had passed the bill last month.
The "historic" and "people centric" legislation will strengthen rights of people infected with HIV, Nadda said.
Various clauses pertaining to prohibition of discrimination against HIV-positive patients have been enlisted in the bill. "Whosoever does not adhere to the provisions of the bill, will be penalised. Civil and criminal proceedings will be launched against such persons", Nadda said, adding that action would also be taken against those who attempted to block the implementation of the bill.

The legislation, he added, has provisions to safeguard the property rights of HIV positive people.

"Every HIV infected or affected person below the age of 18 years has the right to reside in a shared household and enjoy the facilities of the household", Nadda said.

Further, the bill prohibits any individual from publishing information or advocating feelings of hatred against HIV positive persons and those living with them.

Nadda said the government will also promote research to check the spread of HIV virus and come out with aggressive strategies, especially in high risk areas.

Opposition members had several suggestions and observations during the Bill's passage, TMC member Ratna De Nag regretted that stigma related to HIV remains intense . P Ravindra Babu (TDP) emphasized that the stigma associated with the disease could not be eradicated by laws alone. Varaprasad Rao (YSR Congress) pitched for insurance cover for the affected people with the premium being paid by the government.

Heena Gavit (BJP) said couples affected with HIV should be given the right to adopt children.
 Text of the full bill is available
here
——————————————————————
The new HIV and AIDS Bill will work to reduce stigma and discrimination
Two decades ago India was considered a hotspot and emerging centre of the world's HIV epidemic. Since then, India has made tremendous progress in controlling HIV. Through its continuing efforts including targeted programmes and support of affected communities, India has demonstrated that the course of an epidemic can be reversed by public education, mass awareness and wide scale availability of testing and treatment.
Today, approximately 21 lakh people are living with HIV, as per government estimates. The adult prevalence is in the range of 0.3%, of which around 40% are women. Despite this enormous progress and the availability of testing and treatment, stigma and discrimination against HIV affected individuals in India remains widespread.
India made some efforts at stigma reduction in the early part of the epidemic. Yet social attitudes do not transform easily. The HIV AIDS bill approved by the Cabinet and pending approval in Parliament is an important step in ensuring that the progress made against HIV is not halted and discrimination against HIV affected individuals is reduced.
How is this being done? It's important to reflect on the many progressive aspects of the bill. To start with, numerous provisions of this bill ensure government accountability and commitment into providing HIV prevention, testing, treatment and care to those at risk. Why is this necessary? Because every government irrespective of political affiliations must commit to fighting HIV. For the first time, the bill brings together a human-rights perspective to public health, and makes antiretroviral treatment a right of HIV/AIDS patients. The central and state governments are duty bound to provide for treatment and also arrange for the management of risk reduction of vulnerable populations. This will ensure that in the future no Indian has to struggle for diagnosis or treatment.
Considering widespread stigma and the need for privacy, the bill also mandates that no HIV test, medical treatment, or research can be conducted on a person without their informed consent. This ensures that those affected by HIV have the right to privacy and confidentiality. The bill also mandates that no person can be compelled to disclose their HIV status except with informed consent, and if required by a court order.
The bill also addresses discrimination in everyday life through numerous provisions especially at the workplace and within communities. It prohibits discrimination against HIV positive persons and those affected in numerous aspects. These include the denial, termination, discontinuation or unfair treatment with regard to employment and in educational establishments, health care services, residing or renting property, standing for public or private office, and provision of insurance (unless based on actuarial studies). The bill also prohibits the requirement for HIV testing as a pre-requisite for obtaining employment or accessing health care or education.
The intention is to ensure that no HIV infected individual is the subject of discrimination and there is legal accountability and recourse for them. The bill also mandates the appointment of an ombudsman in every state to inquire into complaints related to the violation of the Act and the provision of health care services. This ombudsman will submit reports every six months stating the number and nature of complaints received and the actions taken on them.
Populations who are most vulnerable to HIV/AIDS are female sex workers (FSWs), men who have sex with men (MSMs), transgenders and intravenous drug-users. The bill seeks to protect these high-risk groups from discrimination, both through administration of treatment for their infections as well as improving their access to welfare schemes and services.
The bill also mandates that cases relating to HIV positive persons shall be disposed off by the court on a priority basis. If an HIV infected or affected person is a party in any legal proceeding, it shall be conducted so as to supress the identity of the person, and restrain any person from publishing information that discloses the identity of the applicant. Also when passing any order with regard to a maintenance application filed by an HIV infected or affected person, the court shall take into account the medical expenses incurred by the applicant.
While social change will take time and stigma will not end immediately, this bill is a step in the right direction. It is a much needed and long awaited measure that will work to reduce stigma and discrimination towards people living with HIV. It will also ensure enhanced access to and privacy for those seeking care.
The foundation of every significant legislation is that it must safeguard civil liberties. This is exactly what this bill intends to do. It intends to ensure that those living with HIV do so with dignity and respect enjoying all their rights as citizens.
In the long-term, our goal is an India where no new HIV infection occurs and where living with HIV is neither a matter of fear or of shame.