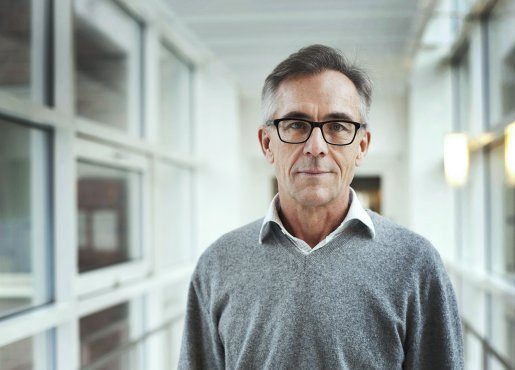 On a crossroads – Sweden's view on the criminalization of HIV
"It was counted as the year's most significant scientific breakthrough, all categories, including the cosmos," says Jan Albert at the Karolinska Institute.
He talks about the international HIV-drug study, presented in 2011, which has a special significance in Sweden, where what is known as the criminalization of HIV transmission – that people are sentenced for transmission or attempted transmission of the disease – were central to the discussions later year.
Jan Albert has spent a great deal of time as an expert witness in litigation where one or more have reported a cohabitant or temporary partner to have exposed them to the risk of disease. By now, there have been about 30 trials. He points out that these are complex issues.
The latest case law occurred a little over a year ago in Skåne and led to a free sentence for the man reported by four women for not telling her HIV status. The sentence is referred to as a clear change of course in Swedish HIV history, which is otherwise a country known to have one of the world's hardest guidelines on the criminalization of potential transmission of HIV. Gone were the earlier offenses as "gross abuse" as well as headlines in the media, as "a new hivman ravaged".
The Court's reasoning was that , despite being unprotected sex with four different women , the man remained undergoing treatment, did not infect any of the women and had so low levels of virus that they were not considered to be a danger of transmission. A reasoning that is a direct result of the international study that states that the risk of contagiousness is extremely small, perhaps not existing at all, in the case of effective treatment.
"Today, HIV is, by medical means, a relatively manageable disease. The medications mean that the one who lives with HIV is likely to die from something else and then I think it becomes more important to look at social stigma, "says Jan Albert.
Putting people into prison because they have not informed about their HIV status reinforces that stigmatism, says the infectious professor.
The National Board of Health and Welfare recently updated the guidelines for the obligation to provide information. Nowadays, it does not apply to everyone, but the assessment is done on a case-by-case basis.
"We are now starting to approach the UN agency UNAIDS minimum requirement not to be convicted of HIV infection if no one has been infected, and especially if the risk is virtually non-existent as it is during effective treatment.
This can be seen as a first step towards not having criminalization at all, as is the case in, for example, Holland. And as regards the duty of information, today there is a majority in the Swedish Parliament to completely remove it.
In most cases , HIV is transmitted from people who do not themselves know that they are suffering from the disease. For those who work with HIV issues, the convicting judges make the effort to make people more informed about themselves and others about the disease.
"It is important that we disagree with what is socially reasonable, what the laws say and what should be prosecutable," says Jan Albert, and continues: If I'm infected and my wife is not, I personally think that the recommendation should be that I should tell her, but it is a completely different matter what the laws should contain, and above all, whether it should be punishable in court.
In the 1980s, Jan Albert worked as an infection physician at Roslagstull Hospital and saw the first difficult aids. The suffering he experienced as a young doctor has characterized him and many others for the rest of his life. After Jonas Gardell's novel and television series Never wipe tears without gloves , few people in Sweden can claim that they never heard of the HIV / AIDS epidemic.
The hysterical campaigns in the 80's that sometimes threatened people from having sex is unthinkable today, Jan Albert believes. At the same time there is a view from the 80's that we have not done in other ways.
"Then you did not know how the spread of infection looked or how big the epidemic would be. Through that, a view was made of HIV and AIDS as a very special disease. It is an approach we have never really managed to change, I think.
The ignorance and prejudice remain alive.
– They are only very rarely up to the surface because the subject is not as current.
Mattew Weait is a professor of law at Birkbeck College in London. He has examined Scandinavia and the common path chosen by the countries in terms of HIV policy and the consequences it has had for the sight of the disease. He believes that one of the explanations for the relatively extensive criminalization, such as Sweden, Norway and Finland, has been found in the relentless confidence in the state, as well as interpersonal relations.
– The regular World Value surveys investigating countries' attitudes in the world show that what separates Nordic countries from many others is the ability to consider a person's failure to tell the truth as a crime, and something that could be a criminal offense.
Swedish HIV policy has not been subjected to any major review over the years . Compared to drug issues, there are now several different lines raised in public, while the HIV issue is rarely presented as an issue with several different inputs.
The one who attempts to challenge the current policy must, as Matthew Weait is in, often argue in the first place that: the reason for questioning the criminalization of so-called HIV cases is based on a desire to facilitate people to escape liability – or at least to be a consequence of the expiry of the case.
For Jan Albert, a course change in the HIV issue is about seeing how preventive work can be improved, how we reach out to more people with knowledge that is updated, nuanced and reality-based.
"We can not have a right of justice for HIV, which differs so much from how we handle other serious infectious diseases in this country, as is the case today. It counteracts the overall goal of limiting the damage without reinforcing them, "says Albert.
Anna-Maria Sörberg is a freelance journalist and has previously written the book "Det Sjuka"  (2009)
———————————————–
Vid ett vägskäl – Sveriges syn på kriminalisering av hiv
– Den räknades som det årets mest betydelsefulla vetenskapliga genombrott, alla kategorier, kosmos inräknat, säger smittskyddsprofessorn Jan Albert vid Karolinska Institutet.
Han pratar om den internationella studie om medicinering av hiv som presenterades 2011 och som fått en särskild betydelse i Sverige, där det som kallas kriminalisering av hiv-överföring – att människor döms för överföring eller försök till överföring av sjukdomen – varit central i diskussionerna under senare år.
Jan Albert har tillbringat en hel del tid som expertvittne i rättegångar där någon eller flera har anmält en sambo eller tillfällig partner för att ha utsatt dem för risk för sjukdom. Vid det här laget har det blivit ett 30-tal rättegångar. Han påpekar att det här rör sig om komplexa saker.
Det senaste rättsfallet inträffade för ett drygt år sedan i Skåne och ledde till en friande dom för mannen som anmälts av fyra kvinnor för att inte ha berättat om sin hiv-status. Domen betecknas som en tydlig kursändring i svensk hiv-historia, som annars är ett land känt för att ha en av världens hårdaste riktlinjer kring kriminalisering av potentiell överföring av hiv. Borta var de tidigare brottsrubriceringarna som »grov misshandel« liksom rubriker i media i stil med att »en ny hivman härjat«.
Domstolens motivering var att mannen – trots att han haft oskyddat sex med fyra olika kvinnor – stått under fungerande behandling, inte smittat någon av kvinnorna och haft så låga virusnivåer att de inte ansågs utgöra någon fara för överföring. Ett resonemang som är ett direkt resultat av den internationella studien som fastslår att risken för smittsamhet är ytterst liten, kanske inte existerande alls, vid fungerande behandling.
– Numera är ju hiv medicinskt sett en relativt hanterbar sjukdom. Medicinerna gör att den som lever med hiv förmodligen kommer dö av något annat och då anser jag att det blir viktigare att titta på socialt stigma, säger Jan Albert.
Att sätta människor med hiv i fängelse för att de inte informerat om sin hiv-status förstärker det stigmat, konstaterar smittskyddsprofessorn.
Socialstyrelsen uppdaterade för några år sedan riktlinjerna för informationsplikten. Numera gäller den inte alla, utan bedömningen sker från fall till fall.
– Vi börjar nu närma oss FN-organet UNAIDS minimikrav att man inte ska dömas för att ha spridit hiv om ingen har blivit smittad, och framförallt inte om risken är så gott som obefintlig som den är vid fungerande behandling.
Det kan ses som ett första steg mot att inte ha kriminalisering överhuvudtaget, vilket är fallet i till exempel Holland. Och när det gäller just informationsplikten finns det i dag en majoritet i Sveriges riksdag för att helt ta bort den.
I de flesta fall överförs hiv från personer som inte själva vet om att de bär på sjukdomen. För de som arbetar med frågor om hiv försvårar de fällande domarna arbetet med att få människor att i högre grad informera sig själva och andra om sjukdomen.
– Det är viktigt att vi håller isär vad som är medmänskligt rimligt, vad lagarna säger och vad som ska vara åtalbart, säger Jan Albert och fortsätter: Om jag är smittad och min fru inte är det tycker jag personligen att rekommendationen ska vara att jag ska berätta för henne, men det är en helt annan sak vad lagarna ska innehålla och framförallt huruvida det ska vara straffbart i domstol.
På 1980-talet arbetade Jan Albert som infektionsläkare på Roslagstulls sjukhus och såg de första svåra aidsfallen. Det lidande han upplevde på plats som ung läkare har präglat honom och många andra för resten av livet. Efter Jonas Gardells roman och tv-serie Torka aldrig tårar utan handskar kan få människor i Sverige hävda att de aldrig hört talas om hiv/aids-epidemin.
De hysteriska kampanjerna under 80-talet som ibland nästan hotade folk från att ha sex är otänkbara idag, tror Jan Albert. Samtidigt finns ett synsätt kvar från 80-talet som vi på andra sätt inte har gjort upp med.
– Då visste man ju inte hur smittspridningen såg ut eller hur stor epidemin skulle bli. Genom det formades en syn på hiv och aids som en väldigt speciell sjukdom. Det är ett synsätt som vi aldrig riktigt har lyckats förändra, anser jag.
Okunskapen och fördomarna lever fortfarande kvar.
– De är bara väldigt sällan uppe vid ytan eftersom ämnet inte är lika aktuellt.
Mattew Weait är professor i juridik vid Birkbeck College i London. Han har granskat Skandinavien och den gemensamma väg länderna valt vad gäller hiv-politik och vilka konsekvenser det har fått för synen på sjukdomen. Han tror att en av förklaringarna till den relativt omfattande kriminalisering som framförallt Sverige, Norge och Finland haft går att finna i den obevekliga tilltron till staten, liksom till mellanmänskliga relationer.
– De regelbundna World Value-undersökningar som undersöker länders attityder i världen visar att det som skiljer nordiska länder från många andra är möjligheten att betrakta en persons misslyckande att berätta sanningen som ett brott, och något som ska kunna vara en straffbar handling.
Den svenska hiv-politiken har inte utsatts för någon större granskning genom åren. Om man jämför med narkotikafrågan så finns där numera flera olika linjer som lyfts fram i offentligheten medan hiv-frågan sällan presenteras som en fråga med flera olika ingångar.
Den som försöker sig på ett ifrågasättande av den rådande politiken måste, som Matthew Weait är inne på, ofta först argumentera sig ur fällan som uppstår: att anledningen till att man ifrågasätter kriminalisering av så kallade hiv-fall sker utifrån en önskan att underlätta för människor att undkomma ansvar – eller att det åtminstone kommer bli en konsekvens om rättsfallen upphör.
För Jan Albert handlar en kursändring i hiv-frågan snarare om att se hur det förebyggande arbetet kan förbättras, hur vi når ut till fler människor med kunskap som är uppdaterad, nyanserad och verklighetsförankrad.
– Vi inte kan ha en rättskipningspraxis för hiv som skiljer sig så mycket från hur vi hanterar andra allvarliga infektionssjukdomar i det här landet, så som är fallet idag. Det motverkar det övergripande målet att begränsa skadorna utan att förstärka dem, säger Albert.
Anna-Maria Sörberg är frilansjournalist och har tidigare skrivit boken "Det sjuka" (2009)