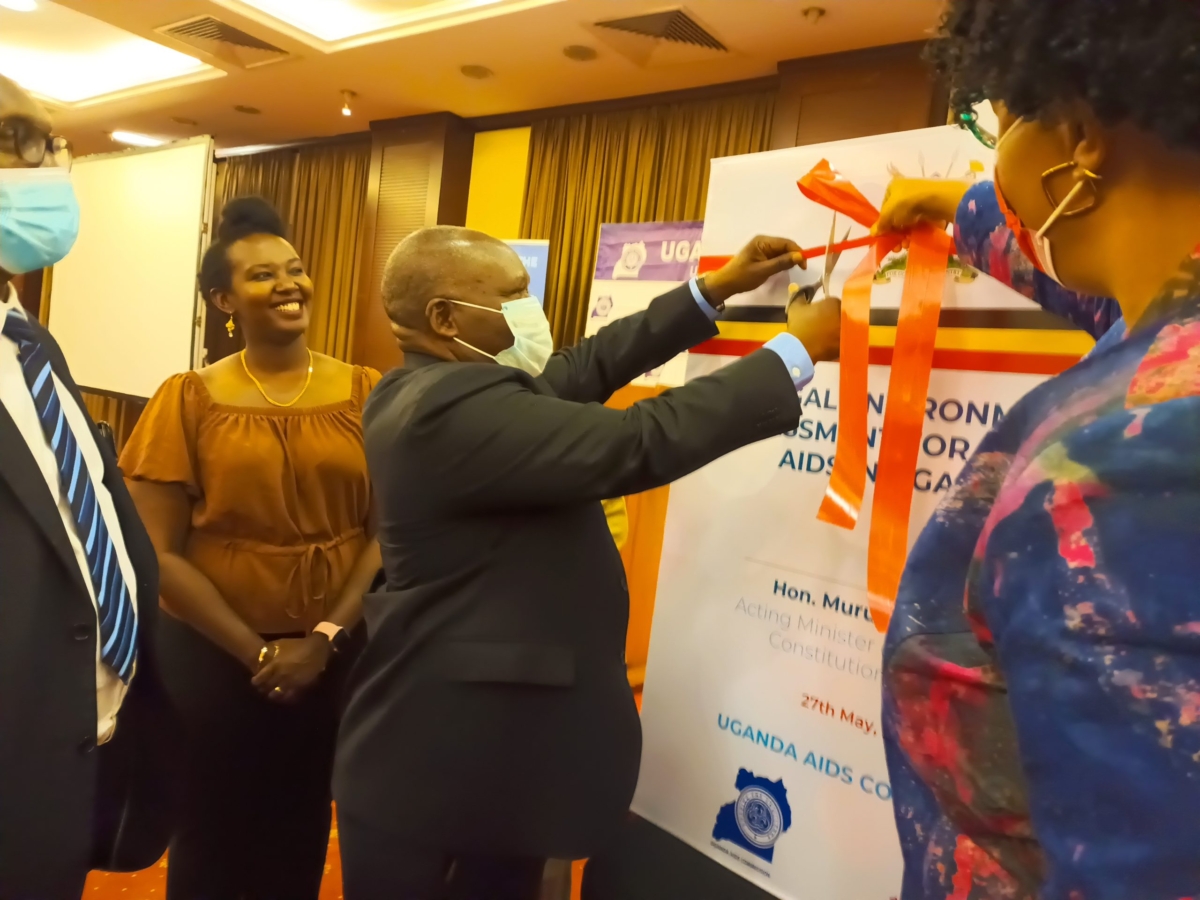 Ugandan Laws Constraining Fight against HIV/AIDS – Report
A report titled "Legal Environment Assessment (LEA) for HIV/AIDS in Uganda" released by the Uganda AIDS Commission on Friday has revealed that some Ugandan laws, regulations and policies constrain effective HIV response in the country.
The Report is based on data collected during the period of July 2021 to February 2022.
The main objective of the Report was to assess the extent to which existing laws, regulations, and policies enable or constrain key protections for people affected by HIV in Uganda.
The Report also aimed to identify all relevant laws, policies, and strategies that affect, positively or adversely, the successful, effective, and equitable delivery of HIV prevention, treatment, care, and support services to people living with HIV and HIV-affected persons; to assess the key human rights issues affecting people living with HIV; to assess the availability, accessibility, and affordability of interventions that promote rights of people living with HIV and other people affected by or at risk of HIV in Uganda.
The Report also aimed to analyse the extent to which people living with HIV and those affected by or at risk of HIV in Uganda are aware of existing legal frameworks and support systems to access services; and to provide recommendations for the creation of an enabling legal, social, and policy framework to eliminate HIV-related stigma, discrimination, and violence against people living with, affected by or at risk of HIV in Uganda.
KEY FINDINGS
HIV Prevention and Control Act; Sections 41 and 43 criminalises attempted transmission of HIV, and intentional transmission of HIV respectively, thus discouraging HIV testing and the disclosure of positive test results. Intention to transmit HIV is difficult to prove in situations where people may not know their HIV status.
HIV Prevention and Control Act; Section 18 (2) allows a health worker to disclose HIV test results to a third party without the consent of the affected person, thus violating their right to privacy and potentially discouraging people from testing for HIV if they think their results may be disclosed to third parties without their consent.
Releasing HIV test results to another person without the consent of the client may also result in stigma or violence against the client.
HIV Prevention and Control Act Section 13 (b) provides for routine HIV testing of a pregnant woman, and Section 13 (c) provides for routine HIV testing of a partner of a pregnant woman.
However, health workers routinely make it appear mandatory for pregnant women and their partners to be tested for HIV, with or without their consent. This has the effect of violating their right to privacy and autonomy and discourages people from visiting health facilities.
Uganda's Penal Code Act (PCA) Sections 136-139 criminalise sex work and other activities associated with prostitution with the effect of unfairly targeting key and vulnerable populations and exposing them to arbitrary arrest and mistreatment by law enforcement, while male clients rarely receive the same treatment.
The harassment of sex workers has the effect of increasing societal stigma towards them, denying them the livelihood, which is their only source of income, driving them and keeping them away from health and justice support services.
The Director General of the Uganda AIDS Commission, Dr Nelson Musoba, said that while the Government of Uganda is committed to the goal of ending AIDS as a public health threat by 2030, there is also increasing recognition that this goal cannot be achieved unless the country addresses structural barriers such as legal impediments, and issues such as human rights, stigma, discrimination, gender inequality and gender-based violence.
The President of the Uganda Law Society, Pheona Nabasa Wall said that although Uganda has HIV Prevention and Control Act (2014) and other regulations, prosecution under this law has been challenging partly due to its discriminative nature and challenges associated with proving most of the provisions under it.
Persons charged with HIV related offences are instead often subjected to public humiliation and bail applications, mandatory tests upon arrests, and in cases of defilement of children, maximum penalties are pleaded and recommended by prosecutors even in the absence of scientific evidence of transmission of HIV she said.
She added that HIV victims have a number of issues which include among others; stigma nutritional needs, denial of justice and palliative care, forced HIV testing, discrimination in gaining access to medical care, education, employment, and violation of right to medical privacy.
RECOMMENDATIONS
Review and repeal sections 136 & 139 of the Penal Code Act to decriminalise sex work.
Harmonise the legal provisions on abortion and decriminalise abortion in order to give women access to safe abortion services, guarantee autonomy and decision-making power over their reproductive lives (Provisions in Sections 142 and 143 of the Penal Code Act and Article 22 of the Constitution of Uganda present contradictions on the issue of abortion. Ministry of Health guidelines on abortion were suspended).
Repeal sections 167 to 169 of the Penal Code Act because they are archaic, out-dated, and no longer serve the purpose for which they were created. Uganda Police Force and the DPP should desist from charging and prosecuting individuals with these provisions.
Prosecute HIV-related cases such as those relating to intentional transmission of HIV under general criminal law, not HIV. specific laws.
Reform the law to make it explicit that pregnant mothers should be tested upon giving consent, after receiving full information from health care providers.
Reform the law to remove the provision for a health worker to disclose results to a third party without the consent of the client; instead support the process of disclosure by the client himself/herself.
The Report was launched by the Acting Minister of Justice and Constitution Affairs, Muluri Mukasa who applauded Uganda AIDS Commission and development partners for conducting the assessment.
The Report, he said, shades light on the impact of Ugandan laws in response to HIV/AIDS
Minister Muluri added that the Report findings will provide policy makers with evidence to carryout good legislation and develop policies and laws that will ensure that government does not default on its commitment to end HIV as a public health threat by 2030.
The full report can be downloaded here