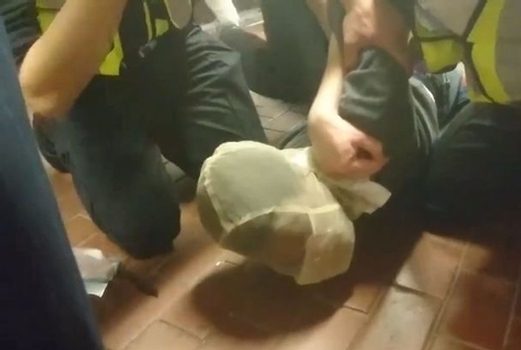 More than 30 years on from the start of the AIDS crisis, tabloids are still spreading a basic falsehood about HIV.
The claim has been repeatedly reported in newspapers amid a row over the use of police 'spit hoods' to prevent detainees from spitting at officers.
Amid a clash on the proposed use of spit hoods by the Metropolitan Police, outlets have repeated claims that their use will reduce the chances of officers being infected with HIV or hepatitis C – despite three decades of evidence that it is impossible to get HIV from saliva.
In a joint statement today, the Hepatitis C Trust and National AIDS Trust both expressed concern about the inaccurate reporting, pointing out  that both HIV and hepatitis C "are blood borne viruses, and therefore cannot be transmitted via spitting." HIV is transmitted from blood-to-blood contact.
Deborah Gold, Chief Executive of NAT said: "HIV is irrelevant to the debate about spit hoods because spitting simply is not an HIV transmission route.
"Using fear of HIV to justify spit hoods is extremely stigmatising and of great concern to NAT. This stigma and misinformation is especially damaging when a false implication of HIV risk from spitting comes from a source that people trust."
Dr Stuart Flanagan, Clinical Research Fellow, Viral Hepatitis and HIV Medicine, Queen Mary University London, said: "Hepatitis C and HIV are not transmitted by spitting on someone else.
"Although these viruses may be theoretically present and detectable in saliva, the infection and transmission risk is negligible.
"In the UK the majority of cases of hepatitis C are transmitted by blood to blood contact, and the vast majority of HIV cases are sexually transmitted."
The statement added that the inaccurate claims had been "hugely damaging as they reinforce existing stigma and misconceptions that surround both viruses.
"Such falsehoods also cause unnecessary alarm to police staff. Given the significant challenges faced by police officers in the line of duty, causing them to fear they have been put at risk when they have not places an undue burden upon them, and must not go unchallenged.
"While the debate around the use of spit hoods is an important one for the police, policy-makers and the public, hepatitis C and HIV are of no relevance to it and should not be used as justification for their use."
Labour's Shadow Home Secretary Diane Abbott, who had come under fire after saying there is "no evidence that spit hoods are necessary or useful", told PinkNews in a statement: "This rational intervention made by the medical community is deeply appreciated.  It is important that medical professionals have clarified this unfounded belief.
"The arguments for spit hoods should be evidence based. The public expect and deserve a national debate to be fact-based, not fear-based.
"Police staff, who are often under incredible stress in the line of duty, should not be led to believe that they are at high risk of HIV or HEP C from spitting.
"Disappointingly this association has been propagated widely across the media, particularly in the past few weeks. Amongst social media users and in major tabloid newspapers, including the Express, Mail, the Standard and the Sun.
"I hope they will widely report this important interjection by Hepatitis Trust and the NAT. "