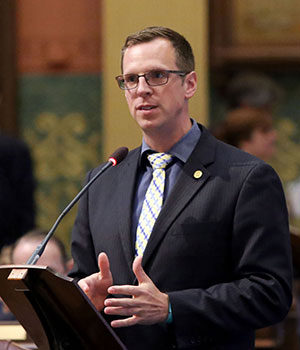 Senate HIV Bills Package Explained
By Eve Kucharski| December 19th, 2018|Michigan, News
A package of bills is moving through the Michigan Senate that could change the way Michigan health officials monitor and address the HIV epidemic. Introduced last May in the Michigan House of Representatives, the eight-bill package contains HIV-specific bills that are aimed at updating Michigan's existing laws that contain outdated language regarding issues like the spread of HIV, the role of local health departments in the virus' treatment and criminal punishment for those who do not inform their sexual partner of their HIV-positive status.
Criminalization and Spread of HIV
Two bills within the package, 6020 and 6021, have come under extra scrutiny by some HIV advocacy organization around Michigan since they were amended from their original form to pass through the House. They were proposed by Democratic State Rep. Jon Hoadley of Kalamazoo who intended to "modernize our outdated HIV criminalization statute" by reducing the sentence for non-disclosure of one's HIV status to a sexual partner from a felony to a misdemeanor, and to provide a change "to the sentencing guidelines" that currently exist.
"But the legislative process is never a linear line and there were still concerns that folks had around disclosure, around folks who are intentionally trying to transmit HIV without discussions and a number of other issues," Hoadley said. "So, working in a bipartisan way to get as much as we could in the 99th legislative session, Dr. Canfield and I worked together with other stakeholders to put together a version of a bill that was able to then move."
In a Dec. 11 Senate health policy committee, Republican State Rep. Edward Canfield said that the emphasis of the bill's changes are on promoting treatment for HIV.
"I believe that what we've come up with in this package as it's presented to you today really does bring the state of this health condition forward and helps people realize that getting treated is the best pathway," he said. "… So it not only helps people live lives, but it protects our public health as well."
The two bills now rest in the Senate, waiting on a decision before the lame duck session is over. Should they not come up for a vote, the bills will die and will need to be proposed again in the 100th legislative session in 2019. Hoadley said that despite the amendments the bills will provide two main benefits.
"The first is that we strike the very outdated definition that was used in the current law that criminalized behaviors, some of which can literally not transmit HIV. So, we're really limiting the type of behaviors to vaginal and anal intercourse," Hoadley said. "Second, we create a tiered system. So, if someone knows their status, does not disclose, acts with reckless disregard, and transmits HIV, that is treated at current felony level still. But, if they don't transmit then that would potentially be a misdemeanor if all the other criteria are met."
To illustrate his point, Hoadley said that currently there were 19 cases prosecuted under the current law that were considered felonies even though no transmission of the virus occurred.
"So, if this had been in the law, 19 people would have spent fewer of their years in prison," he said.
Hoadley added that he feels the new bill will make current HIV transmission cases fairer because they will provide an extra level of defense for those who have been able to take medication and suppress their viral load — or literally reducing the function of the virus to undetectable levels within their system. People who have been medically suppressed for six months are "by definition not acting with reckless disregard, so they are not eligible for prosecution under the law."
"So, for the first time in Michigan, as we work to continue making the criminal justice system fairer — there's still a lot more to do there — people have a shield from accusations that they didn't disclose or whatever the case may be, they have an affirmative defense," Hoadley said. "That part is really groundbreaking as well."
6020 and 6021's Critics
But as groundbreaking as that defense is, it is only viable for those who can afford care to suppress their HIV. Critics of the bill's changes like former BTL contributor Todd Heywood who is the chair of the Ingham Community Health Center board, testified against the legislation as an HIV expert. He said that this unfairly discriminates against people of color without access to treatment centers.
"There is already a racial disparity as it relates to the prosecution of people living with HIV. … Black men who have sex with women represented just 16 percent of the cases of people living with HIV (outside of Wayne County). They represented 36 percent of the prosecutions," Heywood said. "We know in the state of Michigan and nationally that people of color have less access to medical care and have higher viral loads already. The way the current legislation is written will exacerbate this prosecution and create a deeper racial disparity that is unfair to people of color without addressing any of the other underlying issues."
When asked about these racial disparities, Hoadley said he understands there is still much work to be done, but said he feels that this is a better alternative to the existing law on the books, citing it as "terrible about what it criminalizes."
"I think we have to always be looking at race-based discrepancies in both our health system and our criminal justice system. One of the reasons I think the bill addresses a part of that is by eliminating many of the unscientific ways that someone could have gotten charged with these crimes previously, regardless of someone's intent or not; everybody's a little bit safer," Hoadley said. "When we talk about discrepancies in the criminal justice system, this bill will, across the board, limit the number of folks who could even enter into eligibility of the law and also creates tiers. And part of that balancing act is that the current law captures so many more folks who could not even to some degree transmit HIV."
In his testimony, Heywood also provided a numerical representation of the additional cost of maintaining a prisoner who has HIV using his own medication.
"Four bottles of one month's worth of HIV drugs for me and I will tell you that that adds up to be between $62,000 and $67,000 a year to keep me alive," Heywood said. "And we as taxpayers will then have to bear that burden when we put somebody in prison. That information is not in your fiscal analysis and I think that that needs to be taken into account. It is fiscally irresponsible when we have other options and ways to address this."
Heywood's reference to "other ways" refers to Michigan's section of the public health code that addresses people infected with diseases that are "health threat[s] to others." That statute does not criminalize those with contagious diseases, but rather puts them into immediate emergency treatment. His testimony suggested an amendment that would link the new bills to existing legislation.
"We could tie 'health threat to others' to this legislation which would then require that a person go through the probate process to address their HIV and the psychosocial issues that are involved in likely transmission behavior before they go through a criminal process," Heywood said.
Hoadley said that he recognized the existing faults of the bill, but sees the currently rewritten legislation as a jumping off point to a more inclusive law.
"I think we have to continue to tackle places where we see discrepancies in health care," he said. "For me, this shows why this project is a step in the right direction but not a finishing line."
Privacy Concerns
Also included in the bills was a move to require women in their third trimester of pregnancy to get tested for HIV, Hepatitis B and syphilis. As written, the legislation would not allow a woman to opt out of such testing which essentially creates a system of mandatory testing. Currently, lawmakers are floating amendments that would allow a woman to opt out from the testing verbally. A second bill on testing would have mandated HIV testing consent be included in other general medical consents, and that a person not wishing to take an HIV test opt out in writing which presents a barrier to that process. Lawmakers are working on an amendment to allow people to verbally opt out of HIV testing.
Additional legislation would eliminate the 90-day record retention rule related to HIV partner services. The new legislation would allow the state to maintain those records indefinitely. Something they already do, in violation of Michigan law.
"Currently under Michigan law, the partner notification information that is solicited after somebody is diagnosed with HIV is only supposed to be kept for 90 days. What the state has not said publicly is that since 2003 they have been collecting that data," Heywood said. "They currently have a database containing over 500,000 names and information of people at risk for HIV, living with HIV or tested for HIV. In addition to that, they shifted about three years ago to a federal database owned by the CDC not in the state of Michigan that all of that information is being stored on, in violation of Michigan law. "
Lawmakers are working on an amendment which will allow the data to be maintained no longer that 365 calendar days.
An amendment related to partner services is also being considered which will prohibit local and state health officials from contacting a person identified as a sexual or needle-sharing partner of a person living with HIV, or the persons living with HIV when they have declined partner services.
"The problem with this is that there is nothing to stop me when I have a partner notification conversation with a health department official from saying — and I apologize Sen. Shirkey for identifying you — Sen. Shirkey and I shot needles of methamphetamine up and now Sen. Shirkey's name is in a federal database as a methamphetamine user," Heywood said. "Whether it is true or not, the senator would have no knowledge of that and no option to remove that from the database. That is deeply problematic."
The lame-duck session is scheduled to end this week, Thursday. More updates about this legislation will come out as it moves through the Senate.
Published on December 19, 2018 in Pride Source