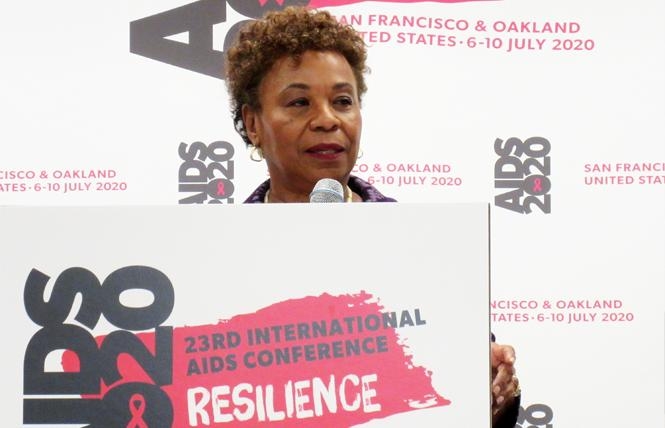 Lee introduces bill to end bias based on HIV status
Oakland Congressmember Barbara Lee took the occasion of World AIDS Day to introduce a bill that, if passed, would facilitate a review of federal and state laws to determine whether they add "unique or additional burdens upon people living with HIV."
"This is an important bill to end the stigma and the terrible punitive consequences of people being penalized by having a virus," Lee said.
Lee, a Democrat, spoke to the Bay Area Reporter late November 30. She said that she has been introducing this legislation for a decade.
"The first time was in 2011," Lee said. "I was appointed to the United Nations Commission on HIV and the law in 2008, maybe, and we went around the world to look at laws criminalizing HIV-positive people. We had four to five roundtable meetings, and it dawned on me that I was the only American on the committee and I said 'wait a minute, why not look at the United States?'"
Upon research, Lee said she found out "we were one of the bad actors." Indeed, as of 2021, 35 states criminalize the behavior of people with HIV through HIV-specific laws, according to the U.S. Centers for Disease Control and Prevention. These include 14 states that criminalize behavior at low risk of transmitting HIV, such as biting or oral sex, and 14 states that have a maximum sentence length of over 10 years (or even life) even if people with HIV took measures to prevent transmission.
"The bill didn't pass," Lee said, but some of it was repurposed for technical assistance to states provided by the U.S. Department of Justice during the Obama administration.
At the time, under California law HIV-positive persons could be prosecuted and imprisoned for up to eight years for engaging in unprotected sexual intercourse with the intent to transmit HIV, even if no actual viral transmission occurred.
Lee said she approached state lawmakers to ask for any takers who'd want to change the law but didn't find any until the 2016 election of gay state Senator Scott Wiener (D-San Francisco).
"I went and talked to many of the California legislators and I was with the Elizabeth Taylor AIDS Foundation, and I found nobody in the Legislature who would take it up till I talked to Scott," Lee said. "He was very brave and bold. … It was incredible it took Scott that long, because many members thought it wasn't important."
Wiener's Senate Bill 239, which requires proof that transmission of HIV did occur in order for a person to be prosecuted for intentionally transmitting the virus to a sex partner, passed and was signed by then-Governor Jerry Brown in 2017. It went into effect the following year.
Wiener told the B.A.R. December 1 that he is supportive of Lee's federal legislation.
"Barbara Lee is an extraordinary leader in the fight to end discrimination against and criminalization of people living with HIV. I fully support her legislation and applaud her for taking this on," he said.
Lee's Repeal HIV Discrimination Act of 2022 states, "Not later than 90 days after the enactment of this act, the attorney general, the secretary of health and human services, the secretary of defense, and the director of the White House Office of National AIDS Policy, acting jointly, shall initiate — a review of federal laws, policies, regulations, and judicial precedents and decisions regarding criminal and related civil commitment cases involving people living with HIV/AIDS, including in regard to the Uniform Code of Military Justice; and an updated national review of state laws, policies, regulations, and judicial precedents and decisions regarding criminal and related civil commitment cases involving people living with HIV/AIDS."
No more than 180 days later, a report of the review is to be published. This report is to contain judgments of whether laws, policies, regulations, and judicial precedents and decisions create undue or additional burdens on people living with HIV, and determine whether these are "public health-oriented" and "evidence-based."
Finally, the law states "the designated officials shall develop and transmit to the president and the Congress, and make publicly available, such proposals as may be necessary to implement adjustments to federal laws, policies, or regulations, including to the Uniform Code of Military Justice, that reflect the reports and guidance required under this Act either through executive order or through changes to statutory law."
However, "nothing in this act shall be construed to prohibit the prosecution of individuals who act with the specific intent to do harm to another person by transmitting HIV through means likely to result in actual transmission, and who in fact transmit HIV."
Lee said she is confident this bill will become law if it can get through the Senate, which is split 50-50 between Democrats and Republicans. Vice President Kamala Harris serves as a tie-breaker.
"You know the politics of the Senate," Lee said. Nevertheless, "I'm certain if we got it to the president's desk, he'd sign it."
Lee said she's "cautiously optimistic" about the bill's prospects in both houses of Congress because there has been some bipartisan cooperation on it. Representative Jenniffer González-Colón (R-Puerto Rico), co-chair of the Congressional HIV/AIDS caucus, was the lead co-sponsor. (González-Colón is a non-voting member of Congress, since she represents a U.S. territory.)
González-Colón's office did not respond to an immediate request for comment December 1.
Lee said "it took a while to get the White House on board," but the Biden administration has been helpful with the parts of the legislation relating to the Uniform Code of Military Justice.
A senior Biden administration official, speaking on background during a press call early December 1, said in response to a question posed by USA Today about state laws that discriminate against HIV positive people, that the administration will be working with the U.S. Department of Health and Human Services and the Department of Justice to support efforts to reform and eliminate those laws, because they don't reflect the most up-to-date science.
Also on World AIDS Day, the CDC released a report showing that Black and Latino gay and bisexual men are not seeing the same improvements as white men, as the B.A.R. also reported.