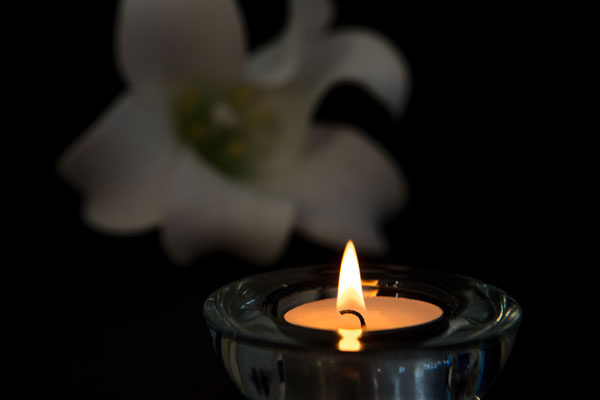 In Memory of HIV Criminalization Survivor David Plunkett
By JD Davids
From TheBody
May 18, 2018
TheBody is sad to share the news of the recent death of David Plunkett, a survivor of HIV criminalization in New York who served half of a 10-year sentence. David would have turned 54 today.
Plunkett was released in 2012 after a ruling by the New York Court of Appeals in his case that the saliva of a person with HIV could not be characterized as a deadly weapon or dangerous instrument.
By many accounts, Plunkett brought humor and a positive spirit to what he had endured.
"He was intelligent, and for all he'd been through, he had a surprisingly positive perspective on life," said Audrey Baron Dunning, who represented Plunkett at the appellate level and took his case to the Court of Appeals. "We always laughed whenever we talked."
After his release, Plunkett became certified as a paralegal.
Although the details of his passing are not fully known at this time, TheBody received confirmation from the Onondaga County Medical Examiner's Office near his current home in Rome, New York. We will update this story with more information as it is received.
"At 43 years old, I never imagined how different my life would be because of my arrest and incarceration," Plunkett said on the occasion of the 2014 release of a guidance from the U.S. Department of Justice on the need to reform or eliminate HIV criminalization laws. "I also never realized the stigma attached to those with HIV and especially those who also have a criminal record. I should have been able to focus on my health and career, not battling a system that incarcerates those who live with a chronic illness and remains uninformed about the nature and transmission of HIV."
David contributed an essay to the catalog for Cell Count, an exhibit curated for Visual AIDS opening on May 31 in New York City. Plunkett's piece is below.
"It's deeply unfortunate that David won't be there to feel the rallying support we hoped to provide for him and others through this project. I'm glad that he knew this was happening," said Asher Mones, one of the exhibition's curators. "He expressed a lot of joy knowing that people were organizing around reforming criminalization, and I think he would be happy to know that his story will not be lost."
(TheBody thanks Brian Carmichael, an imprisoned artist living with HIV whose work will be featured in Cell Count, for informing us of Plunkett's passing.)
Here is David Plunkett's essay on being criminalized in New York:
I was 46 and semi-retired when I found myself incarcerated by the New York State Department of Corrections and Community Supervision at the infamous Sing Sing prison, located approximately 45 minutes from New York City.

I was diagnosed HIV positive in June 2006, a time I'll never forget. I could find no resources for people living with AIDS and HIV (PWA) in my small town and began taking prescription narcotics and drinking heavily. On September 18, I had a doctor's appointment and I had crashed my car, so my uncle took me to the office. I was intoxicated at the time, and the police were called. I was later told that I acted up. I was arrested and sent to the county jail. I remained in that very small jail for a year until my case adjudicated. I was eventually sentenced to ten years, maximum security.

This sentence all came about because, as the police were arresting me, they figured out I was gay. They broke my bones and skinned me up. At one point during the arrest, I made a mistake and revealed my HIV status; I stated that I was positive. I saw that I was bleeding, and for their safety as well as mine, I did the responsible thing. I knew I was not able to transmit the virus due to a low viral load. My meds were working, and I was well! However, my lawyer assured me the small town jury that had been selected would not see it this way. I was gay and worse yet, I was a "monster." I had HIV and most people at the time believed the people who acquired the disease were "bad" gays, drug addicts, and sex workers.

This was social discrimination at its finest. HIV criminalization and stigma are still alive and well, even in the gay community today, where those who are negative often won't associate with those who are positive, even while it is common knowledge that HIV is only transmitted by specific body fluids, such as breast milk, blood, and semen. Saliva will not transmit HIV. Yet, the judge in the lower court charged me for exposing the police officer to my saliva, which was clear of any blood. For this I served time.

While in state custody, I began writing letters to various legal firms that represented high-profile HIV/AIDS cases, evictions, discrimination, and unfair sentencing. To my delight, Lambda Legal took my case. Lambda is probably the best-known LGBTQ legal organization representing the community since the gay rights movement began. I had one of the top lawyers defending me: Scott Schoettes, an HIV-positive attorney with a passion for those unfairly treated by the system. He states, "There are two ways that prosecutions are brought against people living with HIV based on their HIV status. One of them is through general criminal laws, and that's what we had in the Plunkett case. The other way is through HIV-specific criminal law." Scott wrote an amicus ("friend of the court") brief to accompany my attorney's brief, which stated that I could not be charged with "aggravated" assault, because my teeth and saliva came with me, and therefore were not a dangerous weapon.

I waited four years for my appellate decision, a very long time when you are innocent. While I waited, I attended Mercy College and, upon my release, I was able to take the five classes I needed to graduate with my BA in behavioral sciences. I took every opportunity to participate in prison programs. I was going to do my time, not allow my time to do me! I was eventually released in 2012, and the decision set the standard for New York state, where HIV cannot be considered a "deadly weapon." My release was a long time coming, but I made it, and I'm now completing my master's in psychology, a field with many opportunities for those seeking employment under my circumstances.

It still saddens me that I continue to be stigmatized by society and the legal system today, especially when I learn about folks doing incredible amounts of time for HIV crimes that would be considered ridiculous by a society using critical thinking and taking the time to learn the very basics of HIV/AIDS. According to one study, "Research reveals that perceived discrimination is adversely related to a broad range of health outcomes and health risk behaviors." When PWA's are continually told by a discriminating society they do not deserve to live a happy and successful life, they are more likely not to medicate themselves with lifesaving drugs, therefore increasing rates of transmission. The best way to reduce HIV stigma is education, and the best way to deal with a court system that is stuck in the '90s is to educate and lobby court officials.
JD Davids is a senior editor and the director of strategic communications at TheBody.com and TheBodyPRO.com.
Published in the Body on May 18, 2018