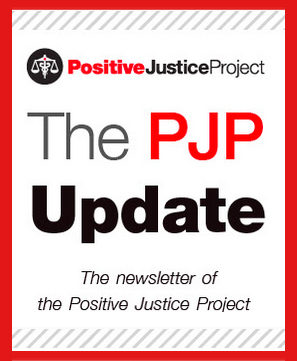 State Advocacy Working Group Updates
California
SB 239, proposed legislation that will modernize California HIV criminalization laws, passed out of the Senate Public Safety Committee in March and is now waiting to be heard in the Senate Appropriations Committee. The bill has the support of nearly 150 organizations, including CHLP.
On May 16, Californians for HIV Criminalization Reform partnered with ACLU, APLA Health, Equality California, GSA Network, Los Angeles LGBT Center, Lambda Legal, Project Inform, National Center for Lesbian Rights, San Francisco AIDS Foundation, and the Transgender Law Center for an HIV/LGBT Advocacy Day at the State Capitol in support of 11 bills, including SB 239. Nearly 300 people participated in the event.
If your organization is interested in supporting modernization of California's HIV criminal laws, we invite you to join Californians for HIV Criminalization Reform (eqca.org/chcr). Please contact brad@eqca.org or 323-848-9801 for additional information.
---
Georgia
On March 30, House Resolution 240 passed, which requires the creation of a House Study Committee to examine health care barriers for a range of chronic conditions, including HIV. The resolution also requires the state to "assess the HIV laws' alignment with current evidence regarding HIV transmission risk and consider whether these laws are the best vehicle to achieve their intended purpose." The full text of the current resolution can be found here.
Members of the Georgia Coalition to End HIV Criminalization convened in April and May, and conducted an HIV Criminalization 101 Advocacy Training on March 23.  The training included over 30 attendees.
Meetings are held the first Thursday of the month from 4:00-6:00pm (ET)
If you are interested in joining the Georgia Coalition to End HIV Criminalization, please contact Nina Martinez (nina.i.martinez@gmail.com) or Emily Brown (emily@georgiaequality.org) for additional information.
---
Indiana
On April 12, HIV Modernization Movement-Indiana (HMM) hosted an HIV Advocacy Day at the Indiana Statehouse. The event was very successful in drawing media attention to the issue of HIV criminalization in Indiana and was featured in the NUVO newspaper and on WISHTV.
If you are interested in information about HIV criminalization in Indiana or in participating, supporting or endorsing HMM-Indiana, visit our get involved page or contact us at hmm.indiana@gmail.com.
---
Louisiana
In April, Louisiana advocates reviewed a draft modernization bill that was ultimately not introduced during the legislative session, but the discussions helped clarify priorities for next year. The group also identified a prospective bill sponsor for 2018. Currently, advocates are developing their longer-term strategic plan and are in the process of selecting a name for their coalition. Louisiana advocates began monthly meetings in Fall 2016 to work on modernizing Louisiana's HIV criminal law.
Meetings are held on the second Wednesday of the month at 11:00am (CT).
If you are interested in information about HIV criminalization or actively participating in the Louisiana coalition, please contact Chip Eakins at ceakins@philadelphiacenter.org.
---
Missouri
In May, the Missouri HIV Justice Coalition launched a new website, where members of the public can learn about the group and sign up to get involved.
The coalition is hosting a training later this summer in Springfield with SERO Project. People living with HIV and allies are invited to attend to unify state policy goals for Missouri's HIV laws, and learn how to educate, engage with the media, and handle Q&A. Those interested in attending are invited to complete this doodle poll to help select the best dates to hold this training.
The coalition is planning some roundtable discussions across the state in June, with a focus on the perspectives and priorities of those who are most severely affected by these laws. If your group or organization is interested in setting up a discussion, please contact Ashley Quinn.
Meetings are held on the fourth Friday of the month at 1:00pm (CT) via conference call.
If you are interested in becoming an advocate with the Missouri HIV Justice Coalition, please contact Ashley Quinn at ashley@empowermissouri.org.
Ohio
On April 13, the Ohio Criminal Justice Recodification Committee voted down a proposed amendment to the state's HIV-specific felonious assault law which would have expanded the scope of criminalized conditions and retained felony punishment, including in instances where there was no intent to harm. The Committee holds its final meeting and vote on June 15—it will then issue a set of recommendations for the Ohio legislature to consider. Ohio advocates are strategizing about the most effective response to those recommendations and planning outreach to key legislators.
The Working Group held regular meetings in April and May, and is also planning a large community forum event in centrally located Columbus for July 8. The forum will bring advocates together face-to-face to consolidate their energy and planning efforts, but will also offer an opportunity to engage in education, expand the coalition, and build new partnerships.
Next Meeting: Wednesday, June 14 at 5:00pm (ET)
If you would like information on HIV Criminalization or are interested in becoming an advocate with the Ohio HIV Criminalization Working Group, contact Kate Boulton at kboulton@hivlawandpolicy.org
---
Tennessee
The PJP Working Group convened in April and May and reviewed updates from recent legislative advocacy efforts. A needle exchange bill passed both houses of the legislature and was signed by the governor. AIDS Watch also had high levels of participation, and advocates have identified several new prospective sponsors to support their HIV modernization bill in the next legislative session.
This summer advocates will focus on fine-tuning their legislative strategy, working on a rapid response plan, and creating opportunities for prosecutorial and public defender education.
Meetings are held on the fourth Thursday of the month at 1:00pm (CT).
If you would like information on HIV criminalization or are interested in becoming an advocate with the PJP TN Working Group, please contact Kate Boulton at kboulton@hivlawandpolicy.org.Texas
Advocates convened in April and May and continue to monitor the legislature for the introduction of any harmful legislation. The group is currently finalizing a work plan that reflects the major planks of their strategy moving forward, including advocacy and education, outreach and coalition building, and legal/policy research.
Advocates are also focused on the creation of resources to support their education and advocacy efforts, including a presentation, a palm card, and a one-page fact and advocacy sheet. The group also wants to prioritize the inclusion of other social justice movements in its coalition, such as those focused on racial justice, reproductive rights, and mass incarceration.
Meetings are held on the third Friday of the month at 1:00pm (CT).
If you are interested in information about HIV criminalization or actively participating in the Texas HIV Working Group, please contact Kate Boulton at kboulton@hivlawandpolicy.org
Criminal Case Update
CHLP's assistance in criminal cases includes counseling defendants and their families, referring defendants to attorneys, providing legal and trial strategy support to criminal defense attorneys, identifying and assisting with preparation of medical and scientific experts, drafting sections of court submissions, and submitting friend-of-the-court briefs.
MIssouri
On April 4, the Missouri Supreme Court denied the State's application for transfer in Michael Johnson's case. This upholds the Court of Appeals decision, overturning Johnson's conviction and remanding for retrial. A preliminary hearing occurred on May 25, at which time Michael, represented by his new trial counsel, entered a plea of not guilty to the charges. The next court date is July 17.
Thanks to many generous donors, the MJ Working Group, coordinated by Charles Stephens of the Counter Narrative Project, has raised more than $25,000 for Michael's legal defense. Stay up-to-date on developments in this case with our fact sheet and case timeline, which can be found here.
New York
On December 15, 2016, the New York Court of Appeals denied Nushawn Williams' request that it review the decision to indefinitely civilly commit him to a New York State Psychiatric Center as a dangerous sex offender based on his sexual activity with women while living with HIV. 
On April 27, a petition to the United States Supreme Court seeking review of the case, was filed by Mark Davison, Williams' attorney. The brief argues that the petition should be granted due to Constitutional violations occurring in a civil commitment hearing when (1) proof of positive HIV status is considered; and (2) a person is deprived the effective assistance of counsel. CHLP, with the support of 7 national and local organizations, and four individuals, filed a brief in support of Williams' petition, arguing that Williams represents the only case in New York where an individual has been essentially isolated or quarantined in whole or part based on his HIV status, in violation of his Constitutional rights. We also argued that singling out a person living with HIV for this kind of extraordinary treatment under the law violates the Americans with Disabilities Act.
---
 Ohio
Orlando Batista was indicted for felonious assault in July 2014 for allegedly engaging in sexual conduct with his girlfriend without first disclosing his HIV status. After the trial court rejected his motion to dismiss, Batista pleaded no contest and the court sentenced him to the maximum term of eight years. CHLP, with support from the Gibbons P.C. law firm and the Ohio Public Defender, along with seven Ohio-based and national organizations, submitted a friend-of-the-court brief in support of Batista to the Supreme Court of Ohio. The ACLU of Ohio Foundation and Center for Constitutional Rights submitted a separate friend-of-the-court brief based on First Amendment grounds.
The Ohio Supreme Court has a background page on its website that provides an overview of Batista's primary challenges to the HIV-specific felonious assault statute, the arguments put forward by the State of Ohio, and those of the friends-of-the-court. Oral arguments in the case, including that of attorney Avram Frey from Gibbons P.C., representing CHLP and the other organizations, took place on May 17 and can be viewed here.
If you are aware of anyone charged in an HIV exposure or transmission case, please refer them to our website, www.hivlawandpolicy.org and/or have them or their lawyer, contact CHLP for assistance at 212-430-6733 or pjp@hivlawandpolicy.org.