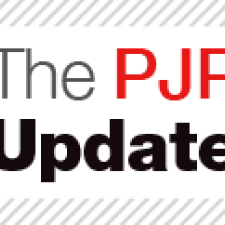 Federal Advocacy
Federal Criminal Justice Working Group Meets
The quarterly meeting of the LGBT/HIV Federal Criminal Justice Working Group ("working group") took place in Washington, D.C. in December. Members strategized on how to respond to the incoming Trump administration, discussed the new Congress and possible implications for criminal justice, and participated in a variety of ancillary meetings with agency officials. Highlights included meeting with the Bureau of Prisons to identify ways in which sexual health and sexual health literacy can be improved for all prisoners, regardless of sexual orientation or gender identity. The discussion followed from CHLP's detailed memo to BOP officials on ways the Bureau can update current program statements to meet the basic sexual health needs of all federal prisoners without the need for any change in current law or regulations. The next in-person meeting of the working group is in March 2017.
State Advocacy
State Forums Now Online
The PJP Online State Forums went live on November 15. Hosted on the Center for HIV Law and Policy's website, the forums provide a space for state advocates to communicate, exchange information, share resources, and work collectively on projects, drafts, and other materials. The forums can be accessed here. The page also provides a link for anyone interested in joining a PJP State Working Group to apply for membership.
State Advocacy Working Group Updates
CALIFORNIA
On 

November 16

, Californians for HIV Criminalization Reform (CHCR) hosted an event at the West Hollywood City Council Chambers featuring stories from people directly affected by HIV criminalization to educate the community about HIV criminal laws and build support for eliminating these laws. 
Panelists included West Hollywood City Councilmember John Duran, who is living with HIV, who spoke about his work as an attorney defending people facing prosecution under California's HIV criminal laws. Robin Barkins and Nestor Rogel spoke about the impact of criminalization on people living with HIV. Gerald Garth and Jorge Diaz, from Black AIDS Institute and Bienestar, talked about the HIV epidemic among Black and Latino gay and bisexual men. And the Los Angeles HIV Law and Policy Project presented data from a 2016 Williams Institute study showing that sex workers in particular, along with people of color, are disproportionately affected by HIV criminal prosecutions in California.In related news, Equality California is finishing up a messaging survey of California residents on HIV criminalization in that state.  We likely will be able to report on the key findings from their survey in our next PJP Update, so stay tuned.
CHCR is planning a legislative briefing in Sacramento in February with the California Legislative LGBT Caucus. The briefing will feature testimony from expert witnesses as well as individuals directly and indirectly affected by HIV criminalization in the state. It will be free and open to the public.
For more information or if you are interested in joining Californians for HIV Criminalization Reform, please contact Craig Pulsipher at cpulsipher@apla.org.
---
GEORGIA
On November 30, the Coalition to End HIV Criminalization in Georgia participated in a World AIDS Day panel hosted by Georgia Equality, SisterLove and The Counter Narrative Project in Atlanta.The panel looked at Georgia's HIV criminal law, the impact it has on the lives of PLHIV, and the coalition's efforts to reform the law. Coalition member and panelist Nina Martinez examined mandatory HIV disclosure laws and their impact on the risk of intimate partner violence for PLHIV. Held at Gallery 874, the panel discussion coincided with the "Living With" art exhibit, which featured art about the experiences of PLHIV.
The Coalition is reaching out to legislators to identify potential sponsors for a bill to reform the state's HIV criminal law.
If you are interested in becoming an advocate to help change Georgia's HIV Criminal Law, please contact CHLP's Sr. Community Outreach Specialist for PJP, Lauren Fanning, at lfanning@hivlawandpolicy.org.
---
INDIANA
HIV Modernization Movement-Indiana (HMM) recently completed a short survey of Indiana-area HIV service providers that assessed provider knowledge around Indiana's HIV criminal laws. It also assessed provider attitudes about how policies that require them to counsel their patients/clients about the disclosure law affect care delivery. HMM reports that an impressive 171 providers participated. The HMM Steering Committee continues to meet monthly and expand its network. It also has begun to educate key stakeholders about HIV criminalization and efforts underway to modernize Indiana laws.
Next Meeting: Mid-January (TBD) 
If you are interested in information about HIV criminalization in Indiana or in participating, supporting or endorsing HMM-Indiana, visit our get involved page or contact steering committee members at hmm.indiana@gmail.com
---
MISSOURI
The Missouri HIV Justice Coalition (HIVJC) announced its commitment to combat HIV criminalization in Missouri at a World AIDS Day Conference in Kansas City on December 1, 2016. Coalition members conducted outreach resulting in a number of new active participants, allies and partner groups. HIVJC also held a co-sponsored community discussion, Stand Up and Speak Out. Panelists included Robert Suttle, SERO Project; Tusday Dudly, Kansas City CARE Clinic; Randall Jenson, Artist, SocialScope Productions; and Kris Wade, The Justice Project. They addressed the consequences of HIV criminalization and actions attendees could take to change the law. Co-sponsors of the event included Empower Missouri, UMKC Pride Alliance, Social Scope Productions, and UMKC/LGBTQIA.
HIVJC intends to expand their coalition to include those who focus on racial justice and members of faith communities more directly in the work to modernize Georgia's law.
Next Meeting: Friday, January 27 at 1:00pm (CT)
Meetings are held on the second and fourth Friday of the month.
If you would like information on HIV Criminalization or are interested in becoming an advocate with the Missouri HIV Justice Coalition Working Group, please contact Ashley Quinn at ashley@empowermissouri.org or Stephen Williams atswilliams@hivlawandpolicy.org.OHIO
On December 3, the Akron AIDS Collaborative held a World AIDS Day Community Forum, hosted by the Northeast Ohio Regional Advisory Group at the Akron Urban League. The event was sponsored by AIDS Healthcare Foundation. Presenters included: Lillie Jackson Tisdale (President, National Association of Black Social Workers), Naimah O'Neal (The Ohio Working Group for HIV Decriminalization), Ted Thompson, and Kate Boulton (Staff Attorney, Center for HIV Law and Policy). The forum focused on advancements in HIV/AIDS prevention and treatment, including the science of HIV transmission, as well as the role of stigma in undermining an effective public health response to HIV. Presenters also described the state of the law in the Ohio, recent prosecutions, and current efforts at modernization. The role of Ohio's Criminal Justice Recodification Committee was also highlighted. Attendees included representatives of the Ohio Black Women's Leadership Caucus and the AIDS Taskforce of Greater Cleveland. Thanks to Steve Arrington for his dedicated work to make this event possible.
Next Meeting: Wednesday, February 8 at 5:00pm (ET)
If you would like information on HIV Criminalization or are interested in becoming an advocate with the Ohio HIV Criminalization Working Group, please contact Lauren Fanning at lfanning@hivlawandpolicy.org.
SOUTH CAROLINA
The PJP South Carolina Law Modernization Group convened in November and December. The group has gradually increased its membership and reached consensus on the use of PJP Guiding Principles in their advocacy plan. The group is working on messaging and talking points and continued expansion of their coalition.
Next Meeting:  Thursday, February 9 at 2:00pm (ET)
Meetings are held on the second Thursday of the month.
If you would like information on HIV Criminalization or are interested in becoming an advocate with the PJP SC Law Modernization Group, please contact Stephen Williams at swilliams@hivlawandpolicy.org.
---
TENNESSEE
On December 16, several local advocates and CHLP's Lauren Fanning met for an in-person strategy meeting in preparation for the 2017 legislative session that opens January 10. Using Larry Frampton's (NashvilleCares) extensive policy and legislative experience in Tennessee, as well as key PJP planning and guidance resources, the group reviewed its progress, identified key stakeholders and individuals who are not yet engaged, and created a detailed work plan for introduction of a bill and to guide its advocacy moving forward. The draft bill was developed with the assistance of Mayo Schreiber, CHLP Deputy Director, and the group has identified several potential sponsors, including both state senators and representatives. More Tennessee advocates and organizers are needed and welcome!
On February 21, Tennessee AIDS Advocacy Network (TAAN) will hold its annual Day on the Hill, which offers advocates an opportunity to speak with and educate state legislators about the need to modernize Tennessee's HIV criminal laws, as well as other HIV-related issues. Already 50+ participants have signed up.
Next Meeting: Thursday, January 26 at 11:00am (CT)
Meetings are held on the fourth Thursday of the month.
If you are interested in information about HIV criminalization or actively participating in the Tennessee working group, please contact Lauren Fanning at lfanning@hivlawandpolicy.org
---
TEXAS
The PJP Texas HIV Working Group convened in November and December. Members reached agreement on outreach strategies for new allies and membership and set a timeline for key steps in their advocacy plan. Texas advocates are now using the online forum space created by CHLP, which facilitates communication, exchange of information, and resource editing/creation among the PJP state working groups. Texas advocates drafted an open sign-on letter to the Dallas County prosecutor in support of an HIV positive woman facing multiple felony counts for spitting on emergency responders called to assist her.  The letter was hosted on CHLP's website and garnered over 150 signatures from individuals representing a diverse range of organizations in more than 25 states. The Working Group is also drafting a template letter intended for news outlets and other media to encourage responsible, accurate, and fair reporting practices around HIV and to provide education on the science of HIV transmission. Planning continues for the upcoming legislative session that begins January 10, including preparation for HIV Advocacy Day on February 28.
Next Meeting: Friday, January 20 at 1:00pm (CT)
Meetings are held on the third Friday of the month.
If you are interested in information about HIV criminalization or actively participating in the Texas HIV Working Group, please contact Stephen Williams at swilliams@hivlawandpolicy.org.
Criminal Case Update
CHLP's assistance in criminal cases includes counseling defendants and their families, referring defendants to attorneys, providing legal and trial strategy support to criminal defense attorneys, identifying and assisting with preparation of medical and scientific experts, drafting sections of court submissions, and submitting friend-of-the-court briefs.
MISSOURI
On December 20, the Missouri Court of Appeals, Eastern District, reversed the conviction of Michael Johnson and remanded his case for a new trial. The court reversed the judgment of the trial court based on the state's failure to timely comply with Johnson's discovery request, in violation of Rule 25.03, which prevented Johnson from preparing a meaningful defense in the case. In the words of the Court, "the State's violation of Rule 25.03 was knowing and intentional and was part of a trial-by-ambush strategy that this Court does not condone and that Rule 25.03 was specifically designed to avoid." CHLP's press release and the decision are here.
In the appeal of his conviction, Johnson raised two points. First, that the trial court allowed evidence to be introduced late – the first day of the trial – denying him the fair opportunity to prepare his defense. And second, that his sentence of 30 years for violating Missouri's HIV transmission and exposure statute violated the constitutional prohibition on cruel and unusual punishments. The court did not reach Johnson's second point on appeal relating to the constitutionality of his punishment or the issues CHLP raised in its "friend of the court" brief. CHLP's full brief, including the complete list of endorsing organizations, can be found here.
On January 4, attorneys for the State of Missouri filed a motion for rehearing or transfer in Michael Johnson's case. The State is contesting the Court of Appeals' decision reversing his conviction. Stay informed on developments in this case with our newly updated fact sheet and case timeline, which can be found here. In addition, a recent community update webinar by CHLP Deputy Director Mayo Schreiber can be found here.
---
NEW YORK
On December 15, the New York Court of Appeals denied Nushawn Williams' request that it review the decision to indefinitely civilly commit him to a New York State Psychiatric Center as a dangerous sex offender based on his sexual activity with women while living with HIV. CHLP, with the support of twelve national and state racial justice, disability, HIV and medical organizations, and four individuals, had filed a brief arguing that Williams represents the only case in New York where an individual has been essentially isolated or quarantined in whole or part based on his HIV status. We also argued that singling out a person living with HIV for this kind of extraordinary treatment under the law violates the Americans with Disabilities Act. We will continue to provide legal support to Williams and are strategizing with his attorney, Mark Davison, on further steps in the case.
---
OHIO
On December 27, CHLP, with seven national LGBTQ, HIV/medical, and criminal justice organizations, and with pro bono assistance from the law firm Gibbons, P.C. and the Ohio Public Defender acting as local counsel, filed a friend-of-the-court brief in the Ohio Supreme Court arguing that the felonious assault statute violated the federal and Ohio Constitutions and federal disability law. The brief can be found here. Orlando Batista was indicted for felonious assault in July 2014, for allegedly engaging in sexual conduct with his girlfriend without first disclosing his HIV status to her. After the trial court rejected his motion to dismiss, Batista pleaded no contest and the court sentenced him to the maximum term of eight years.
If you are aware of anyone charged in an HIV exposure or transmission case, please refer them to our website, www.hivlawandpolicy.org and/or have them or their lawyer, contact CHLP for assistance at 212-430-6733 or pjp@hivlawandpolicy.org.