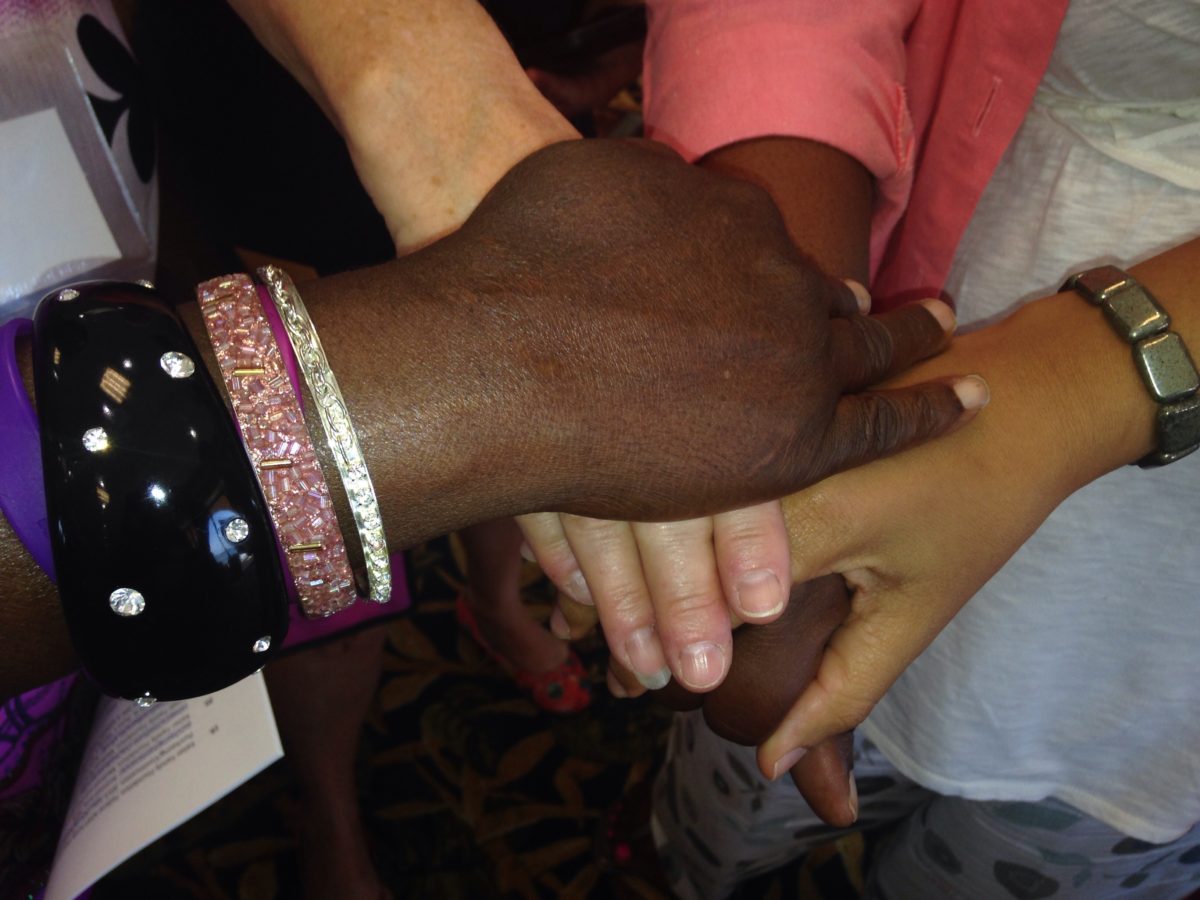 2017: Ready for the Fight of Our Lives
The first steps toward
repeal of the Affordable Care Act
have already been taken by the new Republican-led Congress. A bill that would effectively
ban all abortions
has already been introduced into the U.S. House of Representatives by Rep. Steve King (R-IA). Confirmation hearings are underway for
Sen. Jefferson Sessions
(R-AL)–a far-right legislator with a very poor record on women's rights and civil rights, including voting rights, as well as a documented history of making racist remarks–for Attorney General, and for
Rep. Tom Price
(R-GA)–another far-right legislator who has a record of opposing health care reforms that benefit low-income people and of opposing women's health care rights and access, as well as
conflicts of interest
 in the same area–for Secretary of Health and Human Services.
And all of this is happening even before the inauguration of a president who ran a campaign of open misogyny, racism, xenophobia and intolerance. 
At PWN-USA, we know that the road ahead is long and fraught with challenges. The threats to the health, life and liberty of many of us–as well as to the fabric of our democracy–are real and are unfolding around us in real time. But we also know that our community is strong, resilient and accustomed to resistance in the face of oppression. We started 2017 with a game plan–one that is incomplete and evolving day by day, but which has some specific commitments and initiatives to strengthen our community and the effectiveness of our fight against these attacks.
This Tuesday, we launched our new weekly PWN Action Alerts to help our members and allies stay up to date on the latest critical developments and take action quickly and easily in different ways, whether by phone, email, social media or in person.
We are excited to announce our brand new PWN Policy Fellows Program, an innovative fellowship that will help women living with HIV become even fiercer leaders and advocates on the issues that matter most to us.
An anti-racism affinity group that came together at the 2016 Speak Up! Summit is developing an anti-racism curriculum, with a webinar series and discussion groups meeting monthly, to help white members and non-Black people of color more effectively get involved in the fight for racial justice in the Trump era. The first webinar was held Tuesday evening; more will be announced soon.
We will be holding three new series of webinars–in strategic communications, policy and regional organizing–to help PWN members hone their skills in fighting for justice, liberty and bodily autonomy.
Still more is coming soon. Stay tuned–and stay vigilant! We will be doing our best to keep you up-to-date and help you take action. We hope we can count on your support and your voice throughout the days, weeks and months to come. Our victory depends on all of us.
Become a PWN-USA Policy Fellow!
Positive Women's Network – USA is proud to launch applications for our inaugural Policy Fellowship for Women Living with HIV (WLHIV). The yearlong Policy Fellowship will prepare and involve WLHIV in all levels of policy and decision-making by increasing participants' ability to engage effectively in the federal policy and advocacy arena. In the current political environment marred by threats to sexual and reproductive rights, basic health care access, the social safety net, and civil and human rights, it is critical that WLHIV are equipped with a wide array of tools to support vibrant, visionary and strategic advocacy on behalf of their communities.
This one-year fellowship is open to all women living with HIV, including women of trans experience. We especially encourage young women, women of color, immigrant women, folks who are trans, LGB and gender non-conforming, who live in the South and who possess a strong desire to effect meaningful change in the lives of other WLHIV to apply.
The fellowship curriculum will be rooted within a social justice framework and will apply an explicit gender justice and racial justice lens to the policy and advocacy process as a vehicle for transformative social and political change. Fellows will receive coaching and mentoring to support their policy advocacy goals, opportunities to attend policy meetings (in person and via conference call), opportunities to engage with national advocacy coalitions, and access to policy experts. Additionally, fellows will have the opportunity to obtain and apply marketable writing, research and organizing skills to support their professional development. Fellows who graduate successfully will receive a certificate at the end of the program and their registration fees for the 2018 SPEAK UP! Summit will be waived.
We will be holding an informational webinar about the application process on Friday, Jan. 27, at 3 PM EST/12 PM PST–register here!
Staying Positive:
Women Living with HIV Speak Out Against Stigma
On World AIDS Day 2016, women living with HIV in Colorado publicly shared short videos they created in partnership with the
StoryCenter
. PWN-USA is proud and pleased to roll out these incredibly powerful and moving videos in 2017 as we fight stigma and highlight the resilience and fierceness of women living with HIV in the U.S.
We will be sharing one to three of these videos in each of our biweekly e-newsletters! Today, enjoy Barb's story,You Don't Know Me.
"I gave my power away. I let others determine what was pretty, what was worth complimenting…I gave my power away with both hands to people who didn't even really want it, to people who didn't have my best interests at heart. In my search to fit in, I allowed. I allowed it all. Why do we give our power away, when we can be so powerful?"
Last spring, the StoryCenter began to search the community in the Denver Metro-Area for partners to create some short videos of people living with HIV. PWN-USA Colorado co-chair Kari Hartel was able to attend an informational meeting and asked that a workshop be dedicated to women living with HIV. A month later, the
Empowerment Program
, a local agency that has been serving women, mostly those who are low-income and highly marginalized, joined in the collaboration; the
Staying Positive project
was born. Staff from Empowerment's Women's AIDS Project and PWN-USA Colorado leaders began working with women living with HIV to identify those who wanted to participate in the StoryCenter workshop. There was so much excitement about the project that two workshops were created, one in May and one in July.
18 women living with HIV were able to participate and the Staying Positive project took flight.
These workshops were transformational for many members. The process for each woman to create her own video from start to finish was very intensive and the bonds that were formed during the workshops will likely continue for a lifetime. We are so thankful to the StoryCenter for their amazing work in giving people a driver's seat and a platform to tell their own stories."
PWN-USA at Creating Change!
PWN staff members Waheedah Shabazz-El and Cammie Dodson will be presenting at the Creating Change Conference at the Philadelphia Marriott Downtown in Philadelphia, PA, on Friday, January 19th. The workshop will provide an overview of HIV criminalization throughout the country and its impact on people living with HIV, especially women and LGBTQ people of color. The session will focus on the intersection between criminalization and violence against women living with HIV, and will highlight local and national efforts to repeal, reform, and abolish HIV criminal laws. Participants will have the opportunity to develop strategies to strengthen advocacy efforts in their home states and lift the work of grassroots organizations in their communities. We hope to see you there!
Session Details
"Decriminalizing HIV, Decriminalizing Bodies: From the grassroots to the capitol"
Workshop Session 3 (Friday, 3:00 – 4:30 pm)
Room 305 (3rd Floor)
Want to be more active in the resistance, but not sure how or where to get started?