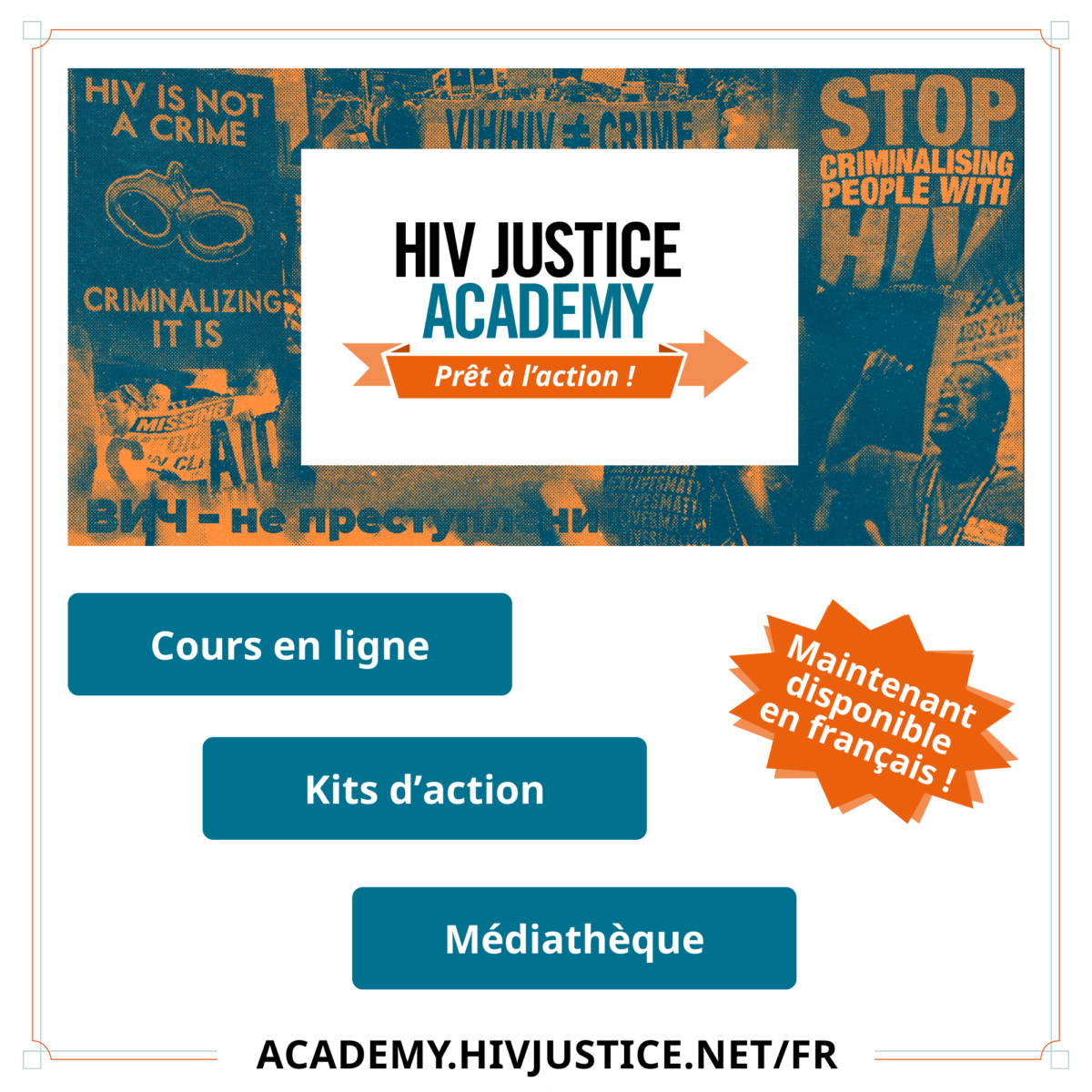 En français ci-dessous
The HIV Justice Academy is now available in French at academy.hivjustice.net/fr. Launched initially in English, the platform architecture allows for content in multiple languages. Spanish and Russian versions will be announced soon.
The Academy is a global learning and resource hub designed to support people who want to be part of the movement to end HIV criminalisation. It comprises three sections:
At the heart of the HIV Justice Academy is the HIV Criminalisation Online Course which provides a global overview of HIV criminalisation, useful for anyone who is interested in learning more about HIV criminalisation and how to advocate effectively against it.
With its free and accessible written and video resources, we hope that the HIV Justice Academy will engage a growing community of HIV justice activists and advocates, providing timely and accessible learning, tools and resources, so that progressive change can be achieved in legal and policy environments for people living with HIV at national, regional, and international levels.
---
HIV Justice Academy est maintenant disponible en français à l'adresse academy.hivjustice.net/fr
Lancée initialement en anglais, l'architecture de la plateforme permet d'accueillir un contenu en plusieurs langues. Les versions espagnole et russe seront bientôt annoncées.
L'Académie est un centre mondial d'apprentissage et de ressources conçu pour soutenir les personnes qui souhaitent participer au mouvement visant à mettre fin à la pénalisation du VIH.
Elle se compose de trois sections :
Au cœur de l'Académie se trouve le cours en ligne sur la pénalisation du VIH, qui présente un aperçu général de la pénalisation du VIH, utile pour toute personne souhaitant approfondir ses connaissances sur la pénalisation du VIH et sur les stratégies de plaidoyer efficaces contre celle-ci.
Grâce à ses ressources documentaires et vidéos gratuites et accessibles, nous espérons que l'Académie mobilisera l'intérêt d'une communauté croissante d'activistes et de militants œuvrant pour la justice en matière de VIH, et que grâce à ses cours opportuns et accessibles, ses outils et ses ressources, des transformations progressives pourront être apportées à l'environnement juridique et politique des personnes vivant avec le VIH sur le plan national, régional et international.