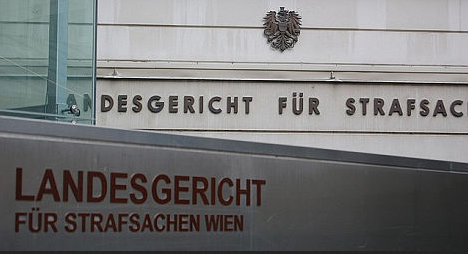 Update: December 18th
A gay man on trial for allegedly exposing his ex-partner to HIV during 'oral sex without ejaculation' has been acquitted. The judge told the 37 year-old defendant that he had acted "entirely properly" according to Austria's 'safer sex' guidance.
The case is covered in several Austrian newspapers, including Der Kurier and Der Standard, as well as the gay news portal, GGG.at.
It centred around a complaint following the end of a short-lived relationship between summer 2008 and spring 2009. The defendant was diagnosed HIV-positive during the relationship and waited several months to disclose this to the complainant. However, since he was counselled by his doctor that insertive oral sex without ejaculation would not expose his partner to HIV, and this was the only sexual risk at issue, his defence was that he had followed Austria's 'safer sex' guidance.
Defence laywer, Helmut Graupner, told the court: "They are attempting to criminalise people who do exactly what the state wants them. This accusation is simply a scandal."
(Under Articles 178 and 179 of Austria's criminal code, disclosure is not a defence to potential HIV exposure, and so this case was not about non-disclosure, per se, but rather about whether the complainant was, in fact, exposed to HIV via oral sex without ejaculation.)
The complainant claimed on the witness stand that he had suffered mental anguish due to the fear of acquiring HIV, and he had brought the case partially because he wanted compensation for this.
However, Judge Eva Brandstetter agreed with the defence that 'safer sex' guidance was followed. It was "very clear that you behaved entire properly," she told the defendant as she acquitted him.
The prosecution has until Friday to appeal the acquittal.
Original post: December 14th
Austria's leading HIV and human rights lawyer has strongly criticised both Vienna's prosecutorial authorities and the Austrian Ministry of Justice for allowing the forthcoming trial of an HIV-positive man for practising safer sex – namely, "oral sex without ejaculation".
"The state must not criminalise HIV-positives for complying with the safer sex rules propagated by the same state", says Dr. Helmut Graupner, president of Austria's LGBT civil rights organisation Rechtskomitee LAMBDA (RKL) – who is also serving as counsel for the defendant – in a strongly-worded press release (see below). "This prosecution not only constitutes a serious human rights violation but also poses a considerable threat to public health."
In addition Austrian MP Petra Bayr has tabled a parliamentary question to the Ministry of Justice concerning this ridiculous prosecution which asks:
whether Parliament is aware of this prosecution;
what it intends to do to ensure that prosecutors are aware of HIV tranmisssion risks and science;
how it can justify HIV-related prosecutions under articles 178 and 179 of the criminal code when UNAIDS recommends against such prosecutions and asks whether Parliament will consider amending these articles to reflect up-to-date science; and
what measures are being considered by the Justice Department to ensure consistent and science-based jurisprudence that promotes public health.
This is the second prosecution this year for perceived HIV exposure that, in fact, posed no risk whatsoever. In March 2012, a 17 year-old boy was convicted of HIV exposure after his 16 year-old girlfriend performed oral sex on him without him first disclosing that he was living with HIV. The judge said that even oral sex with condom would have been criminal as the use of condoms would not diminish the risk of infection.
The trial will take place this Monday, 17 December 2012, in room 307 at the Vienna Regional Criminal Court, Wickenburggasse 22, 1080 Vienna. Rechtskomitee LAMBDA's press release notes that the trial is public which suggests that concerned HIV advocates could attend the trial to support the defendant (who cannot be named) and to show the prosecutor and judge that such prosecutions are out of step with science and do nothing for HIV justice.
The full Rechtskomitee LAMBDA's press release can be downloaded here and is also reproduced below.
Austria: HIV-positive Man Prosecuted for Safer Sex

Trial next Monday in Vienna

An HIV-positive man stands criminal trial next week for practising safer sex propagated by the state and by the publicly funded aids service organisations. The prosecutor indicted him for "oral sex without ejaculation" (!), exactly what has been propagated as safer sex for decades.

The prosecution relies on Art. 178 of the Criminal Code ("wilful endangering of human beings by transmittable diseases"), an offence which for two decades had been used to convict persons (mostly women) even for sexual intercourse using a condom.

1997 the Supreme Court at last held that sexual intercourse with a condom is in accordance with the safer sex rules and no criminal offence (OGH 25.11.1997, 11 Os 171/97). And 2003 it was only after years of reopening-proceedings that the Graz Appeals Court to quash the conviction of an hiv-positive man for oral sex without ejaculation (Carinthian Oral Sex Case: http://www.RKLambda.at/news_safersex.htm). Already these days Austria´s then Minister for Health, Herbert Haupt, had stated, "that criminal persecution and conviction of hiv-positive persons for sexual contacts with hiv-negative persons in spite of them complying with the health authorities' and aids-service-organisations´ safer sex rules run counter to effective hiv- and Aids-prevention (2313/AB XXI.GP, http://www.parlament.gv.at/PAKT/VHG/XXI/AB/AB_02313/).

Threat to effective HIV-prevention

Austria finds itself within the top ten worldwide regarding criminal conviction rates of hiv-positive persons (http://www.gnpplus.net/criminalisation/node/1262). Germany never had such a special offence and Switzerland recently restricted its law (which never had been as far-reaching as the Austrian one) to infection with malicious intent, thereby implementing a recommendation by the Swiss Commission on Aids (now: Swiss Commission on Sexual Health) (http://www.bag.admin.ch/hiv_aids/05464/12494/12821/, document for download on the right side). UNAIDS and the EU-Fundamental Rights Agency for years have been calling for a repeal of such criminalisation of HIV-positive persons and for restriction of criminal offences to intentional infection (http://www.unaids.org.fj/index.php?option=com_content&view=article&id=162:unaidsundp-policy-brief-criminalization-of-hiv-transmission-&catid=25:technical-documents&Itemid=74; http://fra.europa.eu/en/publication/2010/rights-based-approach-hiv-european-union, http://www.hivjustice.net/oslo/oslo-declaration/).

Accordingly the Austrian Minister of Justice in 2010 on the occasion of the Vienna World Aids-Conference had assured that Austrian criminal law would not criminalize sexual acts in accordance with the safer sex rules and declared that the prosecutors would be informed to this effect (4941/AB, 2 June 2010, http://www.parlament.gv.at/PAKT/VHG/XXIV/AB/AB_04941/).

Double game played by the (Minister of) Justice?

Nevertheless last spring a 17 year old juvenile has been convicted for oral sex (without the allegation of ejaculation) with the judge even claiming that the use of a condom would not have made a difference (http://vorarlberg.orf.at/news/stories/2523707/). And now in Vienna the prosecutor is indicting a man explicitly even for oral sex without (!) ejaculation, behaviour explicitly propagated by the health authorities´ and the aids-service-associations´ (http://www.aids.at/alles-uber-hivaids/wie-kann-ich-mich-schutzen/; http://www.aidshilfen.at/sie-haben-fragen-wir-haben-antworten; https://www.gesundheit.gv.at/Portal.Node/ghp/public/content/Safer_Sex.html).

The trial takes place next Monday, 17 December 2012 in room 307 at the Vienna Regional Criminal Court, Wickenburggasse 22, 1080 Vienna. The trial is public. Revealing the defendant´s identity in the media is strictly prohibited (§§ 7 & 7a Media Act).

Members of federal parliament have tabled a parliamentary question to the Ministry of Justice concerning this incredible prosecution (13275/J, 6 December 2012, http://www.parlament.gv.at/PAKT/VHG/XXIV/J/J_13275/).

"The state must not criminalise HIV-positives for complying with the safer sex rules propagated by the same state", says Dr. Helmut Graupner, president of Austria's LGBT civil rights organisation Rechtskomitee LAMBDA (RKL) and counsel for the defendant, "This prosecution not only constitutes a serious human rights violation but also poses a considerable threat to public health."