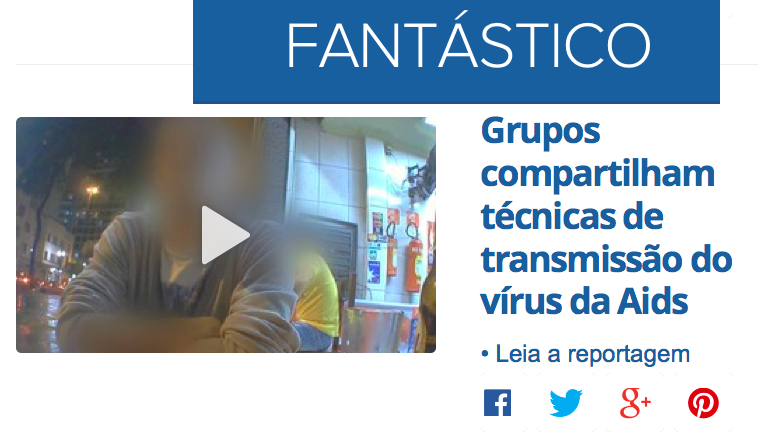 On April 2nd 2015, a simply worded amendment to Article 1 of Law No. 8072 of July 25, 1990 – covering 'heinous crimes' – will be presented to the Brazilian Parliament by the populist Congressman, Pompeo de Mattos.
The amendement, draft Bill No. 198, 2015, would add to the list of heinous crimes – which currently includes murder, extortion, rape, child exploitation and spreading an epidemic that results in death – individuals who "transmit and infect consciously and deliberately others with the AIDS virus. (sic)".
The bill has considerable support thanks to an outbreak of moral panic that began with an article in the daily newspaper, O Estado de S. Paulo, published on February 22nd, that uncovered the gay 'barebacking' subculture and further suggested that some men were deliberately passing on HIV to unsuspecting partners.
Two days later, it was reported in a blog of the weekly magazine, Veja, that police were now looking into the allegations.
According to [Secretary of Justice and Defence and Citizenship, Aloysius Toledo Caesar], [Secretary of Public Security, Alexandre de Moraes] has guided teams of the Department of Civil Police Intelligence (Dipol) to act covertly to identify the groups. Chat rooms will be analyzed, websites, blogs and even clubs and sex saunas. "We agreed to encourage all actions that may prevent persons continue to criminally transmit the virus," said Toledo. "When the transmission is done intentionally, our understanding of the law is that the legal concept is configured to be like an assassination attempt, a more serious penalty," he added. Under Article 130 of the Penal Code, the penalty for transmitting the virus without the partner's consent is up to 4 years in prison.
On February 27th, the Brazilian country office of UNAIDS issued a press release expressing concern about the "impact [of these media reports] on increasing stigma and prejudice related to HIV and people living with the virus." It went to explain that condoms, treatment, PEP and PrEP are all effective HIV prevention tools, and concluded:
UNAIDS also highlights that there is no evidence that the use of criminal laws for HIV is an effective tool to prevent and response to the epidemic. On the other hand, there are strong indications that the fear of being arrested or imprisoned may discourage people to test for HIV or to stay on therapy.
The moral panic became a full blown media frenzy on March 15 (and again on March 22) when the top-rated Sunday news TV programme, Fantástico, on TV Globo, aired a sensationalised two-part investigation into the 'barebacking' phenomeon, repeating the same allegations. The reports (in Portuguese) can be viewed here and here.
In reaction to this, the Department of STDs, AIDS and Viral Hepatitis of the Ministry of Health issued a strong statement of its own on March 21, and three Brazilian civil society organizations – ABIA (Brazilian Interdisciplinary AIDS Association), RNP+ (National Network of People Living with HIV) and GIV (Group to Encourage Life) – also issued press releases or statements noting that these reports stigmatise gay men living with HIV; that the idea of deliberately infecting someone is primarily a fantasy; and that in the extremely rare case of malcious, intentional transmisison the current general law is sufficient.
This isn't the first time that there has been a media frenzy and moral panic around criminal HIV transmission. Two high profile cases in 2009 led to a strong statement from the Ministry of Health against the use of the criminal law unless transmisison was intentional.
According to the Global Criminalisation Scan, a number of laws can be used to prosecute alleged HIV non-disclosure, exposure or transmission, and there have been at least five prosecutions since the first recorded criminal case in 1995.
Follow the progress of bill PL 198/2015 here.
Update: On May 19th, former President Fernando Henrique Cardoso, who chaired the Global Commission on HIV and the Law, published a clear statement against the law on his Facebook page.