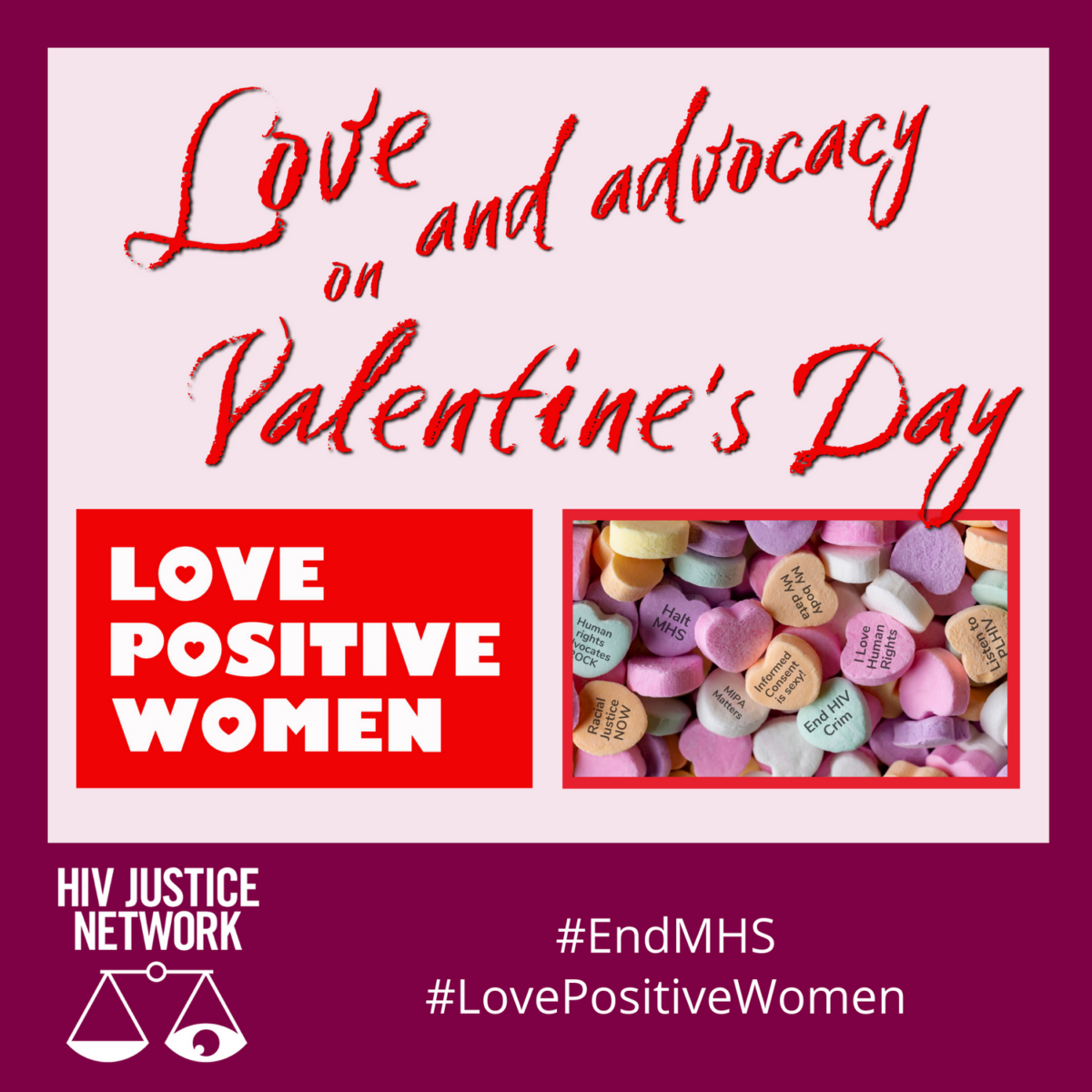 February is not only the month of love, it is also the anniversary of the establishment of the HIV Justice Network through our founding document, the Oslo Declaration on HIV Criminalisation.
It's only appropriate, then, to celebrate both love and advocacy this Valentine's Day.
Given the difficulty that some people living with HIV can face when it comes to finding love, including negotiating disclosure, as well as sex for pleasure, work, and/or creating a family in the context of HIV criminalisation, it is important to acknowledge that everyone is deserving of love and affirmation.
Love is also about respect for our autonomy, and so this Valentine's Day we also need to stand up against public health officials taking and sharing data by using our blood without consent.
This year the HIV Justice Network is supporting two Valentine's Day campaigns for and about people living with HIV, led by women living with HIV.
#LovePositiveWomen Campaign
The Love Positive Women campaign, developed and led by women living with HIV, is a global initiative running every Feb Feb 1st-14th for each of us to express and share our love and support for all women living with HIV.
The campaign uses social media to link local grassroots gestures of love to each other. Using Valentine's Day as a backdrop, Love Positive Women "creates a platform for individuals and communities to engage in public and private acts of love and caring for women living with HIV."
Going beyond romantic love to deep community love and social justice, the campaign is also a call to action. The HIV Justice Network has been supporting this campaign since 2017.
Follow the conversation using #LovePositiveWomen on social media.
#EndMHS Campaign
This Valentine's Day, Positive Women's Network-USA is spearheading a US-focused campaign tweeting at the US Centers for Disease Control (CDC) with messages full of tough love and snark about ending molecular HIV surveillance (MHS).
Molecular HIV surveillance and cluster detection and response (MHS-CDR) is one of four pillars of the US Ending the Epidemic Initiative. PWN-USA and many other organisations working on the rights of people living with HIV, including the HIV JUSTICE WORLDWIDE coalition, have serious concerns about using personal medical information – including our blood – for surveillance purposes without meaningfully involving people living with HIV, without informed consent, and often even without our knowledge.
HIV surveillance and HIV criminalisation collide to put the human rights of people living with HIV at risk and can be especially dangerous for Black and Brown people, migrants, sex workers, transgender women, and other communities that are hyper-policed and over-surveilled.
Recently, the Presidential Advisory Council on HIV/AIDS (PACHA) unanimously passed an historic resolution that responds to these concerns, and urges the CDC to change their guidance on MHS-CDR activities.
Tell the CDC that they must implement the PACHA resolution by using the social media toolkit and the hashtags #ILoveConsent #MyBodyMyData #CommunitiesNotClusters #EndMHS
Watch HIV Justice Live! which explores the history behind, and impact of our founding document, the Oslo Declaration on HIV Criminalisation. Hosted by HJN's founder and Executive Director, Edwin J Bernard, the show, From Moment to Movement, featured some of the advocates who were behind the Oslo Declaration: Kim Fangen, Patrick Eba, Michaela Clayton, Ralf Jürgens and Susan Timberlake.