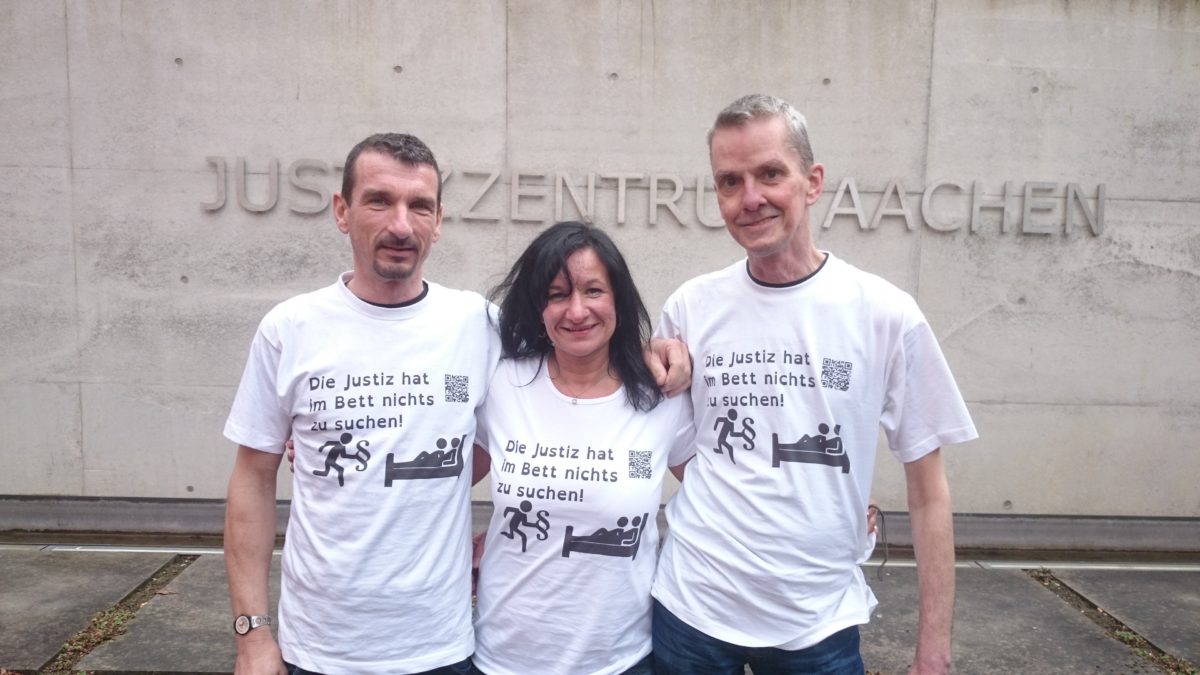 Last week, for the first time a German court ruled that HIV transmission without prior disclosure was negligent injury, rather than intentional harm.
The District Court of Aachen sentenced a 43 year-old man to one year and nine months on probation for having condomless sex with his former female partner without disclosing his HIV-positive status. The woman is now also HIV-positive. The maximum sentence for negligent bodily injury is three years in prison and a fine.
With this judgment the Court has created legal history – the first ruling since 1988 to change the way HIV non-disclosure cases are considered by German courts. Until now, the Federal Court, as well as lower courts, had always considered that HIV non-disclosure prior to sex without a condom meant that the defendant "considered acceptable" that their partner would acquire HIV.  This concept, of dolus eventualis, is much closer to the common law definition of 'recklessness' than to malicious intent.
Leading HIV and human rights lawyer Jacob Hösl, who attended the hearing in an advisory capacity, told Deutsche AIDS-Hilfe: "The Federal Court has always said that the examination of pre-meditation requires a case-specific overall examination, which can vary greatly depending on the individual circumstances. The lower courts, however, have always assumed intent by default. For the first time this court sees it differently. "
Hösl praised the fact that the court studied intensively the medical facts and personal circumstances of the accused. "The man did not want his partner infected – for him she was the love of his life," he noted.
The presiding judge, Hans-Günter Goergen, began his oral verdict, stating: "We have learned a lot about HIV in this trial." According to press reports, he noted that the defendant had concealed his HIV-positive status because he was afraid his partner would leave him, but that he had no desire for her to become HIV-positive.
The judge also accepted that the defendant had tried to protect his partner (by using condoms most of the time, and withdrawing before ejaculating), but failed due to the circumstances (she started taking contraceptive pills and desired condomless sex) and because of his fear of losing his partner. He noted that the defendant's former wife had divorced him in 2007 after he had tested HIV-positive. Accordingly, the judge saw no evidence that the defendant acted with intent.
The Court also found the defendant not guilty with respect to three other charges relating to HIV non-disclosure and potential HIV exposure involving two women when the defendant's viral load was undetectable.
A medical expert told the Court that during the relationship with the complainant that is now HIV-positive, the risk of transmission was low, as he had a low (but not undetectable) viral load. Dr. Heribert Knechten, a witness for the defence, who was also the defendant's doctor, noted that in 2014, before commencing treatment, his patient's viral load was stable at 85,000 copies per milliliter, which translated into the risk of HIV transmission during vaginal intercourse to be between 0.05 to 0.15 percent. He also testified that after the defendant's viral load reached undetectable at the end of 2014 that he was very unlikely to be infectious.
Manuel Izdebski, Deutsche AIDS-Hilfe board member said in a press release:
"This verdict is a step of great value: the first time that a court recognizes that you cannot automatically assume intent in HIV transmission cases; it is almost always due to fear – as it was in this case – that people do not disclose. Accordingly, this must be taken into account. Criminal law is not an appropriate way to measure this. The decision of the District Court in Aachen is a pioneering step towards a legal system that no longer penalises HIV transmission as a criminal offence."
The written judgement is expected soon. However, today, the prosecution has appealed the ruling, so this judgement may not be final.