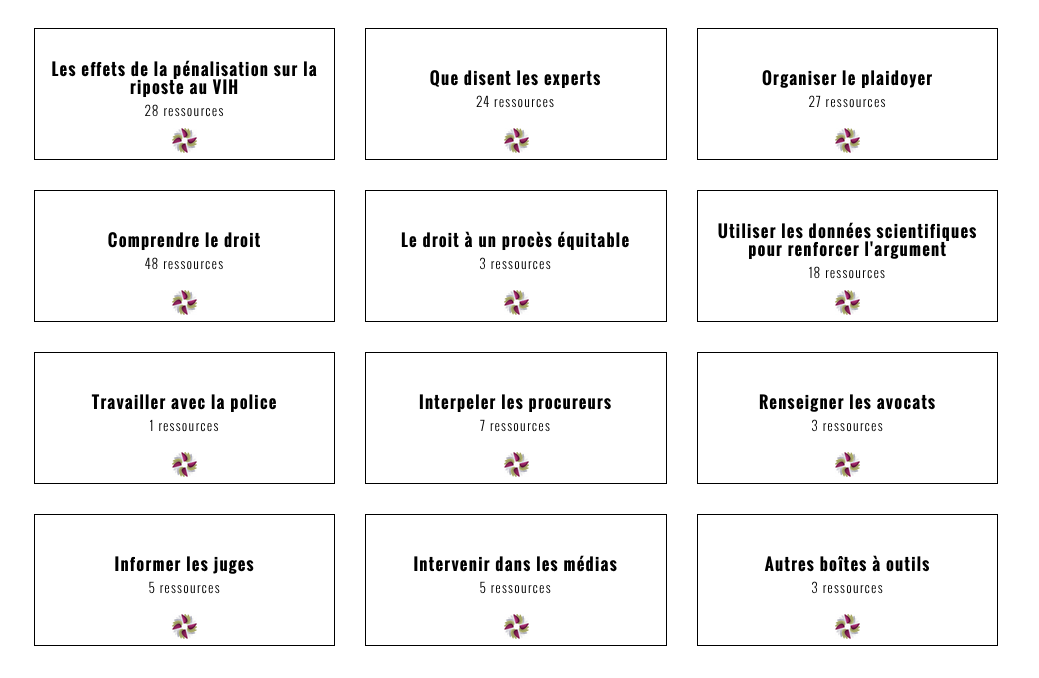 [Scroll down for English]
La version française de la boîte à outils de HIV JUSTICE WORLDWIDE visant à soutenir le plaidoyer contre la pénalisation du VIH est disponible en ligne.
Les juristes et militants francophones qui luttent contre les lois obsolètes de pénalisation du VIH disposeront désormais d'une nouvelle ressource indispensable avec la publication de la version française de la boîte à outil de plaidoyer contre la pénalisation du VIH de HIV JUSTICE WORLDWIDE.
Cette ressource vise à soutenir les intervenants dans leur travail contre la pénalisation du VIH à tous les niveaux, que ce soit dans le domaine de l'éducation des communautés et des législateurs ou pour la défense individuelle des affaires pénales.
Conçue par le HIV Justice Network (HJN) et développée avec l'aide et l'assistance inestimable des membres du réseau francophone de HIV JUSTICE WORLDWIDE, la boîte à outils a été financée par une subvention du Robert Carr Fund.
La boîte à outils rassemble près de 170 documents pertinents aux pays francophones, organisés en douze rubriques principales, elles-mêmes subdivisées en plusieurs sous-sections:
Les effets de la pénalisation sur la riposte au VIH
Que disent les experts
Organiser le plaidoyer
Comprendre le droit
Le droit à un procès équitable
Utiliser les données scientifiques pour renforcer l'argument
Travailler avec la police
Interpeler les procureurs
Renseigner les avocats
Informer les juges
Intervenir dans les médias
Autres boites à outils
En plus de la classification par thème, l'ensemble de la boite à outils est consultable par mot clef, date, pays etc.
La boite à outils est pour l'instant uniquement disponible en anglais et en français, mais HIV JUSTICE WORLDWIDE travaille actuellement sur une version espagnole et russe, prévues pour 2019
Pour explorer les ressources de notre boîte à outils, rendez-vous à l'adresse suivante: http://toolkit.hivjusticeworldwide.org/fr
Si vous trouvez la boîte à outils utile et/ou si vous avez des suggestions concernant des ressources à ajouter, contactez-nous info@hivjusticeworldwide.org.
---
With today's publication of the French version of HIV JUSTICE WORLDWIDE's Advocacy Toolkit, French-speaking lawyers and activists fighting unjust and outdated HIV criminalisation in Francophone countries around the world now have an indispensable new resource.
The Toolkit, available at: http://toolkit.hivjusticeworldwide.org/fr/ aims to support stakeholders in their work against HIV criminalisation at all levels, whether educating community or legislators or for the individual defense of criminal cases.Designed by the HIV Justice Network (HJN) and developed with the invaluable help and assistance of members of the HIV JUSTICE WORLDWIDE French-speaking network, the Toolkit was funded by a grant from the Robert Carr Fund.
The Toolkit brings together nearly 170 documents relevant to French-speaking countries, organised into twelve main sections, further subdivided into several subsections:
1. The effects of HIV criminalisation on the HIV response
2. What do the experts say
3. Organising advocacy
4. Understanding the law
5. The right to a fair trial
6. Using scientific data to reinforce our arguments
7. Working with the police
8. Educating prosecutors
9. Informing lawyers
10. Informing judges
11. Intervening in the media
12. Other toolkits
In addition to the classification by theme, the whole Toolkit is searchable by keyword, date, country etc.
The HIV Justice Toolkit is only available in English and French, but HIV JUSTICE WORLDWIDE is currently working on Spanish and Russian versions, planned for 2019.