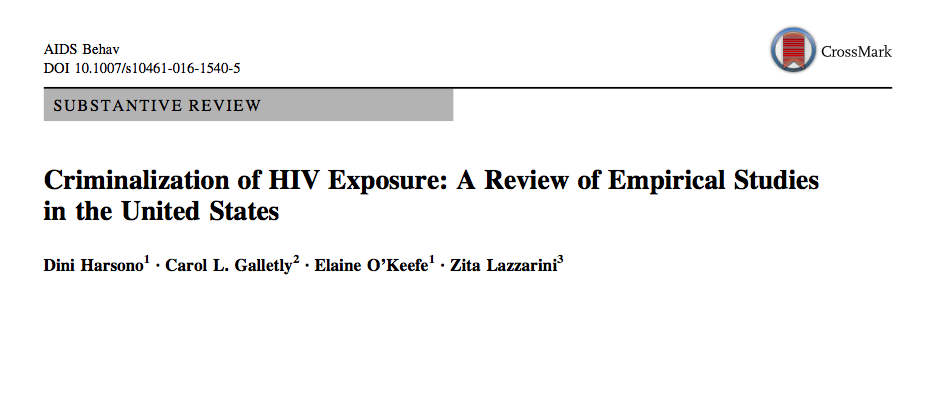 An article reviewing 15 years of U.S.-based social science research on HIV criminalisation was published in the September 2016 issue of AIDS and Behavior. The research team, led by Dini Harsono of Yale University's Center for Interdisciplinary Research on AIDS (CIRA), Criminalization of HIV Exposure Work Group, described results from twenty-five research studies conducted in the US from 1990-2014. Studies were conducted with women and men living with HIV, gay men and other men who have sex with men (HIV-positive and –negative), public health workers, and medical providers.
Across the studies, the authors found that, while awareness of HIV exposure laws was generally low, attitudes were generally supportive of criminalisation.[1] The studies showed little to no relationship between the existence of laws and decisions to disclose one's positive HIV status or to test for HIV. The clearest relationships between stigma and HIV non-disclosure laws could be found from the Sero Project study findings that people living with HIV expect to be treated with bias in the courts simply because of their HIV status. The authors call for future studies to pay more attention to health outcomes, rather than attitudes, and to more closely research prosecution and enforcement practices.
For a global overview of HIV criminalisation research, see O'Byrne et al. (2013). "HIV criminal prosecutions and public health: an examination of the empirical research."
Details
Criminalization of HIV Exposure: A Review of Empirical Studies in the United States, by Dini Harsono, Carol L. Galletly, Elaine O'Keefe, Zita Lazzarini. AIDS Behavior. DOI 10.1007/s10461-016-1540-5. Published online: 7 Sept 2016.
[1] Although the Sero Project study (2012) was included in the research review, one key set of findings was not discussed. In the Sero Project study, support for criminalisation dramatically declined when survey respondents were provided additional response options (beyond only the choice to support criminalization or not) in survey questions.
Criminalization of HIV Exposure: A Review of Empirical Studies in the United States