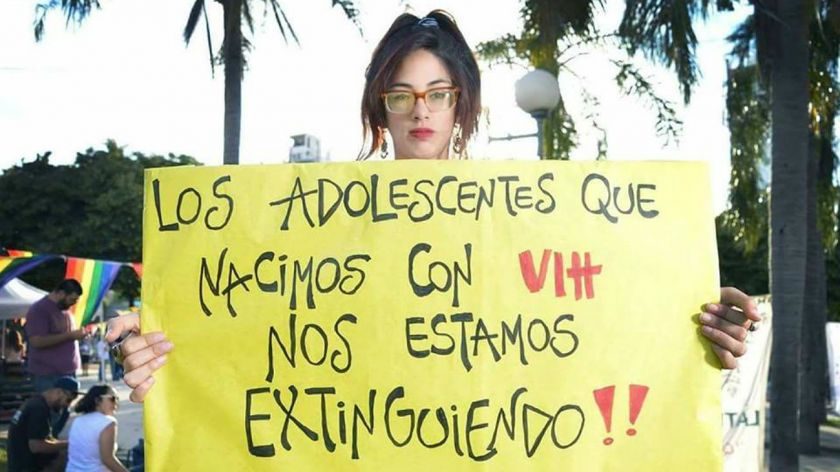 Debate in Mendoza to send people who "transmit HIV"to prison (Google translation. For original article in Spanish, scroll below).
The provincial Chamber of Deputies deals with the reform of the Contraventional Code, where a penalty of up to 30 days in jail is assessed.
I am afraid that the police will take me prisoner because of my illness," says Sergio Ramírez (27). He has HIV and is the national coordinator of the Argentine Network of Positive Young People and Adolescents (RAJAP), an organization with a presence in all the provinces that accompanies people with the AIDS virus.
The young Mendoza refers to the reform of the Contraventional Code that the Chamber of Deputies of Mendoza will vote on tomorrow -with half Senate sanction-, where his article 126 establishes up to 30 days in prison or the payment of a fine of $ 3000 for "the person that transmits a venereal or contagious disease "and an immediate hospitalization to do the medical studies.
The Code of Fouls in force in Mendoza is from 1965. Therefore, the current governor of the province, Alfredo Cornejo , presented in March a new code that, among its modifications, condemns social protesters with 3 days in jail and $ 9500 or 10 days of prison to the "rags" that do not have legal authorization, among others. "Tomorrow we will meet with different organizations from 8 o'clock to ask that the Contraventional Code not be sanctioned," Ramírez said about the protest called for the start of the parliamentary session.
In addition, the president of the civil association Everyday Women, María Laura Chazarreta, today presented a letter in Deputies demanding the elimination of article 126 because the national AIDS law (23.798) prohibits compulsive HIV tests .
"To proceed, a complaint is made or a police officer intervenes. Then, it communicates with the judge of faults so that the contravencional process continues, explains Jorge Albarracín, deputy who presides over the commission of Legislation and Constitutional Affairs, to PROFILE . "If an amicable agreement is reached between the parties, the case is filed. But if you can not and the responsibility of the offender is proven, the sanctions begin, "says the radical legislator who, in response to the question of how these faults could be proven in the new Code, says that it will be the responsibility of the judge to carry out the investigation.
In this sense, Ramírez says that "most of the articles do not need proof and they leave it to the authority that is going to work the contravention, which is the same policeman who asks for bribes to the sex workers of the province." " This legislation only serves to criminalize a disease such as HIV, " says Ramírez, who says that in Mendoza there are more than 4000 people carrying the virus.
Albarracín does not believe that HIV will be criminalized, because "the idea is to apply the regulations to people who, knowing the problem, infect another person". However, it does not rule out the possibility of police abuses by article 126.
Finally, Albarracín says that "if the opposition gives the quorum , there will be a long session." "But if we achieve our own quorum, the Code will be approved in a short time," says the legislator of Cambiemos on the Contraventional Code that, if it receives modifications, will be treated again in the Senate.
Published in Perfil on September 13, 2018
—————————————————–
Debaten en Mendoza enviar a prisión a personas que "transmitan VIH"
La Cámara de Diputados provincial trata la reforma al Código Contravencial en donde se evalúa una penalización de hasta 30 días en la cárcel.
Tengo miedo que la policía me lleve preso por mi enfermedad", dice Sergio Ramírez (27) que tiene HIV y es coordinador nacional de la Red Argentina de Jóvenes y Adolescentes Positivos (RAJAP), una organización con presencia en todas las provincias y que acompaña a las personas con el virus del Sida.
El joven mendocino se refiere a la reforma del Código Contravencional que la cámara de Diputados de Mendoza votará mañana –con media sanción del Senado-, donde su artículo 126 establece hasta 30 días de prisión o el pago de una multa de $3000 para "la persona que transmitiere una enfermedad venérea o contagiosa" y una hospitalización inmediata para hacer los estudios médicos.
El Código de Faltas vigente en Mendoza es del año 1965. Por eso, el actual gobernador de la provincia, Alfredo Cornejo, presentó en marzo un nuevo código que, entre sus modificaciones, condena las protestas sociales con 3 días de cárcel y $9500 o 10 días de prisión a los "trapitos" que no tengan autorización legal, entre otras. "Mañana vamos a reunirnos con diferentes organizaciones desde las 8 para pedir que no se sancione el Código Contravencional", adelanta Ramírez sobre la protesta convocada para el comienzo de la sesión parlamentaria.
Además, la presidenta de la asociación civil Mujeres Cotidianas, María Laura Chazarreta, presentó hoy una carta en Diputados donde exige la eliminación delartículo 126 porque la ley nacional de sida (23.798) prohíbe los exámenes de VIH compulsivos.
"Para proceder se hace una denuncia o interviene un agente de policía. Luego, se comunica con el juez de faltas para que continúe el proceso contravencional", le explica a PERFIL Jorge Albarracín, diputado que preside la comisión de Legislación y Asuntos Constitucional. "Si se llega a un acuerdo amistoso entre las partes, la causa se archiva. Pero si no se puede y se demuestra la responsabilidad del infractor, empiezan las sanciones", detalla el legislador radical que, ante la pregunta sobre cómo podrían probarse estas faltas al nuevo Código, dice que será competencia del juez que lleve adelante la investigación.
En este sentido, Ramírez dice que "la mayoría de los artículos no necesitan pruebas y lo dejan librado a la autoridad que va a labrar la contravención, que es la misma policía que le pide coimas a las trabajadoras sexuales de la provincia". "Esta legislación solo sirve para criminalizar una enfermedad como el VIH", sostiene Ramírez que cuenta que en Mendoza hay más de 4000 personas portadoras del virus.
Albarracín no cree que se vaya a criminalizar al VIH, porque "la idea es aplicar la normativa a las personas que, conociendo el problema, contagian a otro". Sin embargo, no descarta que se produzcan abusos policiales por el artículo 126.
Por último, Albarracín adelanta que "si la oposición da el quorum, habrá una sesión larga". "Pero si logramos quorum propio, el Código estará aprobado en poco tiempo", afirma el legislador de Cambiemos sobre el Código Contravencional que, si recibe modificaciones, volverá a ser tratado en el Senado.