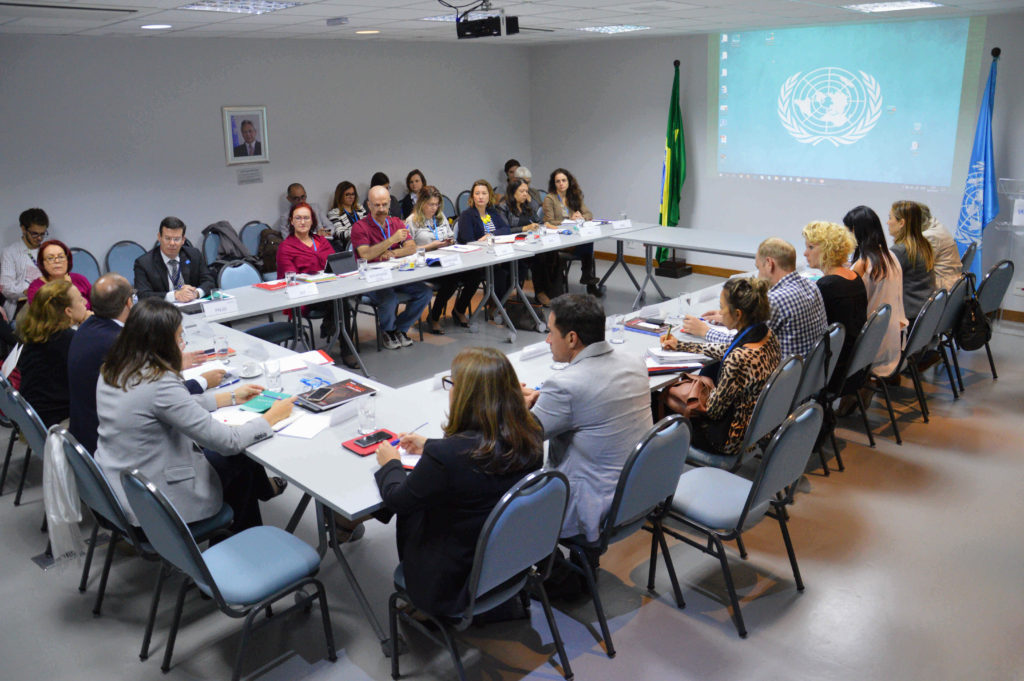 Brazilian legislation
Law 12.984 defines as a crime the discrimination of people living with HIV / AIDS in Brazil. Institutions and persons who deny education, health or employment to HIV-positive persons, as well as those who promote their segregation or disclose their serostatus in order to offend them, are punishable.
For the director of the Department of Surveillance, Prevention and Control of STIs, HIV / AIDS and Viral Hepatitis, Adele Benzaken, it is important to discuss not only discrimination but about mortality caused by late diagnosis, irregularities and treatment abandonment.
Caio Oliveira, of the United Nations Children's Fund (UNICEF), stressed that article 130 of the Brazilian Penal Code already criminalizes the exposure of people to serious illnesses. In this way, it would not be necessary for the bill to make the transmission of the virus a heinous crime. "We need to make sure that the people who need them do not have any problems," he said.
State and civil society
In addition to representatives of the UN System, leaders of social movements, non-governmental organizations and representatives of the public power participated in the meeting.
"Another major problem … is the confidentiality of medical records. Why? Because you will only be able to get this information if in any way these medical records come to the public domain, come to the justice system, "warned federal prosecutor for Citizen Rights, Deborah Duprat. The prosecutor also stressed that this issue may reach mainly socially stigmatized groups, which hide the infection to their families and society to avoid discrimination.
Pétala Brandão, from Conectas Human Rights, said that the bill is a result of human rights setbacks in Brazil. "It is a manifestation of a punitive ideology, of criminal recrudescence, which creates stigma and vulnerability," he said.
She stressed that the participation of the United Nations is fundamental to guarantee the rights of all people, but that there must be, in essence, an articulation with civil society and social movements.
Erika Kokay (PT-DF) endorsed the argument of the Conectas specialist. "This culture of fear turns into hate and creates intolerance. The project creates invisible social differences, "said the deputy.
UNFPA chairs working group
With a strong focus on the sexual and reproductive rights agenda, UNFPA is one of 11 UN agencies to be part of the HIV / AIDS working group. The agency has assumed the presidency of the group for the 2017-2018 biennium.
UNFPA works to promote universal quality health services, including the prevention and treatment of reproductive tract infections and sexually transmitted infections, including HIV / AIDS.
Created in 1997 through a multisectoral approach, the working group seeks to support the response to the HIV / AIDS epidemic in the country. This mobilization places HIV among the priority themes of joint action of the UN System for several years.
——————————
Grupo de trabalho critica projeto de lei que criminaliza transmissão do HIV
O Grupo Temático Ampliado das Nações Unidas sobre HIV/AIDS (GT/UNAIDS) reuniu-se na segunda-feira (3) para discutir o atual panorama da epidemia de AIDS no Brasil e articular a oposição ao Projeto de Lei 198/2015, que torna crime hediondo a transmissão deliberada do vírus. Este foi o primeiro encontro do grupo presidido pelo Fundo de População das Nações Unidas (UNFPA).
Para o representante do UNFPA no Brasil, Jaime Nadal, o projeto de lei vai contra os ideais e propostas das Nações Unidas referentes à epidemia de HIV/AIDS. A criminalização da transmissão do HIV, além de reforçar a estigmatização das pessoas que vivem com o vírus, pode desencorajar as pessoas a realizarem a testagem e o tratamento, uma vez que estariam sob a ameaça de se tornarem criminosas, afirmou.
O projeto de lei desconsidera os avanços científicos em HIV/AIDS, que comprovam que tratamentos antirretrovirais reduzem em até 96% as chances de transmissão do vírus em relações sexuais. "Muitos países, em todo o mundo, estão reformando suas leis que criminalizam a transmissão do HIV", lembrou Nadal, completando que o projeto vai na contramão da tendência mundial.
A diretora do UNAIDS no Brasil, Georgiana Braga-Orillard, reforçou a fala do representante do UNFPA. Segundo ela, o projeto de lei vulnerabiliza ainda mais as populações com estado sorológico positivo, já que "considera as mais de 800 mil pessoas vivendo com HIV no Brasil como criminosos em potencial".
Segundo ela, a meta do Sistema ONU no Brasil é que todas as pessoas realizem o teste para o vírus e, se necessário, façam o tratamento — o oposto do que aconteceria se o projeto de lei for aprovado.
Em nota técnica, o UNAIDS salientou seis argumentos contrários ao projeto de lei: ele penaliza os mais vulneráveis; promove medo e discriminação; favorece a aplicação seletiva da lei; desconsidera as evidências científicas sobre HIV; põe em risco a privacidade e a confidencialidade; e faz com que o Brasil perca o protagonismo na resposta ao HIV/AIDS.
A legislação brasileira
A Lei 12.984 define como crime a discriminação contra pessoas que vivem com HIV/AIDS no Brasil. São passíveis de punição instituições e pessoas que negarem educação, saúde ou emprego às pessoas soropositivas, bem como as que promoverem sua segregação ou divulgarem seu estado sorológico com o intuito de ofendê-las.
Para a diretora do departamento de Vigilância, Prevenção e Controle das ISTs, HIV/Aids e Hepatites Virais, Adele Benzaken, é importante discutir não somente sobre discriminação, mas sobre a mortalidade causada pelo diagnóstico tardio, irregularidades e abandono do tratamento.
Caio Oliveira, do Fundo das Nações Unidas para a Infância (UNICEF), destacou que o artigo 130 do Código Penal brasileiro já tipifica como crime a exposição de pessoas a moléstias graves. Dessa maneira, não seria necessário que o projeto de lei tornasse a transmissão do vírus um crime hediondo. "Precisamos assegurar que as pessoas que precisam não tenham mais problemas", finalizou.
Estado e sociedade civil
Além de representantes do Sistema ONU, participaram do encontro lideranças de movimentos sociais, organizações não governamentais e representantes do poder público.
"Outro grande problema (…) é a confidencialidade dos registros médicos. Como é que fica? Porque você só vai poder ter essa informação se de alguma maneira esses registros médicos vierem a público, vierem para o sistema de Justiça", alertou a procuradora federal dos Direitos do Cidadão, Deborah Duprat. A procuradora ressaltou também que esse ponto pode atingir principalmente grupos socialmente estigmatizados, que escondem a infecção de suas famílias e da sociedade para evitar discriminação.
Pétala Brandão, da Conectas Direitos Humanos, afirmou que o projeto de lei é resultado dos retrocessos dos direitos humanos no Brasil. "Ele é uma manifestação de uma ideologia punitivista, de recrudescimento penal, que cria estigma e vulnerabilização", declarou.
Ela ressaltou que a participação das Nações Unidas é fundamental para a garantia dos direitos de todas as pessoas, mas que deve haver, imprescindivelmente, articulação com a sociedade civil e movimentos sociais.
Para a deputada Erika Kokay (PT-DF) endossou o argumento da especialista da Conectas. "Esta cultura do medo se transforma em ódio e cria intolerâncias. O projeto invisibiliza as diversidades sociais", disse a deputada.
UNFPA preside grupo de trabalho
Com forte atuação pela agenda de direitos sexuais e reprodutivos, o UNFPA é uma das 11 agências das Nações Unidas a fazer parte do grupo de trabalho sobre HIV/AIDS. A agência assumiu, este ano, a presidência do grupo para o biênio 2017-2018.
O UNFPA atua para a promoção do serviço de saúde de qualidade universal, incluindo a prevenção e tratamento das infecções do aparelho reprodutor e das infecções de transmissão sexual, incluindo o HIV/AIDS.
Criado em 1997 por meio de uma abordagem multissetorial, o grupo de trabalho busca apoiar a resposta à epidemia de HIV/AIDS no país. Essa mobilização coloca o HIV entre os temas prioritários de atuação conjunta do Sistema ONU há vários anos.