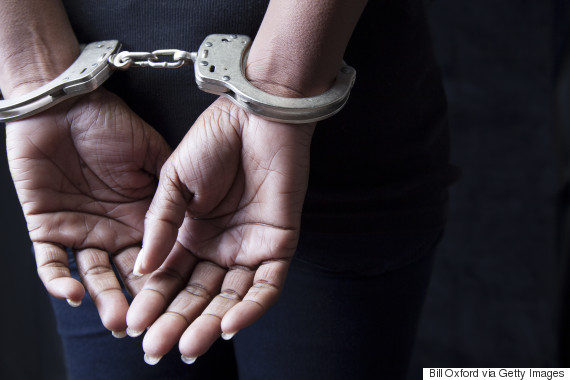 The Politics Of Sex For Women Living With HIV
"If I have sex, I could go to jail."
This is the reality of life for women living with HIV in Canada.
It's a story I heard a few weeks ago from an African woman who had recently immigrated to Vancouver and is now faced with the profoundly isolating experience of being a Black HIV-positive woman in Canadian society.
This may come as a surprise to anyone unfamiliar with HIV in Canada: Women (and men) who are living with HIV are at risk of facing a criminal charge of aggravated sexual assault for not disclosing their HIV status before engaging in consensual sex, unless they have a low HIV viral load and use a condom. Beyond serving jail time, those convicted must register as a sex offender, a title usually reserved for child molesters and rapists. "That follows you around forever," says a woman who was herself imprisoned for HIV non-disclosure.
This woman, and many others, bravely spoke out about their experiences of being treated like a criminal for living with HIV at the annual Canadian Conference on HIV/AIDS Research, held in Montréal from April 6 to 9.
The conference included a special session on the criminalization of HIV non-disclosure, which covered a broad array of issues ranging from data on the total number of charges laid, to women's personal testimonies of feeling 'under surveillance', to the latest research findings on how the law is understood and experienced by thousands of women living with HIV across Canada.
Saara Greene of McMaster University, Angela Kaida of Simon Fraser University, and Marvelous Muchenje of the Canadian Coalition to Reform HIV Criminalization co-hosted the event in partnership with HIV-positive women, which brought together dozens of community leaders, scientists, lawyers, and activists from around the country.
"Some women are suffering in silence and they don't know what the law says," said Muchenje.
"The law assumes that sex takes place between partners of equal power," added Greene. "And it wholly ignores what causes women not to disclose their status, including widespread stigma and violence that are both systematically targeted at women living with this disease."
The women who have participated in their research, which involved telling stories through participatory arts-based Body Mapping, say "disclosure is not always safe or positive for women's health and safety." And for many, the fear of being abused, rejected, or worse jailed, is a significant barrier to even thinking about the idea of getting involved with someone.
Eighteen women have been charged for HIV non-disclosure in Canada, many of whom come from marginalized backgrounds and are survivors of sexual violence.
"Beyond the number of prosecutions, however, is the threat of prosecution," said Kaida. "And this threat compromises both women's interactions with healthcare providers and their sexual health."
Kaida analyzed survey data collected from over 1000 women living with HIV in Canada, and found that for most women (65 per cent), the law affects the amount and type of information they are willing to share with providers, particularly as it relates to their sexual lives.
Kaida also found that 51 per cent of women were not having sex and of these, 78 per cent were intentionally abstinent. Women's reasons for intentional abstinence were diverse though many (33 per cent) worried about HIV criminalization and disclosing their status to sexual partners.
"Laws criminalizing HIV non-disclosure have been defended as a means of protecting the sexual well-being of women," Kaida said. "However, our findings show women are protecting themselves from the law by intentionally abstaining from sex."
It goes without saying that women living with HIV shouldn't have to live in fear of having sex. Sex is a normal part of life. It feels good. It has health benefits. And it's a human right, one that this law violates.
The law also ignores groundbreaking new science that shows a person with HIV who is on treatment with undetectable levels of the virus in their blood has zero chance of passing HIV to their sexual partners. Put simply, Undetectable=Untransmittable.
Wedged in between science, on the one hand, and society on the other, are decades of cultural discourses of risk, danger, and stigma.
Stigma is a dangerous construct. It deters people from accessing testing and treatment. It leads to anxiety, depression, isolation, and loneliness. And it creates a social and legal environment that fosters abuse, harassment, and discrimination against women living with the condition.
In the face of a mountain of evidence of medical advances and human rights violations, many people are calling (shouting, really) for policy markers in Canada to update the laws and de-criminalize HIV. Doing so would also help to de-stigmatize sex for women living with HIV.
"The discrimination I face because of I live with HIV is ridiculous," says Peggy Frank, an openly positive woman and researcher. "It's a small virus that has little to do with who we are. I am a human being and I have the rights that every other human being has, and that includes sex."
Allison Carter is a feminist epidemiologist conducting sex-positive research with women living with HIV. She is working with women on building a new online resource, called Life and Love with HIV, dedicated to building conversation and community around sexuality and relationships for women and couples with HIV around the world. Sign up to be notified when the website launches.
Published on April 10, 2017 in the Huffington Post