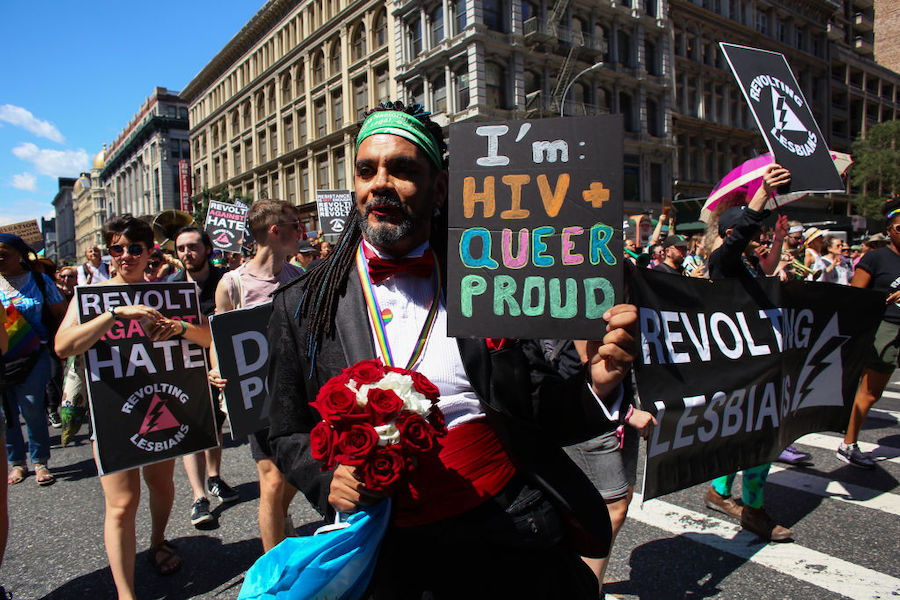 HIV and LGBTQ Criminalization Laws are Both Human Rights and Public Health Issues, Experts Say
A panel at the 23rd International AIDS Conference (AIDS 2020, gone virtual this year due to COVID-19) discussed the growing right-wing populist movements around the world that threaten advances made by activists toward ending criminalization of people living with HIV and LGBTQ people.
Poland just re-elected President Andrzej Duda, whose party, PiS, declared "The LGBT and gender movement threatens our Polish identity, the nation, and the state." PiS wants to "protect children from the LGBT ideology," defines marriage in strictly heterosexual terms, and aims to outlaw adoptions by LGBTQ people. Around 100 localities in the country have declared themselves to be "LGBT-free zones."
Botswana goes even further, reported Tebogo Gareitsanye of BONELA, a legal and advocacy organization in that country. Consensual sex between same-sex partners is illegal and prosecuted as "unnatural offenses" and "indecent practices." That statute originally applied only to men who have sex with men. Sex between women was not outlawed until 1998.
Botswana law distinguishes between sexual orientation per se—which is, in fact, a protected category under employment discrimination law—and acting on one's orientation, which is illegal. After a campaign by BONELA and others, the country's High Court recently decriminalized private, consensual sex acts. However, Botswana's government has appealed that decision, and a final ruling is still pending.
Beyond human rights implications, such laws also impact public health, since LGBTQ people will not seek health services for fear of being prosecuted, Gareitsanye noted. Similarly, laws that criminalize certain acts if someone is living with HIV impede public health, said Edwin J. Bernard of the HIV Justice Network. "Communicable diseases are public health issues, not criminal issues."
HIV criminalization laws generally require the person in question to know their status. They therefore discourage people from being tested. Sean Strub of the Sero Project summed this up in a video shared by Bernard at the conference: "Take the test and risk arrest." Another interviewee in that video, Patrick O'Byrne, Ph.D., RN-EC, of the University of Ottawa, reported that participants in their study were unable to distinguish between the public health department and the police. "That's problematic," O'Byrne commented.
In California, for example, people living with HIV (PLWH) can be prosecuted for four HIV-specific "offenses," explained Ayako Miyashita Ochoa, J.D., of the University of California Los Angeles: solicitation while seropositive, exposure with intent to transmit HIV, exposure to a communicable disease, and an enhanced sentence for forced sex, if the rapist lives with HIV. Sex workers account for 95% of HIV-related prosecutions in the state, Ochoa reported.
Exposure to a communicable disease could, of course, be applied to many different viruses—including SARS-CoV-2, the virus that causes COVID-19. So far, there are no reports of people refusing to wear masks being prosecuted under that law. Nonetheless, in many countries, human rights have taken a backseat to the pandemic response, noted Thokozile Phiri Nkhoma of Facilitators of Community Transformation in Malawi. Civil society must address criminalization as well as rights and resource issues in the wake of the pandemic, Nkhoma demanded.
Beyond their effect on individual persons prosecuted under them, criminal laws perpetuate structural inequalities, discrimination, and xenophobia, argued Susana T. Fried of CREA, an international feminist organization based in India. To counter such effects, we need to strengthen solidarity between and with affected people. We also must be aware of the unintended effects some laws meant to protect vulnerable communities might have. For example, raising the age of marriage can protect young girls. However, it can also be used to outlaw consensual sex between young people, if it ties age of consent to age of marriage.
The consequences of these and other laws regulating sex and sexuality are quite intentional, concluded Marco Castro-Bojorquez of HIV Racial Justice Now: "The systems of oppression that we have created specifically to oppress certain communities were working very well in the criminalization of PLWH."