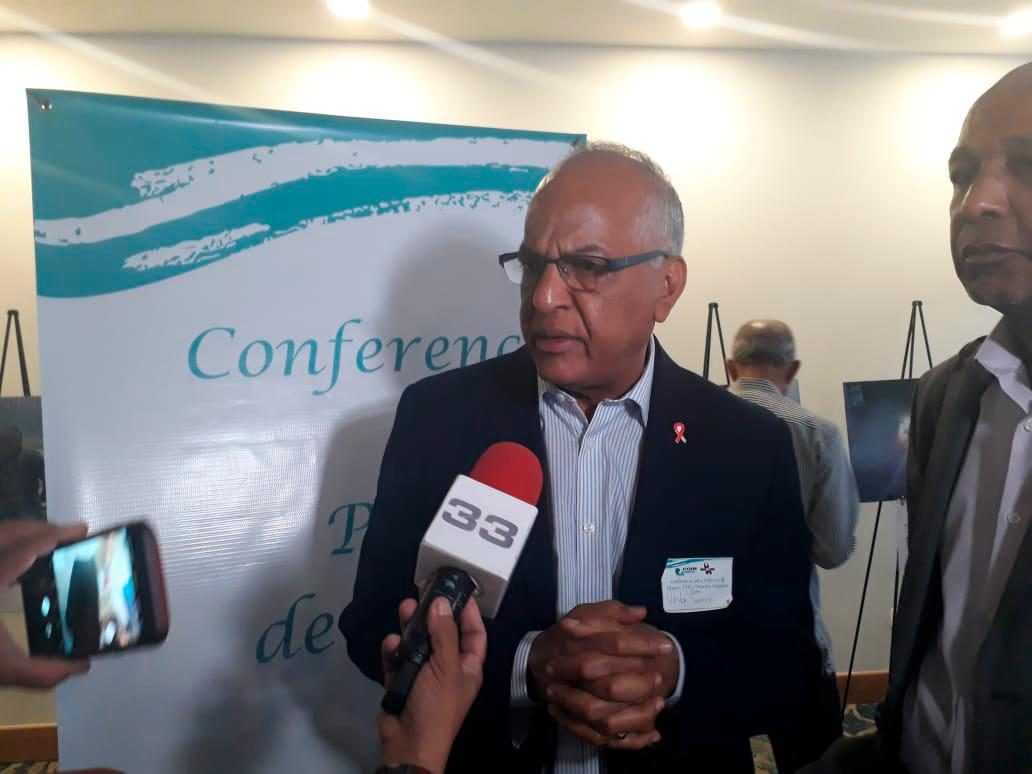 Conavihsida asks to modify the HIV-AIDS law in the country
Source: Diario Libre, December 12, 2019 – Google translation, scroll down for article in Spanish
Conavihsida asks to modify the HIV-AIDS law in the country
In the country there are 12,000 people who have VHI and do not know it
The director of the National Council for HIV (Conavihsida), Víctor Terrero, asked the authorities to review and adapt laws and policies that affect drug users in HIV prevention and care programs.
It proposed the modification of Laws as 135-11 in its articles 50.78 and 79, as well as the Drug Law 50-88. He argued that sometimes a mother is sentenced to eight and ten years in prison for occupying a small portion of prohibited drugs and forgets that this woman has three and four small children to care for and maintain and that this type of case should be considered In the law.
"We are raising our voice in favor of injecting drug users living with HIV status and who are 22% more likely to get the virus," he said.
He said that according to UNAIDS data these users often share needles, syringes and other supplies for injection, with which they contract the disease. He said that type of restrictive policy has failed elsewhere. He called to change the restrictive policy that is currently applied by a water utility so that drug use is not criminalized and is seen as a public health problem.
Third, the policies should focus on working with the person to avoid consumption, but also the spread of HIV through the use of syringes and other instruments. He recalled that there are about 12,000 people in the country who have HIV and do not know it.
By participating in the conference on "Drug, HIV and Human Rights Policies," Terrero said that the most vulnerable population to contract HIV are the LGBTI population, Haitian migrants, low-school children in the bateyes who are the ones They provide the most new cases.
The director of Conavihsida reported that more than 79,750 people live with HIV in the country, of which they work with almost 69,000 for a missing 10,000. Retrovirals are supplied to all those identified, for which the State invested 17 million dollars this year.
On his side, Mauricio Ramírez Villegas, coordinator of the United Nations System in the Dominican Republic also advocated comprehensive policies on the issue of drugs and HIV.
He said that public policies must be more humanized to respond effectively to the fight against drugs and said there is scientific evidence from the United Nations, specialized agencies that demonstrate that a more humanized public policy is more effective than restrictive and criminal They deepen drug problems.
Article 50.- Mandatory evidence . The tests for the detection of HIV or its antibodies are mandatory when:
1) It is required for the purpose of evidence in a criminal proceeding, upon order of the competent judicial authority; However, the accused refuses to carry out the test for detection
of HIV or its antibodies.
2) It involves donating blood, blood products, breast milk, semen, organs and tissues.
3) It is a pregnant woman, as part of the examinations prescribed by the attending physician, in order to ensure the best interest of the unborn child.
Article 78.- Obligation to inform the sexual partner. Any person who, knowing his HIV seropositivity, does not communicate his serological condition to the person with whom he is going to
Having sex will be punishable by imprisonment for two (2) to five (5) years.
Article 79.- Transmission of HIV intentionally. Any person who, by any means, transmits HIV intentionally to another, will be punished with imprisonment for twenty (20) years.
---
Conavihsida pide modificar ley de VIH-SIDA en el país
En el país hay 12,000 personas que tienen VHI y no lo saben
El director del Consejo Nacional para el VIH(Conavihsida), Víctor Terrero, solicitó a las autoridades revisar y adaptar legislaciones y políticas que afectan a los usuarios de drogas en los programas de prevención y atención del VIH.
Planteó la modificación de Leyes como 135-11 en sus artículos 50,78 y 79, así como la Ley de Drogas 50-88. Sostuvo que en ocasiones se condena a una madre a ocho y diez años de prisión por ocuparle una pequeña porción de droga prohibida y se olvida de que esa mujer tiene tres y cuatro hijos pequeños que cuidar y mantener y que ese tipo de caso se debe contemplar en la ley.
"Estamos levantando nuestra voz en favor de los usuarios de drogas inyectables que viven con la condición de VIH y quienes tienen un 22% más de posibilidades de contraer el virus", sostuvo.
Manifestó que de acuerdo con datos ONUSIDA esos usuarios muchas veces comparten agujas, jeringas y otros suministros para inyección, con los cuales contraen la enfermedad. Aseguró que ese tipo de política restrictiva ha fracasado en otros lugares. Llamó a cambiar la política restrictiva que se aplica actualmente por una sanitaria para que no se siga criminalizando el uso de drogas y se vea como un problema de salud pública.
Terrero que las políticas deben enfocarse en trabajar con la persona para evitar el consumo, pero además, el contagio de VIH a través de uso de jeringas y otros instrumentos. Recordó que en el país hay unas 12,000 personas que tienen VIH y no lo saben.
Al participar en la conferencia sobre "Políticas de Drogas, el VIH y los Derechos Humanos", Terrero señaló que la población más vulnerable para contraer VIH son la población LGBTI, los migrantes haitianos, los niños de baja escolaridad en los bateyes que son los que aportan la mayor cantidad de los nuevos casos.
El director de Conavihsida informó que más de 79,750 personas viven con VIH en el país, de los cuales trabajan con casi 69,000 para un faltante de 10,000. A todos los identificados se les suministran los retrovirales, para lo cual el Estado invirtió este año 17 millones de dólares.
De su lado, Mauricio Ramírez Villegas, coordinador del Sistema de Naciones Unidas en República Dominicana también abogó por política integrales en el tema de las drogas y el VIH.
Dijo que las políticas públicas deben ser más humanizadas para responder con efectividad a la lucha contra las drogas y aseguró que hay evidencias científicas por parte de Naciones Unidas, organismos especializados que demuestran que una política pública más humanizada es más efectiva que las restrictiva y criminales que profundizan los problemas de las drogas.
Los artículos en disputa
Artículo 50.- Pruebas obligatorias. La realización de las pruebas para la detección del VIH o de sus anticuerpos, son obligatorias cuando:
1) Se requiera para fines de prueba en un proceso penal, previa orden de la autoridad judicial competente; no obstante el imputado se rehúse a la realización de la prueba para la detección del VIH o de sus anticuerpos.
2) Se trate de donación de sangre, hemoderivados, leche materna, semen, órganos y tejidos.
3) Se trate de una mujer embarazada, como parte de los exámenes prescritos por el médico tratante, con la finalidad de asegurar el interés superior de la criatura por nacer.
Artículo 78.- Obligación de informar a la pareja sexual. Toda persona que, conociendo su seropositividad al VIH, no comunique su condición serológica a la persona con la que vaya asostener relaciones sexuales, será castigada con la pena de reclusión de dos (2) a cinco (5) años.
Artículo 79.- Transmisión del VIH de manera intencional. Toda persona que, por cualquier medio, transmita el VIH de manera intencional a otra, será castigada con pena de reclusión de veinte (20) años.