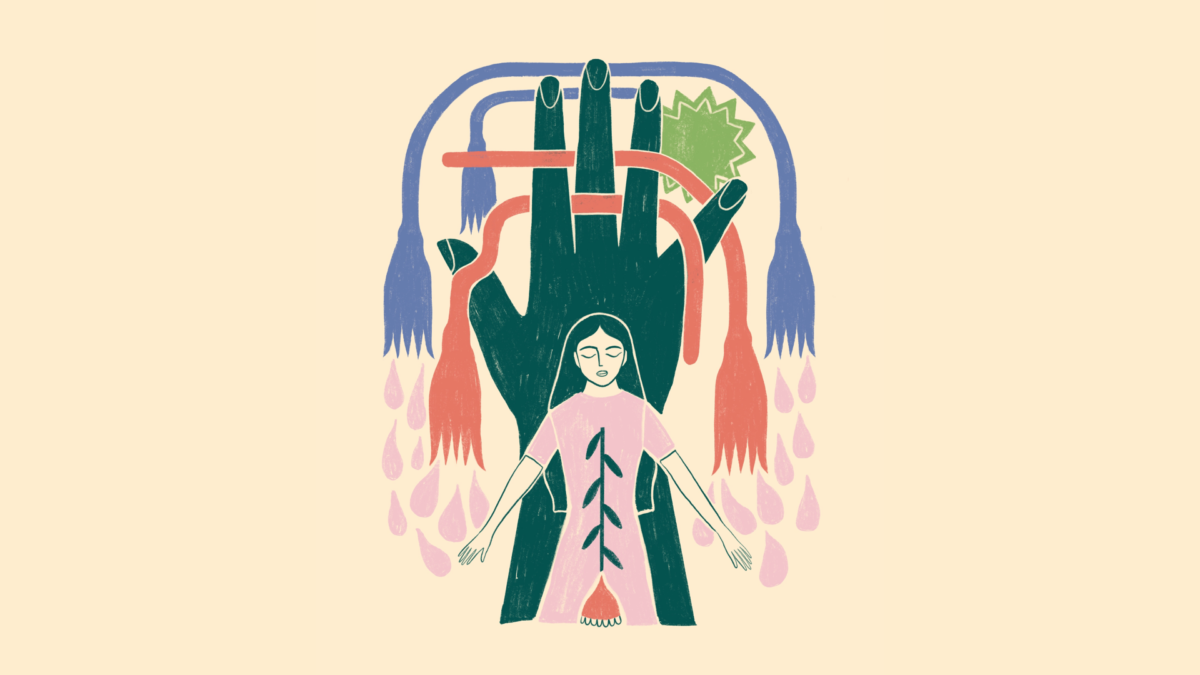 El Salvador forced sterilisation of HIV-positive women
Translated via Deepl.com – For original article in Spanish, please scroll down –
Written by Fátima Escobar
When Lizz found out she was pregnant, she was also told she had HIV. When she gave birth to her only daughter, at the age of 17, she was forcibly sterilised by medical staff at one of El Salvador's main public hospitals. The Constitutional Chamber of the Supreme Court of the Central American country only recognised that her right to reproductive health was violated. Eleven years later, she still wants to become a mother again. This text is part of the collaborative journalism project #ChangeTheStory, supported by the Deutsche Welle Akademie.
Months earlier, Lizz had received the news of her pregnancy and the positive test result for human immunodeficiency virus (HIV) at the same time. She says she was more concerned about the news of her pregnancy than the HIV diagnosis.
One morning in December 2010, Lizz* felt her baby kicking loudly in her belly and demanding to come into the world. Her pregnancy, marked by the despair of an unforeseen diagnosis, was nearing full term.
Upon her arrival at the National Women's Hospital "Dr. María Isabel Rodríguez", the most important women's hospital in El Salvador, medical staff asked her if she wanted to be sterilised, but Lizz said no. Because of her HIV status, she had to be sterilised. Because of her HIV status, she had to have a caesarean section and was taken to the operating room that night.
Minutes before she was to be anaesthetised for the caesarean section, a nurse asked her again if she was going to be sterilised and handed her a form to authorise the procedure. Lizz signed without being fully informed of the consequences.
Eleven years later, she talks about that day via video call. She pauses, takes her eyes off the screen and says: "They were practically going to let me die, they told me that if I didn't sign they wouldn't treat me. I signed because I couldn't stand the pain.
After giving birth to her only daughter, Lizz had part of her reproductive organ mutilated in surgery to prevent her from having children again when she was only 17.
Four years later, Lizz's case was taken to the Constitutional Chamber of the Supreme Court of El Salvador, where it was found that she did not have full capacity to give informed consent to be sterilised because she was a minor.
I A pillar of support
When Lizz was just 16, she had a relationship with a man eight years her senior. A few months later, she began to feel sick and had severe headaches. She went to the doctor in the community of Cojutepeque, less than an hour from the capital, and after tests she was told that she was pregnant and that she was also HIV-positive.
"At that moment, what worried me most was that I was pregnant. I didn't think about the HIV diagnosis," she says.
When she told her partner the news, he was not surprised. He already knew he was HIV-positive and offered to live with her as a couple. Lizz moved out of her parents' house and stopped her studies. Today she believes that she became pregnant as a result of rape because she was still a minor.
For the next few months, she had to go to the Women's Hospital, the only one in the country for maternal care, where she received a course of retrovirals. At birth, her baby was born with a negative diagnosis. She was free of the virus.
The human immunodeficiency virus attacks the immune system and weakens defence systems against infections and certain cancers. It is transmitted through the exchange of body fluids from an infected person, such as blood, breast milk, semen or vaginal secretions.
State data show that the chances of a child being infected with HIV at birth are very low. According to the Ministry of Health of El Salvador (MINSAL), one in every 100 babies born to mothers with HIV are diagnosed with the virus. These figures are consistent with those reported by the Joint United Nations Programme on HIV/AIDS (UNAIDS), which states that the risk of a woman with HIV transmitting the virus to her child is reduced to 5% or less with effective treatment.
Lizz received the treatment stipulated by MINSAL. Indeed, the same report states that by 2010, 100% of known HIV-positive pregnant women in the country received antiretroviral drugs to reduce the risk of infant transmission. These figures reflect that Lizz could safely have more children.
In 2019, El Salvador's Ministry of Health reported 26,893 people living with HIV in the country, 34% of whom were women.
Lizz followed her and her baby's health status at her local hospital, some 18 km south of the country's capital, and there she was connected to HIV support organisations when she went to her medical appointments.
"I used to go for check-ups at Cojutepeque Hospital, where I joined a support group and feminist non-governmental organisations. He (her ex-partner) was an alcoholic and beat me. I suffered a lot of physical abuse. But by joining these groups I became empowered. I became very empowered," she says in an energetic tone. When her baby was three months old, she decided to separate and returned to her parents' home.
At the hospital she met members of the Asociación Atlacatl Vivo Positivo, which works for the rights of people living with HIV. They provided her with a scholarship to finish high school. Psychological therapies and group sessions contributed to her education and empowerment. And she says that after a very difficult healing process, she can now talk more easily about it.
II More women with HIV sterilised
Lizz's case is not unique. Other HIV-positive women and minors have been systematically sterilised in El Salvador.
In her amparo lawsuit, it was found that "in hospital practice, girls and adolescents are sterilised with the sole requirement that they sign an authorisation form to that effect". In the ruling to which Alharaca had access, it is documented that one of the doctors questioned in the process said that "a minor under twelve years of age can be sterilised according to family planning regulations".
The Technical Guide for Family Planning Care (GTAPF), mentioned in the amparo, does not stipulate that sterilisations of certain patients on the basis of age are allowed, but only requires the patient's informed consent.
Lizz's case was brought to the judiciary thanks to the Asociación Nacional de Personas Positivas Vida Nueva (ANP+VN), which focuses on reducing HIV disease in El Salvador.
Together with other civil society organisations and authorities, they participated in conducting the People Living with HIV Stigma Index (INDEX) 2019, interviewing patients in 19 hospitals of the public health system.
The report documented that 23 out of 514 people surveyed were sterilised without their knowledge or consent in the past year. All of those who said they had been sterilised were women. Most of them are poor and have little access to education, says Catherine Serpas, executive director of ANP+VN.
The same study found that 7.2 per cent of respondents were advised not to have children and 5.6 per cent said they were pressured, encouraged or induced to become permanently sterilised through tubal ligation or vasectomy.
Serpas added that the study also found three more cases of minors recounting their experience.
"It was alarming to come across cases of forced sterilisation. The first case we collected was from a woman who experienced this in 1998. Also, here we found cases of girls, minors," says Serpas. She says that the association did not keep records of all of them, but after contacting some women, many decided not to participate in legal proceedings for fear of stigma.
One of those who did manage to follow up was Lizz, after conducting the INDEX 1.0 study. "The case happened in 2010, but she only spoke about it in 2014," she explained.
III The legal battle
Organisations protecting the rights of people with HIV are often part of support groups like the one Lizz attended. There she met peers who had gone through the same thing and were persuaded by medical staff to be sterilised. This motivated her to speak out and start a legal process with the support of ANP+VN.
In 2014, they filed an injunction seeking recognition of the violation of Lizz's reproductive health rights and HIV-related discrimination by medical staff at the National Women's Hospital "Dr. María Isabel Rodríguez".
A key element in bringing the case was to have the medical file, which they requested from the hospital through the Institute for Access to Public Information (IAIP), but were denied. Until they were taken to the amparo trial, the hospital authorities handed over the file, which had no evidence to justify the sterilisation.
Lizz's defence had access to statements from some of the medical staff that it made "no sense" for people with HIV to continue having babies.
The hospital director denied before the Chamber any act of HIV discrimination or that the patient was forced to undergo sterilization.
The Constitutional Chamber declared in 2015 that there had been "violation of her fundamental rights to reproductive health, reproductive self-determination and personal integrity – in relation to the fact that, being a minor, and therefore not having full capacity to give her informed consent to be sterilised".
"We did manage to prove that there was discrimination (on the grounds of HIV), but the Court did not admit it," said Crissia Pérez, her lawyer and legal representative.
The Chamber's ruling ordered the promotion of a process for material and moral damages and guaranteed adequate psychological treatment to overcome the consequences of the act of sterilisation.
IV Maternity. A right denied
Lizz suffered from recurrent bouts of depression. After the trial she wanted to regain her fertility.
Surgical sterilisation is a procedure in which the fallopian tubes, which carry the egg from the ovary to the uterus, are blocked. This can be by tying and cutting the tubes, by cauterisation, or closure with a ring or clamp.
About 20% of sterilised women regret their decision, but there are cases that cannot be reversed. One of them was Lizz's.
"There are different ways of cutting the tubes, but the cut the doctor made was flush. There was no way to reconstruct the tubes. We interpret this as a practice of violence and an act against humanity," says Catherine Serpas.
Between January 2013 and July 2021, 36 sterilisations were performed on women who verified delivery with a primary diagnosis of HIV out of a total of 280 deliveries in the country's public hospitals, according to MINSAL data provided through the Institute for Access to Public Information (Instituto de Acceso a la Información Pública).
***
A gynaecologist working for the public health system, whose name she wishes to withhold for her own safety, warns that it is a moot point to recommend that a woman with HIV should not have children.
"If you go back to the 1980s, a diagnosis of HIV infection was practically a death foretold. Today we have the facility that there are various support programmes for these patients, including antiretroviral therapy, screening tests and social and psychological support groups," she explains.
She says that if the patient is responsible for her health and her medication, she can become pregnant and have her pregnancy monitored regularly.
"Now, if the situation is different with a patient who has had poor adherence to her treatment or is irresponsible in her controls, who has uncontrolled secondary diseases or a poor prognosis," she warns, "it becomes necessary to avoid pregnancy to prevent maternal or foetal complications.
Serpas explains that reproductive health issues are not seen as a problem. "This happens because we live in a world that is seen as totally masculine, especially on issues such as HIV," she says.
ANP+VN often receives complaints about the lack of support in terms of family planning, she adds. "There is still a belief that the person is diagnosed and forgets about their sex life… We have found that when it comes to cytology (testing for the human papillomavirus, which causes cervical cancer) they have been mistreated by health staff, always with the interpretation 'why are you still having sex'. The HIV response has evolved, but the thinking is still poor.
IV Migration
Lizz not only faced obstetric violence in her home country, during the trial she also received anonymous phone calls threatening her life. During her visits to the hospital for psychological treatment, medical staff tried to persuade her to drop her lawsuit.
The Head of the HIV and Human Rights Department of the Human Rights Ombudsman's Office, Jaime Argueta, acknowledged that "there is no system of protection that can give guarantees to the person who has had the courage to file a complaint, to protect her against the state itself. She even began to be questioned when she received her treatment".
Stigma is becoming less and less common in the health and workplace, she says, but "HIV testing is still required for employment as part of a battery of tests".
At the community level, he warns that there is still a lot of discrimination and people's diagnoses are disclosed in the places where they live.
"Maybe they work in a beauty salon and someone starts spreading the diagnosis and they lose their customers. Or they sell any kind of ready-made food for consumption and their livelihoods are also affected," she said.
Lizz lived in an area declared to be at high risk of gang violence. This became another reason for her to migrate to the United States with her daughter and her current partner. There, more than 10,000 kilometres away from the country that expelled her, she is now trying to rebuild her life.
"I wanted a better life for my daughter. Fear also played a part in my decision to migrate," she said.
V A new life
Despite her irregular migration status, Lizz has managed to access retroviral treatment through a protocol at a research centre in the United States, which she accessed through a hospital.
For now she is working, studying English and wants to go back to university to study law to help others: "My dream is to work in an organisation that helps with human rights or migration".
According to the International Community of Women Living with HIV and AIDS (ICW Latina), in El Salvador the legal framework that establishes sanctions for health personnel in the case of forced sterilisation of women with HIV has a positive rating, that is, according to this organisation, doctors do receive penalties in these cases. However, those who attended Lizz's case did not receive any penalty.
At the close of this investigation, an interview was requested with the head of the National STI/HIV/AIDS Programme, Dr Ana Isabel Nieto Gómez, to find out her position on Lizz's case, but no response was received. Dr. Nieto was in the same position in 2010, when Lizz was forcibly sterilised.
Nieto is now an official in the government of President Nayib Bukele. His regime has been criticised for lacking accountability, giving little access to the press and declaring public information "confidential".
ANP+VN currently works to provide legal support, training, psychological care, job reinsertion and alternative income generation for people living with HIV. It also has a close relationship with support groups for people with HIV in the national hospital network. Hundreds of people have benefited from its projects. Their lawyer shared that when the press covered Lizz's case, they became aware of more cases that they could follow up and bring to justice if they had the funds.
---
El Salvador forzó la esterilización de mujeres con VIH
Cuando Lizz se enteró de que estaba embarazada, también le informaron que tenía VIH. Al momento de parir a su única hija, a la edad de 17 años, fue esterilizada de manera forzada por el personal médico de uno de los principales hospitales públicos de El Salvador. La Sala de lo Constitucional en la Corte Suprema del país centroamericano solo reconoció que se violó su derecho de salud reproductiva. A once años de lo ocurrido, mantiene el deseo de volver a ser madre.
Lizz había recibido meses antes de forma simultánea la noticia de su embarazo y el resultado positivo a la prueba del virus de inmunodeficiencia humana (VIH). Asegura que le preocupaba más la noticia de su embarazo que el diagnóstico del virus
Una mañana de diciembre de 2010, Lizz* sintió en su vientre que su bebé pateaba fuerte y con ello exigía su llegada al mundo. Su embarazo, marcado por la desesperanza de un diagnóstico imprevisto, estaba por llegar a término.
Desde su llegada al Hospital Nacional de la Mujer "Dra. María Isabel Rodríguez", el más importante para la atención de la mujer en El Salvador, personal médico le preguntó si quería ser esterilizada, pero Lizz respondió que no. Por su condición de VIH le tenían que hacer una cesárea y en la noche fue llevada a la sala de operaciones.
Minutos antes de que se le aplicara la anestesia para practicarle la cesárea, una enfermera le preguntó de nuevo si se iba a esterilizar y le entregó un formulario para autorizar el procedimiento. Lizz firmó sin haber sido informada plenamente de las consecuencias.
A once años de lo ocurrido, habla sobre ese día a través de una videollamada. Hace una pausa, quita la mirada de la pantalla y dice: «prácticamente me iban a dejar morir, me dijeron que si no firmaba no me iban a atender. Yo firmé porque no soportaba el dolor».
Después de dar a luz a su única hija, a Lizz le fue mutilada una parte de su órgano reproductivo en una intervención quirúrgica para impedir que volviera a tener hijos cuando sólo tenía 17 años.
Cuatro años después, el caso de Lizz fue llevado a la Sala de lo Constitucional de la Corte Suprema de El Salvador, donde se comprobó que no tenía la capacidad plena para otorgar su consentimiento informado para ser esterilizada por el hecho de ser menor de edad.
I Un pilar de apoyo
Cuando Lizz tenía apenas 16 años, tuvo una relación con un hombre ocho años mayor que ella. A los pocos meses, comenzó a sentir malestar y dolores de cabeza intensos. Fue al médico en la comunidad de Cojutepeque, a menos de una hora de la capital, y después de hacer estudios le dijeron que estaba embarazada y que también era portadora de VIH.
"En ese momento lo que más me preocupó fue estar embarazada. No dimensioné el diagnóstico de VIH", relata.
Cuando le dio la noticia a su pareja, él no se sorprendió. Ya sabía que era portador del virus y le ofreció vivir en pareja. Lizz salió de la casa de sus padres y suspendió sus estudios. Hoy considera que quedó embarazada por un acto de violación porque aún era menor de edad.
De su comunidad tuvo que ir los siguientes meses al Hospital de la Mujer, el único para atención materna en el país, donde recibió un tratamiento de retrovirales. Al nacer, su bebé nació con diagnóstico negativo. Estaba libre del virus.
El virus de la inmunodeficiencia humana ataca al sistema inmunitario y debilita los sistemas de defensa contra las infecciones y contra determinados tipos de cáncer. Se transmite a través del intercambio de líquidos corporales de la persona infectada, como la sangre, la leche materna, el semen o las secreciones vaginales.
Los datos del Estado reflejan que las probabilidades de que un menor se infecte de VIH al momento de su nacimiento son muy bajos. Según el Ministerio de Salud de El Salvador (MINSAL) uno de cada 100 bebés nacidos de madres con VIH son diagnosticados con el virus. Estos datos coinciden con los reflejados en el Programa Conjunto de las Naciones Unidas sobre el VIH/Sida ONUSIDA, donde se asegura que el riesgo de que una mujer con VIH le transmita el virus a su hijo se reduce a un 5 % o menos con un tratamiento eficaz.
Lizz recibió el tratamiento estipulado por el MINSAL. Incluso, el mismo informe asegura que para el año 2010 el 100 % de embarazadas con VIH conocidas en el país, recibieron medicamentos antirretrovirales para reducir el riesgo de transmisión infantil. Estas cifras reflejan que Lizz podía tener más hijos de forma segura.
En 2019, el Ministerio de Salud de El Salvador reportó 26,893 personas vivas con VIH en el país, de ellas el 34 % eran mujeres.
Lizz dio seguimiento a su estado de salud y el de su bebé en su hospital local, unos 18 km al sur de la capital del país, y ahí tuvo conexión con organizaciones de apoyo a personas con VIH cuando iba a sus citas médicas.
"Yo iba a controles al Hospital de Cojutepeque, ahí me uní a un grupo de apoyo y a organizaciones feministas no gubernamentales. Él (su expareja) era un hombre alcohólico y me golpeaba. Sufrí mucho abuso físico. Pero al unirme a estos grupos me empoderé. Me empoderé muchísimo", dice en tono enérgico. Cuando su bebé cumplió tres meses, decidió separarse y volvió a casa de sus padres.
En el hospital conoció a integrantes de la Asociación Atlacatl Vivo Positivo, que trabaja a favor de los derechos de las personas con VIH. Ellos le brindaron una beca para terminar sus estudios de educación media. Las terapias psicológicas y las sesiones grupales contribuyeron a su formación y empoderamiento. Y asegura que después de un proceso de sanación muy difícil, ahora puede hablar con mayor facilidad sobre el tema.
II Más mujeres con VIH esterilizadas
El caso de Lizz no ha sido el único. Otras mujeres con VIH y menores de edad han sido esterilizadas de forma sistemática en El Salvador.
En su juicio de amparo, se comprobó que "en la práctica hospitalaria se esteriliza a niñas y adolescentes con el único requisito que estas suscriban un formulario de autorización para tal efecto". En el fallo al que tuvo acceso Alharaca, se documenta que una de las doctoras interrogadas en el proceso dijo que «una menor de doce años de edad puede ser esterilizada según la normativa de planificación familiar».
La Guía Técnica de Atención en Planificación Familiar (GTAPF), mencionada en el amparo, no estipula que exista esterilizaciones a ciertos pacientes en razón de edad, únicamente exige que haya un consentimiento informado del paciente.
El caso de Lizz fue llevado al Poder Judicial gracias a la Asociación Nacional de Personas Positivas Vida Nueva (ANP+VN), enfocada en la reducción de la morbilidad del VIH en El Salvador.
Junto con otras organizaciones de la sociedad civil y autoridades, participaron en la realización del Índice de Estigma en Personas con VIH (INDEX) 2019, haciendo entrevistas a pacientes en 19 hospitales del sistema público de salud.
En el Informe se documentó que 23 de 514 personas encuestadas fueron esterilizadas sin su conocimiento o su consentimiento en el último año. Todas las que afirmaron este hecho eran mujeres. La mayoría de ellas son de escasos recursos económicos y tienen poco acceso a educación, señala Catherine Serpas, directora ejecutiva de ANP+VN.
El mismo estudio reflejó que a un 7.2 % de las personas encuestadas le aconsejaron no tener hijos y un 5.6 % menciona que fue presionado, motivado o inducido para esterilizarse de forma permanente por medio de ligadura de trompas o vasectomía.
Serpas añadió que en el estudio también encontraron tres casos más de menores de edad que contaban su experiencia.
"Fue alarmante encontrarnos con casos de esterilizaciones forzadas. El primer caso que recolectamos fue de una mujer que vivió esto en 1998. Además, aquí encontramos casos de niñas, menores de edad", expresa Serpas. Ella dice que la asociación no guardó registro de todos, sin embargo, al realizar contacto con algunas mujeres, muchas decidieron no participar en procesos legales por miedo al estigma.
Una de las que sí lograron dar seguimiento fue Lizz, luego de realizar el estudio INDEX 1.0. "El caso ocurrió en 2010, pero ella habló de este hecho hasta 2014", explicó.
III La batalla legal
Las organizaciones de protección de los derechos de personas con VIH suelen formar parte de los grupos de ayuda como a los que asistía Lizz. Ahí conoció a compañeras que pasaron por lo mismo y que fueron persuadidas por el personal médico para ser esterilizadas. Eso la motivó a hablar e iniciar un proceso legal con el acompañamiento de ANP+VN.
En 2014 promovieron un amparo para que se reconociera la violación de los derechos de salud reproductiva de Lizz y discriminación en razón del VIH por parte del personal médico del Hospital Nacional de la Mujer «Dra. María Isabel Rodríguez».
Un elemento clave para llevar el caso era tener el expediente médico, el cual solicitaron al hospital por medio del Instituto de Acceso a la Información Pública (IAIP), pero les fue negado. Hasta que fueron llevadas al juicio de amparo, las autoridades del hospital entregaron el expediente, el cual no tenía pruebas que justificaran la esterilización.
La defensa de Lizz tuvo acceso a declaraciones de parte del equipo médico que señalaban que "no tenía sentido" que las personas con VIH siguieran teniendo bebés.
El director del hospital negó ante la Sala cualquier acto de discriminación por VIH o que se haya forzado a la paciente para ser sometida a esterilización.
La Sala de lo Constitucional declaró en 2015 que sí hubo «vulneración de sus derechos fundamentales a la salud reproductiva, a la autodeterminación reproductiva y a la integridad personal —con relación al hecho de que, siendo menor de edad, y por lo tanto no teniendo la capacidad plena para otorgar su consentimiento informado para ser esterilizada».
"Sí logramos probar que hubo discriminación (en razón de VIH), pero la Sala no lo admitió", lamentó su abogada y apoderada legal Crissia Pérez.
En el fallo de la Sala se ordenó la promoción de un proceso por los daños materiales y morales y garantizar un tratamiento psicológico adecuado para superar las secuelas por el acto de esterilización.
IV Maternidad. Un derecho negado
Lizz sufrió cuadros de depresión recurrentes. Después del juicio quiso recuperar su fertilidad.
La esterilización quirúrgica es un procedimiento en el que las trompas de Falopio, que transportan el óvulo desde el ovario hasta el útero, se bloquean. Esto puede ser por atadura y corte de los conductos, por cauterización, o cierre con un anillo o grapa.
Un 20 % de las mujeres esterilizadas se arrepiente de su decisión, pero hay casos que no se pueden revertir. Uno de ellos fue el de Lizz.
«Hay diferentes tipos de cortar las trompas, pero el corte que le hizo el médico era al ras. No había forma de reconstruir las trompas. Nosotros interpretamos esto como una práctica de violencia y un acto de lesa humanidad», señala Catherine Serpas.
Entre enero de 2013 hasta julio de 2021 se realizaron 36 esterilizaciones en mujeres que verificaron parto con un diagnóstico principal VIH de un total de 280 partos en los hospitales públicos del país, según datos del MINSAL brindados por medio del Instituto de Acceso a la Información Pública.
***
Una ginecóloga que trabaja para el sistema de salud público, cuyo nombre desea omitir para resguardar su seguridad, advierte que es una temática discutible el recomendar a una mujer con VIH no tener hijos.
"Si nos remontamos a los años ochenta, el diagnóstico de infección por VIH era prácticamente una muerte anunciada. Hoy tenemos la facilidad de que hay diversos programas de apoyo para estos pacientes, que incluyen la terapia antirretroviral, exámenes de control y grupos de apoyo social y psicológico", explica.
La médica asegura que si la paciente es responsable de su salud y sus medicamentos, puede embarazarse y llevar el control periódico de su embarazo.
"Ahora, si el panorama es diferente con una paciente que ha tenido poca adherencia a su tratamiento o sea irresponsable en sus controles, que tenga enfermedades secundarias no controladas o de mal pronóstico», advierte, «se vuelve necesario evitar el embarazo para evitar complicaciones maternas o fetales".
Serpas explica que los temas de salud reproductiva no son vistos como un problema. "Eso pasa porque vivimos en un mundo que se ve totalmente masculino, y más, en temas como el VIH", dice.
ANP+VN recibe con frecuencia reclamos sobre la falta de apoyo en términos de planificación familiar, agrega. "Todavía se cree que la persona recibe el diagnóstico y se olvida de su vida sexual… Hemos detectado que a la hora que se les hace la citología (prueba de detección del virus del papiloma humano, que causa el cáncer de cérvix) han recibido maltrato por parte del personal de salud, siempre con la interpretación de '¿por qué sigue teniendo relaciones sexuales?'. La respuesta del VIH ha evolucionado, pero el pensamiento sigue siendo mediocre".
IV Migración
Lizz no solo enfrentó la violencia obstétrica en su país, durante el juicio también recibió llamadas anónimas donde la amenazaban con atentar contra su vida. En sus visitas al hospital para recibir tratamiento psicológico, hubo personal médico que la intentó persuadir para que desistiera en su demanda.
El Jefe Departamento de VIH y Derechos Humanos de la Procuraduría General de Derechos Humanos, Jaime Argueta, reconoció que "no existe un sistema de protección que pueda dar garantías a la persona que ha tenido el valor de presentar la denuncia, para protegerla contra el mismo estado. Incluso, ella empezó a ser cuestionada al momento de recibir su tratamiento».
Cada vez es menos frecuente es el estigma en ámbito de salud o en el ámbito laboral, dice, pero aún se pide la "prueba de VIH para el ingreso a un empleo como parte de la batería de exámenes".
En el ámbito comunitario, advierte que todavía hay mucha discriminación y se divulgan los diagnósticos de personas en los lugares donde ellos viven.
"Tal vez trabajan en una sala de belleza y alguien empieza a divulgar el diagnóstico y pierden sus clientes. O venden cualquier tipo de alimentos ya preparados para el consumo y también son afectadas en sus formas de vida", expuso.
Lizz vivía en una zona declarada de alto riesgo de violencia por pandillas. Esto se convirtió en una razón más que la llevó a migrar a Estados Unidos junto con su hija y su actual pareja. Allá, a más de 10 mil kilómetros del país que la expulsó, ahora intenta rehacer su vida.
"Quería una vida mejor para mi hija. El miedo también tuvo que ver en mi decisión de migrar", expresó.
V Una nueva vida
A pesar de su condición migratoria irregular, Lizz ha logrado tener acceso a un tratamiento de retrovirales a través de un protocolo en un Centro de Investigación en Estados Unidos, al cual accedió por medio de un hospital.
Por ahora trabaja, estudia inglés y desea regresar a la Universidad a estudiar leyes para ayudar a otras personas: "Mi sueño es trabajar en una organización que ayude en los derechos humanos o migración".
Según la Comunidad Internacional de Mujeres viviendo con VIH Sida (ICW Latina), en El Salvador el marco legal que establece sanciones para el personal sanitario en el caso de la esterilización forzada a las mujeres con VIH tiene una calificación positiva, es decir, según esta organización los médicos sí reciben penalidad ante estos casos. Sin embargo, los que atendieron el caso de Lizz no recibieron ninguna penalidad.
Al cierre de esta investigación se solicitó una entrevista con la jefa del Programa Nacional de ITS/VIH/SIDA, Dra. Ana Isabel Nieto Gómez, para conocer su postura respecto al caso de Lizz, sin embargo no se recibió respuesta. La doctora Nieto fungía en ese mismo cargo en 2010, cuando Lizz fue esterilizada de forma forzosa.
En la actualidad Nieto es funcionaria del Gobierno del presidente Nayib Bukele. Su régimen ha sido señalado por nula rendición de cuentas, dar poco acceso a la prensa y por declarar "confidencial" información pública.
En la actualidad ANP+VN trabaja para brindar apoyo legal, capacitaciones, atención psicológica, reinserción laboral y generación de alternativas de ingresos para personas con VIH. Además, tiene estrecha relación con los grupos de apoyo de personas con VIH de la red hospitalaria nacional. Cientos de personas se han visto beneficiadas por sus proyectos. Su abogada compartió que cuando la prensa cubrió el caso de Lizz, tuvieron conocimiento de más casos a los que podrían dar más seguimiento y llevar a la justicia si contaran con los fondos.