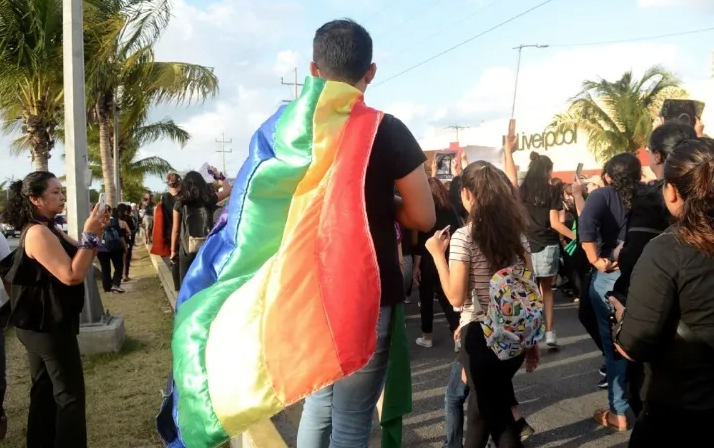 LGBTQ+ community calls for changes to Quintana Roo Health Law
Translated via Deepl.com. Please scroll down for original article in Spanish.
The LGBTQ+ community is calling for the repeal of the criminalisation of HIV transmission in the Quintana Roo Health Law.
The LGBTQ+ community, in a working meeting with local Congresswoman Estefanía Mercado Asencio, requested the repeal of Article 113 of the Quintana Roo Health Law, which criminalises the transmission of sexually transmitted diseases, specifically HIV.
The repeal of this article, found in Title Eight, Chapter II, Communicable Diseases, has been requested for several Legislatures, but has been ignored, said Omar Ortiz, the President of the Civil Association "Información y Educación Sexual".
At the meeting, which was attended by people representing sexually diverse populations, people involved in the HIV response and mothers of various sexually diverse populations, a request was made to encourage municipalities to have a Sexual Diversity Unit, as in Solidaridad, which is the only municipality with such a unit, and for the State Government to have a Secretariat for Sexual Diversity.
"We were attending to the pending legislative agenda, with respect to what is already advanced and what is pending in the matter, at the local level; we talked about article 113 of the Health Law, which criminalises the issue of HIV, as well as the fact that Solidaridad is the only municipality that has a Unit for the Attention to Sexual Diversity, and she, as a deputy, has the possibility of presenting an initiative so that all municipalities have this position," he pointed out.
"The article criminalises the fact of transmission, when it is an issue that cannot be scientifically proven; I cannot prove that you have transmitted HIV to me because there is no scientific or laboratory mechanism that allows us to know that it was you and not another partner or my sexual contacts, nor at what moment it happened. There is no way to apply that article, it is basically up to interpretation and that cannot be in the law.
Another issue they asked the Congresswoman to address is the creation of the Unit for Comprehensive Care of Sexually Diverse Populations and Children and Adolescents who require specialised endocrinology care, which responds to the needs of social minorities, such as the transgender population, in order to carry out their transition process under medical supervision, without endangering their lives and health.
---
Exige comunidad LGBTQ+ cambios a Ley de Salud de Quintana Roo
La comunidad LGBTQ+ pide derogar la criminalización del hecho de la transmisión del VIH en la Ley de Salud de Quintana Roo.
La comunidad LGBTQ+, en reunión de trabajo con la Diputada local, Estefanía Mercado Asencio, solicitó derogar el artículo 113 de la Ley de Salud de Quintana Roo ya que, criminaliza el hecho de la transmisión de enfermedades venéreas, en específico del VIH.
El citado artículo, ubicado en el Título Octavo, Capítulo II, Enfermedades Transmisibles, se ha pedido su derogación desde hace varias Legislaturas, pero ha sido ignorado, apuntó el Presidente de la Asociación Civil "Información y Educación Sexual", Omar Ortiz.
En el encuentro donde participaron personas de la diversidad sexual, de respuesta del VIH y madres de poblaciones de la diversidad, se solicitó la promoción de una iniciativa para que los Ayuntamientos tengan una Unidad de la Diversidad Sexual, como en Solidaridad, que es el único con esta instancia, y que el Gobierno del Estado tenga una Secretaría de la Diversidad Sexual.
"Estuvimos atendiendo la agenda Legislativa pendiente, respecto a lo ya avanzado y lo pendiente que tenemos en la materia, en el terreno local; hablamos del artículo 113 de la Ley de Salud, que criminaliza el tema del VIH, así como que Solidaridad es el único Ayuntamiento que tiene una Unidad para la Atención a la Diversidad Sexual, y ella, como diputada, tiene la posibilidad de presentar una iniciativa para que todos los municipios cuenten con esta figura", señaló.
"El artículo criminaliza el hecho de la transmisión, cuando es un tema que científicamente no se puede probar; yo no puedo probar que tú me hayas transmitido el VIH porque no existe un mecanismo científico, de laboratorio, que permita saber que fuiste tú y no otra pareja o mis contactos sexuales, ni en qué momento se dio. No hay manera de aplicar ese artículo, está básicamente a interpretación y eso no puede ser en la ley".
Otro tema que pidieron a la Congresista es la creación de la Unidad de Atención Integral a Poblaciones de la Diversidad Sexual y Niños, Niñas y Adolescentes que requieran atención especializada en endocrinología, que responda a la necesidad de las minorías sociales, como la población trans, a fin de realizar su proceso de transición bajo vigilancia médica, sin poner en peligro su vida y salud.