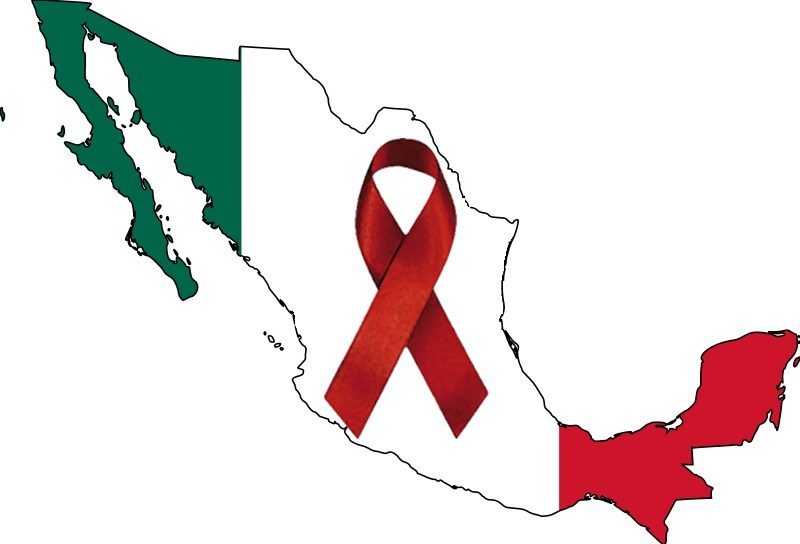 In Mexico 30 states criminalize HIV as "a crime of exposure to infection"  (Google translation. For article in Spanish, please scroll down)
The Network against the Criminalisation of HIV, a coalition formed by 29 associations in favour of human rights in Mexico, reported that 30 of the 32 states that make up the Mexican Republic include in their Penal Codes the category "Crime of exposure to infection", which punishes people who transmit or can transmit a "non-curable disease" to another person.
"The aim of the network is not to start a witch hunt, because it was surprising that in the last two years this law has been discussed in three different state congresses," he explained to Leonardo Bastida, member of the association, Letra S.
According to the organisations, this legal statute endangers people with HIV, as it criminalizes and undermines strategies aimed at combating the epidemic. Specifically, laws sanction the possibility of transmitting an illness, even if it happens involuntarily.
According to Bastida, since the year 200 have registered 39 criminal proceedings for this cause, of which 15 are located in Veracruz, nine in Sonora, five in Tamaulipas, five more in the State of Mexico, three in Chihuahua, one in Mexico City and one more in Nuevo León.
According to the activists, these criminalizing laws emerged in the first half of the 20th century and focused mainly on penalizing the "contagion" of syphilis, but over the years they were modified and included various diseases.
Only Aguascalientes and San Luis Potosí do not have this legalstatute in their penal codes, while in Sonora the law could be toughened, since there is currently a proposal that is being analyzed to establish sentences of up to 15 years in prison. Activists and the State Human Rights Commission seek to repeal Article 113 of the Criminal Code, which includes this criminal category.
The network detailed that in the case of Veracruz, legislators approved in 2015 an amendment to the local penal code to add to the "crime of contagion" the term "sexually transmitted infections. In addition, with the amendment of article 158, sentences of 6 months to 5 years in prison were established.
Faced with this situation, a group of social organizations presented an appeal of unconstitutionality to the Supreme Court of Justice of the Nation. The activists trust that the SCJN will rule in favor of the lawsuit.
Members of the Network against Criminalization warned that these types of laws do not help to combat the increase in HIV cases and only contribute to stigmatization and make it difficult for strategies focused on combating HIV transmission to meet their goals.
With information from EFE.
—————————————————-
En México 30 estados criminalizan el VIH como "delito de peligro de contagio"
La Red contra la Criminalización del VIH, una coalición conformada por 29 asociaciones a favor de los derechos humanos en México, informaron que 30 de los 32 estados que conforman la república mexicana contemplan en sus Códigos Penales la categoría "Delito de peligro de contagio", la cual castiga a las personas que transmitan o puedan transmitir una "enfermedad no curable" a otra persona.
"El objetivo de la red es que no empiece una cacería de brujas, porque fue sorprendente que en los últimos dos años se haya discutido en tres congresos estatales diferentes esta ley", explicó a Leonardo Bastida, integrante de la asociación, Letra S.
De acuerdo con las organizaciones, dicha figura penal pone en peligro a las personas con VIH, ya que las criminaliza y resta fuerza a las estrategias enfocadas a combatir la epidemia. Específicamente, las leyes sancionan la posibilidad de transmitir alguna enfermedad, aunque suceda de forma involuntaria.
De acuerdo con Bastida, desde el año 200 se han registrado 39 procesos penales por esta causa, de los cuales 15 se ubican en Veracruz, nueve en Sonora, cinco en Tamaulipas, cinco más en el Estado de México, tres en Chihuahua, uno en la Ciudad de México y uno más en Nuevo León.
Según explicaron los activistas, estas leyes criminalizadoras surgieron en la primera mitad del siglo XX y se enfocaban principalmente a penalizar el "contagio" de la sífilis, pero con el pasar de los años se fueron modificando e incluyeron diversas enfermedades.
Sólo Aguascalientes y San Luis Potosí no cuentan con esta figura en sus códigos penales, mientras que en Sonora se podría endurecer la ley, ya que actualmente existe una propuesta que está siendo analizada para establecer penas con hasta 15 años de prisión. Los activistas y la Comisión de Derechos Humanos del Estado buscan derogar el artículo 113 del Código Penal, el cual incluye esta categoría penal.
La red detalló que en el caso de Veracruz, los legisladores aprobaron en 2015 modificar el código penal local para agregar al "delito del contagio" el término "infecciones de transmisión sexual. Además con la modificación del artículo 158 se establecieron penas de 6 meses a 5 años de cárcel.
Ante este panorama, un grupo de organizaciones sociales presentaron un recurso de inconstitucionalidad a la Suprema Corte de Justicia de la Nación. Los activistas confían en que la SCJN falle a favor de la demanda.
Los integrantes de la Red contra la Criminalización alertaron que este tipo de leyes no ayudan a combatir el aumento de casos de VIH y sólo contribuyen a la estigmatización y dificultan que las estrategias enfocadas a combatir la transmisión del VIH cumplan sus metas.
Con información de EFE.