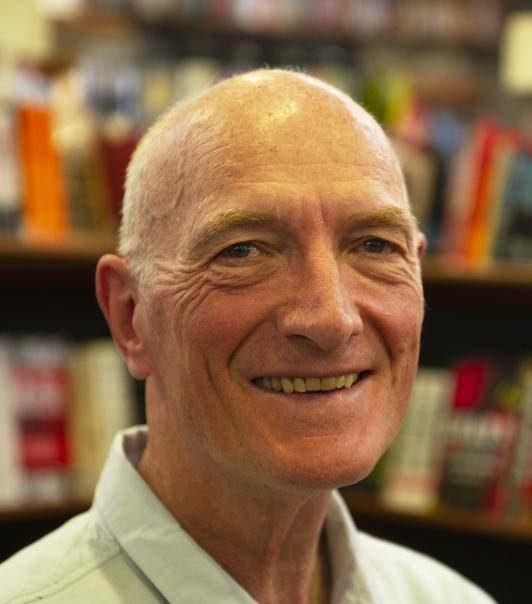 Judge Edwin Cameron on HIV, justice and attacks on the judiciary
Former Constitutional Court Judge Edwin Cameron, whether intentionally or not, has always been an activist. He talks to Manosa Nthunya about his writing life.
In South Africa, we are increasingly becoming accustomed to the fact that from time to time a judge, particularly from the Constitutional Court, will, to our delight, pen a book.
Since our transition into democracy, some of the judges who have written books, mostly memoirs, include Albie Sachs, Dikgang Moseneke and Edwin Cameron.
All their books are reflections on the law and its role in our nascent democracy.
Because of our history, these memoirs are reflections of the role the law has played in the individual lives of these judges growing up under apartheid.
It is in this way that for us as readers the law comes alive, as it is presented as not only an abstract entity but something that always has a profound effect on lives.
Judge Cameron, who retired from his position as Constitutional Court justice last year, has written two personal memoirs which have both received acclaim.
His first memoir, Witness to Aids, was published in 2005 and his second, Justice: A Personal Account, in 2014.
Both books chronicle his life, beginning under apartheid and into post-apartheid, and interrogate what the law means in the context of a society where it was used to catastrophic ends.
When I met Cameron to discuss his writing life, I was most interested in what it was that compelled him to write, particularly because there seems to be an expectation in our society that the less it is known about a judges' life and thinking, the better we can trust in the independence and fairness of their judgments.
When I ask him why it is that he writes, he responds that with his first book his reasons were to "make a point about white privilege, about homosexuality and about HIV".
With his second book, "my aim was to show the law as an oppressor, as the imprisoner of my father, as something that should be applied to social justice ends".
Witness to Aids is a book, as the title suggests, that looks at the impact that HIV/Aids has had in South Africa.
It's a book that tells the story of the disease from a deeply personal perspective.
INFECTED WITH THE VIRUS
Cameron writes in the introduction: "I knew that I had Aids when I could no longer climb the stairs from the judges' common room in the high court to my chambers, two floors above."
He goes on to tell his story of being infected with HIV and how that dramatically changed his life.
Having been infected with the virus during the heady days of apartheid, Cameron's book explores the shame that was – and still is – attached to the virus and how this was exacerbated by his sexuality.
This is an experience, he tells me, that has greatly shaped him.
Even though Cameron's career as a lawyer and eventually a judge was taking off, he writes that having HIV was a huge blow to how he thought his life would turn out as "the other part of my life was washing away beneath my feet, eroded by microbes and attacked by fungi coursing through my veins and wasting my muscles and bodily reserves, leaving me tired and panicked and isolated in the waiting room".
Having heard people say that they would kill themselves if they found out they were HIV-positive, he found that he "wanted to keep on living. I wanted my health back, urgently. I wanted to breathe easily, freely, again."
While Witness to Aids is about Cameron's battle with the disease, it is also a story about the tragic politics of HIV/Aids in South Africa.
He tells me that this was a very difficult book for him to write: "The first book was agony. Every word was anguish. Writing about stigma, infection, recovering from it.
"Writing about the horror of [former president] Thabo Mbeki's denialism was very painful. I was under attack by a man named Ronald Suresh Roberts, who should remain nameless."
And the book does – more so than any popular book I can think of – go into detail about the consequences of Aids denialism in South Africa. What created this, he writes in the book, was "the inauguration of Mbeki's Aids Advisory Panel in 2000", which "initiated three years of tragic confusion in South African governmental approaches to Aids".
This is partly why Cameron became an activist for issues related to HIV/Aids.
Rereading the book now, one realises how far we have come as a country with regard to the disease and the despair that was ever-present at that time.
Some of the most moving words that speak to this despair are when Cameron writes: "We cannot allow our grief and our bereavement to inflict a further loss upon us – the loss of our own full humanity, our capacity to feel and respond and support. We must incorporate our grief into our everyday living by turning it into energy for living, by exerting ourselves as never before."
What made it possible to challenge government was a ruling by the Constitutional Court that the state was compelled to offer antiretrovirals.
In many ways, the story of HIV/Aids in South Africa is a story which, although tragic, bears witness to the importance and strength of living in a constitutional democracy.
It is testament to what is possible when a country has an independent judiciary and a government that respects the judgments of the courts – as was the case, as Cameron writes, under Mbeki's presidency.
It is in Cameron's second book that the importance of a constitutional democracy is interrogated more deeply.
In the context of South Africa this is not an easy examination, as the courts have more often than some would wish come under heavy criticism from politicians and, of late, the public through social media.
Cameron writes that the book is about "our country's most inspiring and hopeful feature – its big-spirited, visionary Constitution. And it tells the story of my journey from poverty-stricken childhood to becoming a lawyer and eventually a justice in the country's highest court, which has the duty to interpret and guard that Constitution."
I put it to him that what struck me while rereading his book was how he seemed to have written a biography of the law.
The ways in which the law, like a human being, is under constant change and how in that consistent metamorphosis it can be perceived as either nefarious or necessary.
Thus, even though the story of apartheid that he tells in the book is one about the tragic uses of the law, there is also a sense that the law is not something stable and fixed, that it depends on who is making use of it.
In the book he writes: "What fascinated me was that the law, apartheid's oppressive instrument, could also be employed against apartheid. It could be used occasionally to mitigate its effects. Properly employed, it could be used to repair and not to break down or damage."
What Cameron provides here is a picture of the law that is very much with us in post-apartheid South Africa.
Even though the sense, for most, is that the law should be used to respond adequately to our history, there are also those who are intent on abusing it to further their ambitions.
What this reveals to us as the public is that the law is, in fact, a fragile entity, solely reliant on the motives of those who are in control of it.
In Justice: A Personal Account, we are taken into Cameron's childhood in an orphanage and how he became interested in law.
Even though he grew up poor in apartheid South Africa, he was nevertheless acutely aware of the fact that being white meant that he had privileges which other racial groups could not have.
"My whiteness bought me the privileges that apartheid was designed to secure for whites. It secured for me access to a first-rate high school and an excellent university. These opened the way for me to get a Rhodes Scholarship to Oxford, and to start my legal career," Cameron writes.
It is precisely these privileges which he believes South Africa's democratic Constitution is called on to address, about which he writes: "Our Constitution seeks to offer this generosity and support justly to all. It gives us a framework for a society in which mutual support and generosity are key. And it obliges government, on behalf of all of us, to create a society in which all of us can live in dignity."
ATTACKS ON THE JUDICIARY
I find it unavoidable to ask him about his reflections on the latest, as we are told, "attacks" the judiciary.
What does he make of them and are they justified?
He responds saying that precisely because South Africa's transition was legal-centric, it is unavoidable that the judiciary will, from time to time, receive criticism.
At the time he wrote his second book, he says, "the Constitution was under credible and warranted scrutiny".
What he was saying in the book was that, despite the criticisms the Constitution has received, it has survived, revealing its strength.
Recently, "the particular criticism has come from the EFF, when they got a number of judgments which were adverse to them and [Mbuyiseni] Ndlozi made personal comments about the judge and he referred to the two judges' genders", something which Cameron says he found worrying. This was a consequence of a judgment that involved Public Protector Busisiwe Mkhwebane, where the majority of judges found that she had been dishonest and legally incompetent.
Cameron tells me that, despite the fact that the Constitution has shown its resilience, there was a time in our recent history when our democracy was under threat.
He says it was with the help of the Chief Justice Mogoeng Mogoeng and former Public Protector Thuli Madonsela that we survived.
"If I had to nominate two people that have saved our democracy I would nominate Mogoeng and Madonsela. They have played pivotal roles in salvaging democracy from total ruin."
I ask what advice he would give to young authors, be it in law or otherwise.
"It starts with a message. In Witness to Aids I was trying to talk about how HIV is a manageable but highly stigmatised disease. In Justice: A Personal Account it was [about] a Constitution under threat. For me it starts with a message and the rest flows from that."
And when I ask what it is that keeps him going, Cameron says: "The young law students are the reason to keep going. Outstanding young South Africans who have a sense of vision about what the law can do and about how the courts should operate. It's the reason to keep going and not to fall into some kind of pessimism or despair."
Nthunya is a PhD candidate in literature at Wits University. He studied literature, history and philosophy at Rhodes University