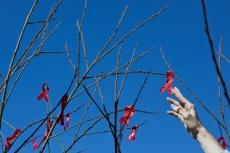 Civil Rights Groups Look To Modernize Nevada's HIV Laws
Today is World AIDS Day.
An international day dedicated to raising awareness of the AIDS pandemic and remembering those who have died from the disease.
Civil and LGBTQ+ rights groups across Nevada are pushing for the state to modernize laws concerning people living with HIV.
Nevada is one of 32 states that criminalizes the behavior of people living with HIV, making it a class-B felony for someone knowingly having HIV to engage in behavior that could transmit the virus to someone else.
But groups in the state want to change those laws so the disease is treated like other communicable diseases where people who knowingly spread it can face misdemeanor charges, not a felony.
"We have a lot of work to do to modernize our laws so that people living with HIV are faced with stigmas, and also so that these HIV laws that criminalize behavior aren't having a negative effect on public health goals," said Andre Wade, state director for Silver State Equality.
Wade explained that the state and the nation have plans to help end the HIV/AIDS epidemic but people who have the disease need to be engaged to execute those plans and to get them to be engaged they need to not feel stigmatized when they reveal their status.
"If we are stigmatizing them and criminalizing them, it is hard to engage them in plans to help end the epidemic," he said.
Wade said the laws like the ones in Nevada were passed when less was known about the disease, and people were looking for ways to take HIV positive people out of society.
"These laws were created when we knew very little about HIV and AIDS and there was a lot of fear about homosexuality and a lot of misinformation," he said.
In addition, Wade said someone is more likely to transmit the disease if they don't know their status than if they do.
Stephan Page is the co-chair of NV HIV Modernization Coalition. He said there have been a few instances around the country of someone knowingly and intentionally spreading the disease, and there have been more cases of innocent people being charged with spreading the disease.
"Across the country, tons of people living with HIV got convicted for engaging in behavior where they truly can't transmit HIV," Page said.
Page said some people have been convicted under these kinds of laws even though they are on anti-viral medication and have a very low viral load in their bodies, and therefore, can't transmit. There are also cases of people using protection during sex but still getting convicted because the judge didn't believe them.
Plus, bad information about how the virus is transmitted still hurts innocent people. Page said there are cases of people who have been convicted of knowingly spreading HIV because they spit on someone. HIV cannot be transmitted through saliva.
Governor Steve Sisolak last year signed a bill that will review Nevada's HIV laws.
Page said his coalition went through Nevada statutes and found 13 laws impacting HIV positive people that they want to be repealed or amended. Four of those statutes are the main ones the coalition is focusing on.
Besides the part of the law that makes transmitting HIV a felony, the coalition wants to change the part of the law that covers intent.
"We recommend that this law be amended so that actual intent is truly required," he said, "We want to ensure that yes true criminals who are intentionally, willingly and knowingly going around transmitting HIV are still getting convicted, but we want to ensure that innocent people do not fall through the cracks and get wrongfully convicted."
They also want to see a change to the laws around sex work. Legal sex workers in Nevada cannot work in brothels if they have an HIV positive diagnosis.
Illegal sex workers will get a felony enhancement if they are HIV positive. The coalition wants to get rid of that enhancement for people who are living with HIV and performing illegal sex work.
Much of the effort to reform or repeal Nevada laws impacting people living with HIV is to change the stigma around the disease.
Connie Shearer is the co-chair of the NV HIV Modernization Coalition. She also lives with the virus. In 1996, she contracted HIV from her husband when she was 19. She was 21 when she was diagnosed.
Now, years later, Shearer still faces a stigma.
"The stigma is – I don't want to say it's as bad as 1996 – but it's almost just as bad," she said.
Shearer said she'll share up-to-date information about HIV, like the fact that someone using anti-HIV medication with undetectable levels of the virus means he or she can't transmit it, online and people won't believe her.
"What's important for me today is making sure people have access to the science around HIV so they know that whenever they're diagnosed they don't have to give up anything. Your life does not have to change at all, except that you take some medication now and that's it," she said.
Andre Wade, State Director, Silver State Equality; Connie Shearer, Co-Chair, NV HIV Modernization Coalition; Stephan Page, Co-Chair, NV HIV Modernization Coalition