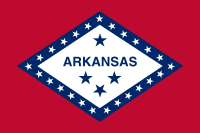 HIV-disclosure rule lawful, Pulaski County judge rules
Pulaski County Circuit Judge Leon Johnson on Friday rejected a challenge to the Arkansas law that requires anyone who has tested HIV-positive to disclose that finding to any sex partners before intimacy.
"I don't think the statute is unconstitutional," the judge said, concluding a two-hour hearing that featured testimony from Dr. Nathaniel Smith, head of the state Department of Health, and Dr. Jon Allen, also with the department, who regularly lectures on treatment of the human immunodeficiency virus.
State attorneys Michael Cantrell and Monty Baugh, representing Attorney General Leslie Rutledge, defended the law.
Medical advances have dramatically reduced the chances that someone with HIV and taking the required medication will infect a sex partner, but there is still a danger, the judge said.
Knowingly exposing someone to the virus that causes AIDS is a Class A felony, like attempted murder, with a maximum sentence of 30 years in prison.
Attorney Cheryl Maples, the Heber Springs lawyer who launched the lawsuit that overturned Arkansas' ban on gay marriage, had challenged the constitutionality of Arkansas Code 5-14-123 on behalf of a client, 24-year-old Sanjay Johnson.
The Little Rock man, arrested on the charge in August 2016 by North Little Rock police, is scheduled to stand trial in July.
HIV is the only communicable disease that has been criminalized this way, despite the prevalence of other infectious diseases that are much more easily transmittable, Maples told the judge. She said the law was passed in 1989 to calm widespread fears when very little was known about AIDS. But HIV treatment has improved so dramatically that it has rendered the law unnecessary, she said.
The three-medication treatment regime developed over the past 20 years renders the virus medically undetectable in a patient's bloodstream, Maples told the judge. The scientific consensus now is that the medication reduces the risk of exposure to virtually zero, she said.
If the law ever had a meaningful purpose, it lapsed a long time ago, she said. Now all it does is single out one group for unfair treatment by potentially criminalizing every sexual encounter, Maples said.
"It is clearly punishment for acquiring the disease and not for passing it along," she told the judge.
Metro on 06/09/2018
Published in Arkansas online on June 9, 2018