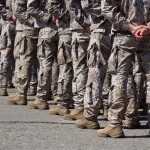 A bipartisan amendment to the National Defense Authorization Act approved by the House Thursday evening requires the Department of Defense to conduct an internal review of policies and prosecutions related to military members living with HIV. Currently the military can try service-members with HIV under a variety of charges, including failing to obey an order for having unprotected sex, not disclosing an HIV-positive status, or for aggravated assault, wherein HIV is the factor for the more serious charge.
The amendment by Reps. Barbara Lee (D-Calif.) and Ileana Ros-Lehtinen (R-Fla.) is the first time Congress has voted on HIV-criminalization matters since the passage of the 1990 Ryan White CARE Act, which required states to certify they had a process to prosecute deliberate transmission of HIV. Rep Lee issued the following statement on the adoption of the amendment:
I'm so pleased that this is a bi-partisan effort and am proud that my colleague Congresswoman Ileana Ros-Lehtinen has joined me in this effort. Modernizing laws when it comes to our military is essential, and the laws that dictate the lives of our service members should reflect contemporary understanding of the science of HIV. I'm proud that the House has recognized this essential piece of working towards an AIDS-free generation, and my amendment would take an important first step in ensuring that our laws reflect current scientific understandings of HIV.
The two lawmakers are also co-sponsors of the Repeal HIV Discrimination Act, which would push states to repeal HIV-specific statutes in favor of laws that would only allow prosecution against HIV-positive persons if there is evidence of intent to infect and/or actual harm caused.
The amendment requires the Defense Department to issue a report no later than 180 days after the bill is signed into law. This report would have to demonstrate that prosecutions related to HIV exposure and transmission are based on a medically accurate understanding of the infection and treatment. It would also require the U.S. Military to review all recent prosecutions and make recommendations to improve the system to ensure that prosecutions are based on scientifically accurate risks.