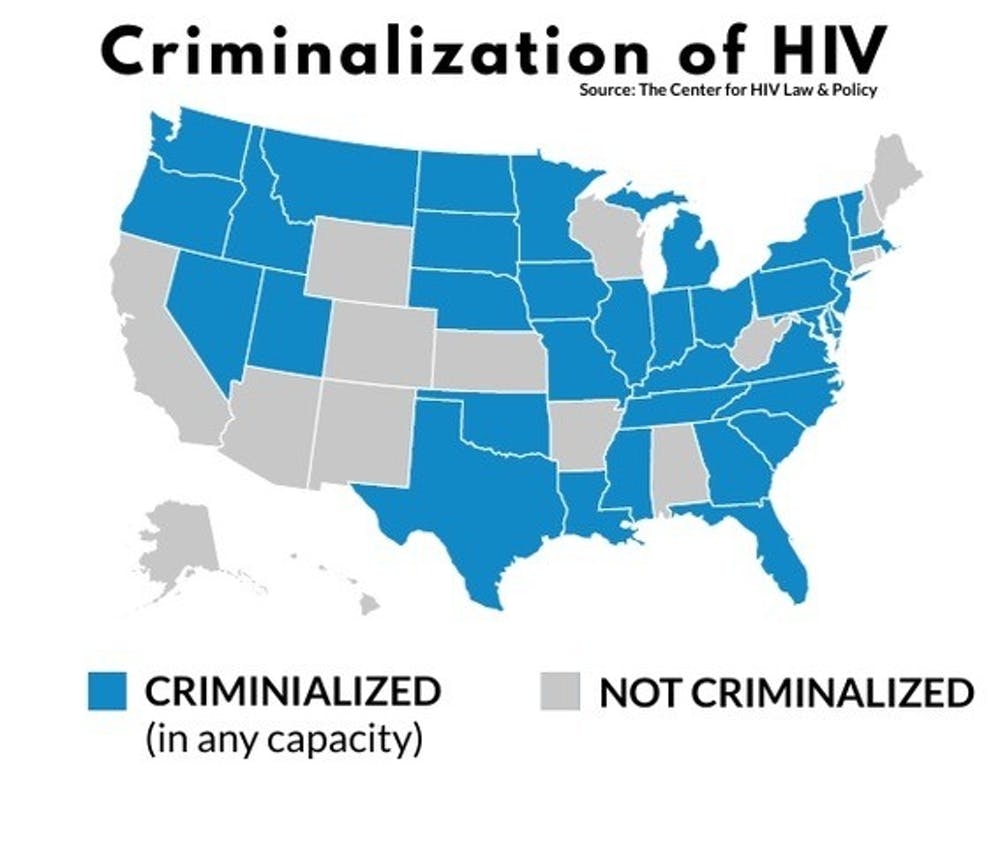 HIV criminalization perpetuates intersecting forms of discrimination
Imagine you are a transgender Black woman in Florida. You are already facing housing and workplace discrimination, gender-based violence and social and institutional racism. One of your few options for financial support is sex work, but you do not plan to have intercourse with clients. Unfortunately, a sting operation leads you to be taken to the police station. You wonder why the cisgender white woman you work alongside was not caught. Upon arrival at the station, you are forced to get tested for HIV. You test positive. You are now a convicted felon and may have to register as a sex offender.
This fictional narrative illustrates the severity of the criminalization of HIV in the United States and is an accurate representation of the discrimination felt by LGBT, non-white individuals, sex workers and those who experience the intersectional disenfranchisement of multiple identities. According to Avert Global Information and Education on HIV and AIDS, transgender people are 49 times more likely to be affected by HIV than the general world population. Over half a million Americans have died since the beginning of the AIDS epidemic in the 1980s. A disproportionate number of these people were non-white, LGBT or both. By looking at the Movement Advancement Project's maps of states with HIV laws, 34 states still discriminated against those with HIV in 2020, with transgender women being the most globally discriminated against. HIV should be nationally decriminalized since the penalties only further marginalize disadvantaged communities.
A 2017 article by the National LGBT Task Force and the Center for HIV Law & Policy states that transgender sex workers are "nearly six times as likely to be living with HIV than the general trans population, and 25 times as likely relative to the general population." Transgender women, especially those who are non-white, are profiled significantly more for sex work.The data illustrates how transgender women are more at risk of being presumed HIV positive, which perpetuates transphobic, homophobic, sexist and racist discriminatory practices.
Some may argue that decriminalizing HIV will lead to an increase in cases. In fact, data has been shown that HIV criminalization laws disincentivize HIV testing. This is because in some states, it is mandatory that the arrestee be tested once entering the police station. A 2015 study by Yang, et al. found that the decriminalization of sex work could actually reduce 33-45% of new HIV infections, illustrating the counterproductive attributes of HIV criminalization. Data has also shown that HIV penalties are significantly based on one's race and sex, which caused the state of California to change HIV charges of sex workers from felonies to misdemeanors. While this change in California is an improvement, officials can still discriminate based on race, sexual orientation and gender identity. Overall, this illustrates that the criminalization of HIV is maintained in order to keep a discriminatory social hierarchy that hurts transgender women's social mobility, especially Black transgender women.
The differences of prosecution among states is important because data shows that transgender women can be prosecuted for even non-transmissible actions. Data by the Movement Advancement Project shows 17% of the American LGBT population lives in a state where there is an HIV criminalization law, HIV-specific sentencing and/or laws that may require individuals to register as sex offendes; 35% lives "in a state with a HIV criminalization law;" and 21% in a state without a HIV criminalization law but where a positive status does affect sentencing. Liberal states, such as Massachusetts, criminalize exposure to, as well as transmission of, HIV. Sex workers can be charged with a felony for spitting or biting — even though neither action spreads HIV. This further shows that states have multiple avenues to discriminate against marginalized groups through the criminalization of HIV. The evidence illustrates the need to decriminalize HIV on a national level to protect marginalized communities, especially  transgender women, transgender women of color and Black transgender women. By decriminalizing HIV, Americans are further protected from infection and forms of discrimination.