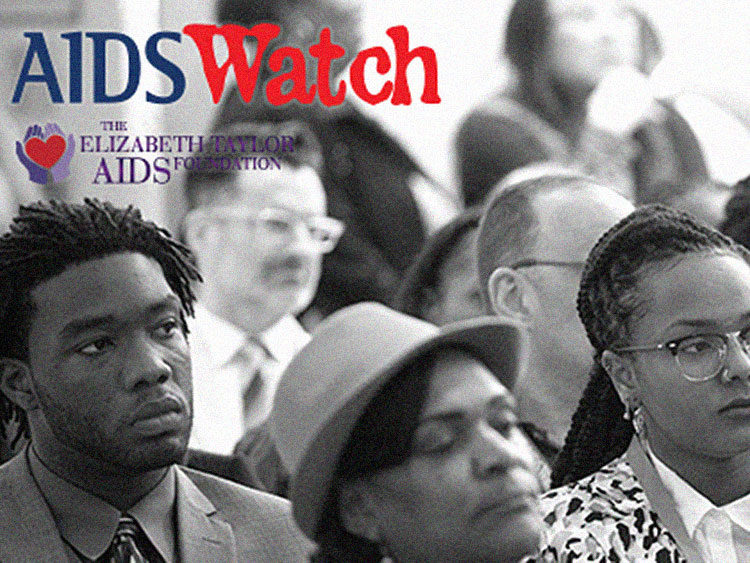 Every year, AIDSWatch brings together hundreds of people living with HIV and their allies to meet with Members of Congress with the aim of educating them about important issues involving HIV-positive people in the country.
Presented by The Elizabeth Taylor AIDS Foundation, it is the nation's largest annual constituent-based national HIV advocacy event, and is implemented as a partnership between AIDS United, the Treatment Access Expansion Project, and the US People Living With HIV Caucus.
In order to continue the efforts towards a cure, we must also try and mend social stigma around those living with HIV. But in order to stop new infections and successfully treat those living with the virus, we need compromise and collaboration across all sectors. One of the biggest conversations organizers plan to have at AIDSWatch 2017 centers around HIV criminalization laws.
Last month, a bill was introduced to the California state legislature by Senator Scott Wiener (D-San Francisco) and assembly members Todd Gloria (D-San Diego) and David Chiu (D-San Francisco) aiming to modernize these laws, which criminalize and stigmatize those living with HIV.
The bill was co-sponsored by Equality California, the ACLU California, APLA Health, Black AIDS Institute, Lambda Legal, and Positive Women's Network. It's purpose is to repeal all HIV specific laws that criminalize otherwise legal behavior, turning misdemeanors into felonies that put innocent people (like Michael Johnson) in prison simply for being HIV-positive.
"ETAF is putting our hearts into encouraging every state to overturn its criminalization laws," Laela Wilding, Elizabeth Taylor's eldest granddaughter and ambassador to ETAF, says to Plus. "Generally speaking it's about disclosure. The problem with that is in many cases, it becomes a 'he said, she said' type of situation where one person may say, 'yes I disclosed my positive status' and eventually there's a possibility that person could come back and accuse them of having not disclosed their status after some kind of sexual encounter or relationship, and then it's sort of a push and pull. Usually the person who is HIV-positive is the person who is marginalized and often ends up going to jail or prison."
There are well over 30 states in the United States with laws that discriminate against people with HIV in one form or another, and many of them are written in vague terms so they're interpreted in different ways. That being said, it becomes incredibly important to monitor the way these laws are written and try to overturn them — much like how Colorado did last year.
Wilding says a major reason for Colorado's victory was because people in the state were educated on the facts and medical realities of what it means to be living with HIV: that undetectable means uninfectious, yet poz people are stigmatized and marginalized in the criminalization system to almost no mercy.
"[Colorado] overturned those laws by letting people know the facts," Wilding adds. "Then, almost everyone was behind it. Of course we don't want to criminalize these people who are living with a disease that is considered treatable to a certain degree. If we can talk about it with our friends, talk about it in the media, I think that state-by-state we can start breaking the stigma down and change these laws. I think once people know about it, they want to help."
HIV criminalization laws also have an invisible effect on HIV testing. For people who live in a state with these laws, it's easy for them to brush off an opportunity to get tested. After all, why risk knowing you're positive if you're only going to get punished for it? As a result of people being left untested, the number of people living with HIV who don't know it (and who aren't getting treated) are left at risk.
According to the Centers for Disease Control and Prevention, one in eight people have the virus and don't know it. And while a new report shows that annual HIV infections in the U.S. dropped 18 percent between 2008 and 2014, it is still evident that Black men are not only disproportionately effected, but are also the most targeted when it comes to criminalization laws.
"The trans community and women, people of color, these people particularly in California, women in California, are being marginalized and criminalized to an even greater degree and I don't think people have any idea that this is going on," Wilding adds. "Once we hear about it, we get fire up. We think, 'Why is our government spending money criminalizing these people?' We need to protect them, and support them in the right ways. That would reduce the transmission of HIV, which is the point."
Elizabeth Taylor's great-grandson, Wilding's son, Finn McMurray, spoke to Congressional members last year at AIDSWatch about the importance of sexual health education in schools. According to him, there is still very little conversation about treatment and prevention, especially around PrEP. He hopes that will change.
"Most of my peers unfortunately don't know about these new, or do not talk about, or haven't considered for themselves, these new breakthroughs," the 18-year old activist says. "That's something to work on, actually informing youth and getting youth to talk about it — not only the issues that have been around for a long time, which are still quite prevalent, but the breakthroughs that are happening now and how those can be utilized."
McMurray will again ask for a cosponsor of the Real Education for Healthy Youth Act, which aims to fund teacher training on sex education and provide grants for comprehensive sex education. "I think that sexual health education is extremely important to not only the fight against HIV, but all STIs," he reiterates."The age group of 15-24 make up half of the new infections each year. I think it's essential for the next generation to make healthy decisions for themselves. I'd really like to see a shift in the conversation that my generation is having. There's a lot of potential, but we aren't as a whole being exposed to enough and being pushed and supported to have these conversations."
AIDSWatch 2017 will take place from March 27 – 28, 2017 in Washington, D.C.