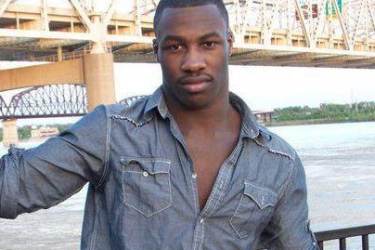 Justice for Michael L. Johnson
Michael L. Johnson now sits in prison under a law that hurts many and helps no one. With your help, he could be free in a matter of months.
Everyone ought to have the right to a fair trial. A toxic mix of racial bias, homophobia and income inequality made that impossible for Michael L. Johnson. With your help, he may have another chance at justice.
In the fall of 2013, Michael Johnson was living his dream. He was a student-athlete at Lindenwood University where he was a respected collegiate wrestler. He aspired to one day compete in the Olympics. But Michael's dreams were shattered in October 2013, when he was arrested for being a sexually active black gay man living with HIV. In May 2015, under the unfair and unjust HIV criminalization laws in the state of Missouri, Michael was found guilty and sentenced to 30 ½ years.
Remarkably, in December 2016, the Missouri Court of Appeals, Eastern District, reversed his conviction based on the prosecution's failure to turn over important evidence in a timely fashion. But Michael is not out of the woods yet. In order for Michael to have a chance to get his life back, he needs the best legal counsel available at the new trial that will take place sometime soon. This is where your help Is needed.
Michael urgently needs an attorney that can defend him and give him a shot at true justice. In order to give Michael that chance, we need to raise $20,000 in 20 days. This money will be used to hire a private attorney that has the experience, background, and passion to help Michael fight the HIV criminalization laws in Missouri.
A new trial date has not yet been set – but time is of the essence! Michael needs experienced counsel immediately.
Any amount of money will help – if we all pull together, we can reach this goal and give Michael Johnson a new lease on life. Please share his story and help support his quest for freedom.
———————————————————————————————————
We are advocates, organizers, and community members committed to working toward the freedom of Michael L. Johnson, a young black gay student, respected college athlete, and aspiring olympic wrestler before he was arrested under Missouri's unjust HIV criminalization law.