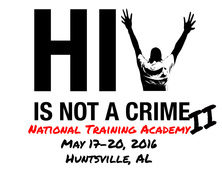 May 6, 2016: In just a little over a week, theHIV Is Not a Crime II National Training Academy will convene at the University of Alabama in Huntsville. There is still time toregister to train alongside committed advocates building an intersectional movement to end HIV criminalization! The Training Academy will take place from May 17 – 20, 2016.
Positive Women's Network – USA (PWN-USA) and the SERO Project — two networks of people living with HIV — have joined forces to organize the Training Academy. We are thrilled to announce three exciting keynote speakers at the event:
HIV community icon Mary Fisher, who spoke about her experiences living with HIV at the Republican National Convention (RNC), back in 1992;
Longtime advocate Joel Goldman of the Elizabeth Taylor AIDS Foundation; and
Colorado State Senator Pat Steadman, who in March introduced a bill into the state senate that would effectively repeal or significantly amend the three HIV-specific criminal codes, remove sentence enhancements for knowledge of HIV status, and modernize STI statutes to include HIV.
See below for biographical information for our speakers, in addition to highlights from the event's dynamic program!
The Training Academy will convene in the Deep South — the region most heavily affected by not only HIV, but many other symptoms of a history steeped in injustice and trauma.
Plenary session topics include:
What's Working? Where Are We Struggling? Focus on State Strategies: Successes & Challenges
AntiBlackness & HIV Criminalization: Grounding Ourselves in Racial Justice 
Breakout workshop titles include:
Activists, Advocates and Lawyers: Collaborating to a Common Goal
Joining Forces: Mobilizing Feminists to Challenge Unjust Prosecutions
Building Youth Capacity to Effect Policy Change Through an Intergenerational Model
Evening events include:
Consent: HIV Non­Disclosure and Sexual Assault Law, Last Men Standing, and more (film screenings)
Advocacy, Action and Community Building Through Art
TIME IS NOT A LINE: (re)Considering our HIV Herstory for Collective Freedom
View the full program of exciting, thought-provoking, movement-building sessions here.
HIV is a human rights issue; criminalization of people living with HIV is a social justice issue. The Training Academy will unite and train advocates living with HIV and allies from across the country on strategies and best practices for repealing laws criminalizing people living with and vulnerable to HIV. The Training Academy will also center the voices of survivors of HIV-related criminal cases and prosecutions.
Come to Huntsville and learn strategies from advocates opposing these unjust laws!   
Originally published in PWN-USA website